1955 Reo Heavy Rescue
History: Reserve, R12, R10, R2 (at Sta 1)
Courtesy Raleigh News & Observer
| | |
| --- | --- |
| Model Year | 1955 |
| Make/Model | Reo |
| Serial number: | |
| VIN number: | F221B513501 |
| License plate: | P-36403, P-38206 |
| Shop number: | |
| Purchase price: | |
| Delivery date: | November 3, 1954 |
Notes: Second unit of two-piece Raleigh Emergency Rescue Squad. Vehicle is obtained with the assistance of the federal government, with a requirement that it is considered as a piece of "stand-by equipment" that can be called to Norfolk, Virginia in the event of an "attack by enemy forces." Equipment carried on the 2 1/2-ton truck includes torches, power saws, gas masks, helmets, and first-aid equipment.
Revision: Newly discovered documents in 2013 revealed the model year as 1955. Previous citations include 1953 and 1954. Read blog post.
History:
Delivered November 3, 1954. (Alternate date by October 7, 1954.)
Placed in reserve November 1974. Mileage when placed in reserve: 17,988.
Designated Rescue 10 from at least August 17, 1976 to May 14, 1980.
Subsequently sold.
Photographed on October 8, 2011, being towed to scrap yard on Wilmington Street. The truck was later destroyed.
Courtesy Raleigh News & Observer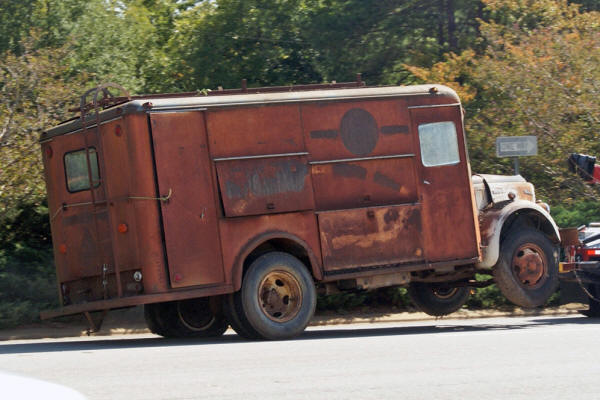 Robby Delius photo
---
This page was last updated on 07/28/19 06:32:25 PM