Found a pair of Elizabeth City community facility documents from 1962 and 1968. The second appears to be a follow-up document. Here's what they recorded about the fire department.
Planning in 1962
FIRE PROTECTION
Few other community services, if any, enjoy the wide-spread appeal and popular acceptance as the fire fighting organization. The very obvious and dramatic appeal of the service performed contribute in marked degree to the enthusiasm and pride with which a community views its Fire Department and the men who staff it. Click to enlarge: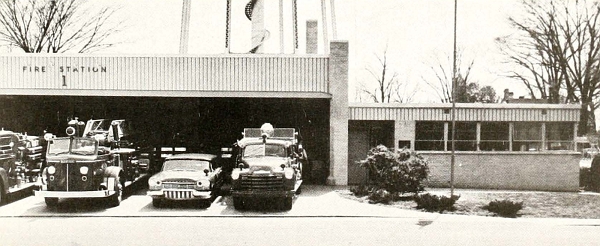 CONSIDERATIONS
In planning Fire Station locations, special consideration is given to the standards set forth by the National Board of Fire Underwriters.
STANDARDS FOR FIRE STATION LOCATIONS
TYPE OF DISTRICT / RECOMMENDED MAXIMUM DISTANCE FROM FIRE STATION
High Value and Dense Development – 3/4 Mile
Typical Residential Development – 1 1/2 Miles
Scattered Residential Development – 3 Miles
PERSONNEL
The Department consists of eighteen full-time employees and a force of forty-one volunteer firemen to augment the full-time staff. The eighteen full-time firemen work on shifts of twenty-four hours on duty and twenty-four hours off duty; but subject to call back to duty. The forty-one volunteers are simply subject to call. Each year four men are sent to Fire School in Charlotte, North Carolina, and one man is sent to the Firemen's Association meeting.
EXISTING FACILITIES
The operation of the Elizabeth City Fire Department is administered by the Fire Commission composed of seven members appointed by the City Council. The Fire Department provides fire protection for the city and part of the county.
The department operates out of a new fire station built in 1956. The Station is located at the corner of Elizabeth Street and Pool Street and represents an investment of $80,000.00. The building is a one story, brick constructed unit with a front and rear entrance for the fire trucks to enter and leave. Within the station itself, is a dormitory which will accommodate fourteen men and two officers' quarters. There is a complete shower and wash room-locker room, a large lounge equipped with television, radio, pool table, and other amusements. There are a Chief's office, a Dispatcher's office, and a complete electric kitchen and pantry. The Station also has an apparatus room 74 x 48 feet which is sufficient room to house the seven fire trucks, the Chief's car, and the other equipment. The entire building is served by loud-speakers to notify all the men when a fire alarm is sounded.
Fire apparatus and rescue equipment represents an investment of approximately $130,000.00. This includes:
1 – 500 gallon per minute pumper
2 – 750 gallon per minute pumpers
2 – 1,000 gallon per minute pumpers
1 – 85 foot aerial ladder truck
1 – Fire Chief Station Wagon containing rescue equipment.
Other equipment consists of: a rescue boat; resuscitators; fresh air masks; auxiliary lights and power plant; hose dryer; hose washing machine; ample supply of fire hose; and numerous other rescue and fire fighting equipment. Also, there is a complete two-way radio communication system between the fire station and the fire trucks.
The location of the fire station is closely related to the location of the highest value properties (CENTRAL BUSINESS DISTRICT) and the system of railroads that cross the city. The station is located to quickly serve the major part of the CBD without danger of being stopped by a train blocking the street. Also, all parts of the city can be reached from the fire station without having to cross a railroad.
It is the policy of the Fire Department to send all available equipment to the CBD when a fire occurs. When a fire occurs in a residential area, two trucks are sent and more if needed. The city is satisfactorily equipped with fire-hydrants. The hydrants and water mains are added when new areas develop. Winslow Acres, a new development, has three hydrants and the Edgewood Area has completely new fire hydrants. The static pressure varies between 55 and 58 pounds over the entire city, and the Fire Department can pump 4,000 gallons of water per minute if necessary.
PROPOSALS
1. The National Board of Fire Underwriters has set up a standard for the number of pumper companies a city should maintain in service. This formula is: number of pumper companies = 0.85 + 0.12P where P = population in thousands, and the population is less than 50,000. As Elizabeth City's 1960 population was 14,062, they should maintain three pumper companies.
2. The National Board of Fire Underwriters normally recommends twenty years as the life of fire department apparatus to be maintained in service. Thus, it is recommended that the Elizabeth City Fire Department discontinue the use of the 1923 American La France, 750 gallon per minute pumper, and that the 1929 American La France, 1,000 gallon per minute pumper be placed in reserve at the present time.
3. In the near future considerations should be made towards replacing the 1942 Seagrave 1,000 gallon per minute pumper as it is twenty years old.
4. By 1980 the 1951 Chevrolet (Oren), 500 gallon per minute pumper; the 1955 Howe, 750 gallon per minute pumper; and the 1955 American La France, 85 foot aerial ladder truck should be replaced or brought up-to-date.
5. Residential development is moving towards the Southern end of the City. The furtherest point of the City limits in this area is approximately three miles from the existing fire station. This area is also separated from the City proper by Charles Creek. Thus, a new substation is proposed to serve this area. An ideal location would be on the corner of Southern Avenue extended and Edgewood Drive. This block is to be used for the building of a new shopping center. Here a new substation could serve all the surrounding areas from a central position.
6. In the near future a larger source of raw water will have to be found and developed.
Click to enlarge: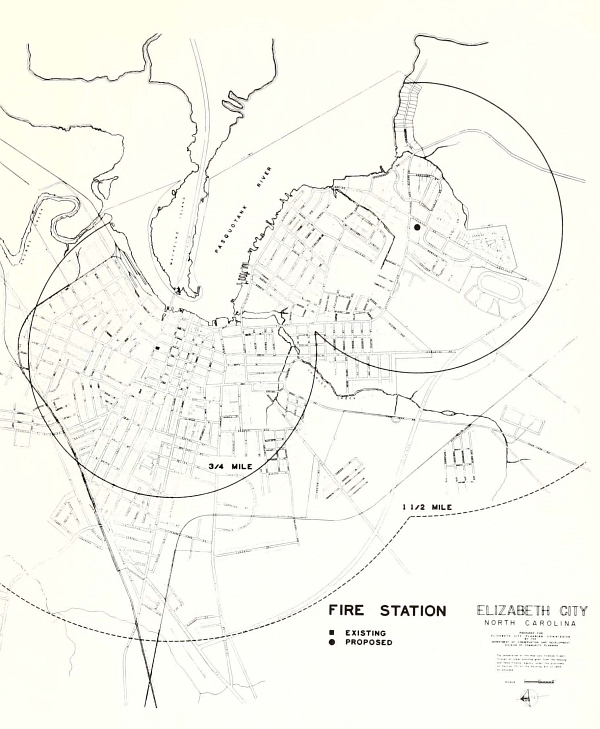 Planning in 1968
We'll just include a couple excerpts here, noting some facts and figures:
Personnel consists of:
1 Chief
1 Asst. Chief
1 Captain
2 Lieutenants
12 Full-time Firemen
40 Volunteers
Rolling stock consists of:
1928 American LaFrance 1000 GPM pumper, reserve
1950 Oren 500 GPM pumper
1955 Howe 750 GPM pumper
1965 Howe 1000 GPM pumper
1966 Howe 1000 GPM pumper
1955 American LaFrance 85-foot aerial ladder
1964 Chevy panel truck
1967 Station wagon
Other notes. Sixteen call boxes in the city for fire reporting. Base station added to radio system in 1967. Contracted by county to answer calls outside city. Fire department has Class 5 insurance rating (for rural area, or both city/rural?).
See original document, which includes another planning map.
More History
For more ECFD history, see these archived blog postings:
And here are the entries in John Peckham's American LaFrance database:
1914 ALF Type 10 Combination – #525 – Shipped 2/6/14 – "Minnie Lee" on hood, Chief's daughter
1917 ALF Type 75 triple combination – #1715 – Shipped 10/10/17 – "Virginia" on hood, Chief's sister
1917 Brockway/ALF combination service truck – #B-322 – Note: Not a factory registration number, assigned by Peckham. Also, "Broadway" and "1917" added by Legeros. Presuming the same truck.1921 Type 75 triple combination – #3601 – Shipped 11/10/21
1929 ALF Type 145 triple combination – #6561 – Shipped 3/15/1929
1955 ALF Type 800? 7-85-AJO aerial ladder – # L-5332 – Shipped 11/30/1955
And for early ECFD history, check out these historical fire department and fire protection laws.