This is an ongoing blog posting about the relocating of Fire Station 22. 
See Legeros updates below. See also ongoing Legeros photos. And here's the official project site from the city.
Contents
2/22/20 – Site clearing started
12/23/20 – Construction bid awarded  
9/16/20 – Construction bids started 
6/25/19 – June Update
4/23/19 – Revised Design Drawings / Demolition Fone
3/23/19 – Demolition Starting
2/15/19 – Temporary Quarters Occupied 
10/22/18 – Temporary Quarters Being Installed
12/1/17 – Design Services Selected
8/14/17 – City Council to Approve Project
February 22, 2020
On February 3, the builder began mobilizing on the site. Land clearing was observed as having started by February 16, and possibly starting the day before.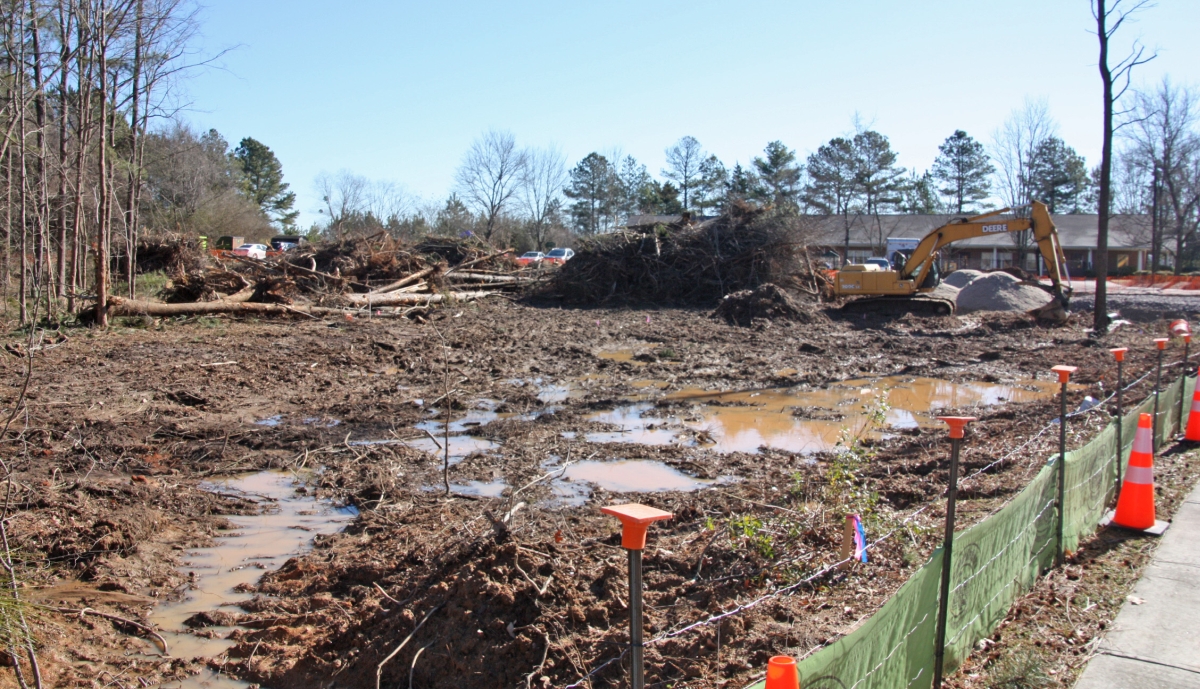 Tim Blasidell photo
December 23, 2020
On December 1, city council awarded a construction bid to Monteith Construction, Inc. The bid amount was $6,880,000. The two-story, 15,800 square-foot structure will be erected on a two-acre site, already owned by the city, at 10050 Durant Road. The parcel was previously planned for use as a park. 
The project was first presented to City Council on August 15, 2017. On September 5 of that year, they approved the project budget, and the reprogramming of 1.3 acres of property for project use. On August 18, 2020, they approved the reprogramming of an additional 0.698 acres of city-owned property at 10050 Durant Road. 
The RFQ for a professional Construction Manager at Risk was issued on August 21, 2018. Qualifications were received on September 28 of that year. The city entered into a master CMAR contract with Monteith in April 2020, including a pre-construction services scope in the amount of $39,000.
Monteith held an initial public bid opening on October 15, 2020, for multiple bid packages for first-tier subcontractors for construction of the project. As some of the bid packages did not have sufficient bids (three required) to open, they were re-advertised for bid and publicly opened on October 29, 2020.
September 16, 2020
What's happening with the relocation of Raleigh Station 22? The city has opening the process for construction bids, starting today. Closes October 15. The one- and two-story, three-bay building is planned for 10050 Durant Road. Below are drawings from Davis Kane Architects, shared back in the spring. See floor and site plans at https://legeros.com/blog/relocating-fire-station-22.
Continue reading 'Relocating Fire Station 22 – February Update' »