This is a blog version of Legeros Fire Line Facebook postings from September 2022.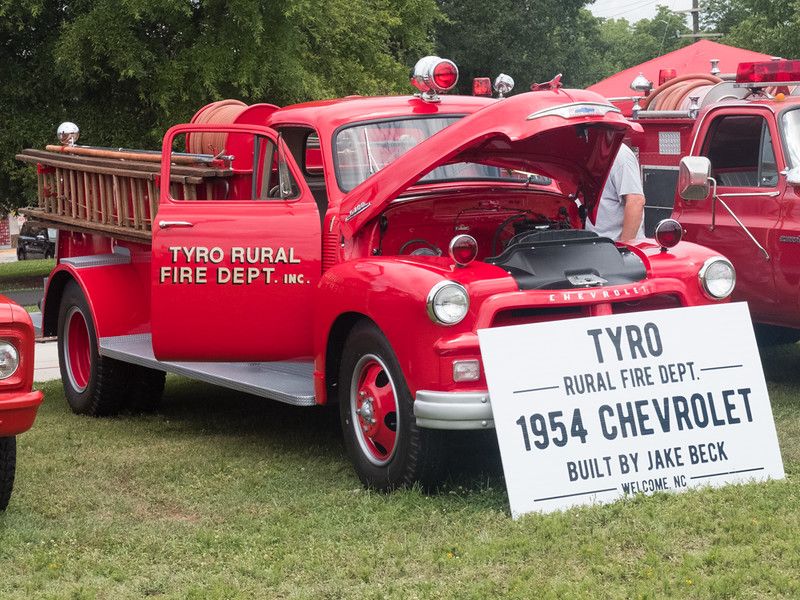 Mike Legeros Photo
We recently learned of another fire truck builder in North Carolina. Jacob C. "Jake" Beck in Davidson County built some 75 fire trucks between the 1950s and 1970s. 
Biography
Beck operated a metalworking shop in Welcome, NC, in Davidson County. He was the son of a blacksmith.
Started Welcome VFD in January 1950, in the community of 1,500 outside of Thomasville. The idea of starting a department originated after he (and others) watched helpless as Ray Zimmerman's furniture store burned in the late 1940s. 
They raised $600 and purchased a 1916 American LaFrance, chain-driven apparatus, with a 300-gallon booster tank, bought for $400 from the Cannon Towel Company in Kannapolis. Other equipment was donated by Lexington FD. 
Beck was elected fire chief, and held the position for 23 years, before retiring as Chief in 1973, at age 67.
Welcome FD was the first volunteer department in Davidson County. Beck was also called the "founder of the volunteer fire department system" in the county.
Beck died July 25, 1992, at age 85, leaving behind a wife of almost 55 years, six children, 14 grandchildren, and 15 great-grandchildren. 
Fire Trucks
Began building fire engine bodies in his machine shop in the early 1950s.
Built some 75 bodies for nearly 20 years, supplying apparatus to communities across Davidson County, including Arcadia, Reedy Creek, and Tyro.
He built trucks for every department in Davidson County, including one for Lexington. His trucks were also sold to departments in other counties, such as Eli Whitney in Alamance County. One his trucks was sold to an FD in Ohio[2].
His work for Welcome FD is cited on the department's web site: "At the September 23, 1952 meeting, Chief J.C. Beck was given permission to change all equipment from the old fire truck to a 1947 Ford purchased from Gordon Motor Company."
"On January 31, 1956 a new 1956 F-600 Ford custom cab truck was delivered to the shop of J.C. Beck for the purpose of a new Triple Combination Pumper –Tanker truck for Welcome Fire Department."
"In 1963, a 1963 Ford F-700 custom Cab chassis, was purchased and the job of building the truck came to Chief J.C. Beck. The J.C. Beck Machine shop turned out a 1,000-gallon capacity tanker equipped with a 350-gallon minute Berkley pump. The truck was also equipped with a 24-foot extension ladder, 14-foot roof ladder, axes, booster line, as well as a pre-connect hose compartment at the rear of the truck."
"In June 1970, J.C. Beck and son Clifton, completed a 1969 C-800 Tilt cab Ford with a Darley champion 750 gallon a minute pump. It included a Leece Neville 105, 1200 watt alternator-generator combination to provide 110 volt power for the operation of power tools, a smoke ejector, a 35 foot extension ladder, 14 foot roof ladder, 10 foot attic ladder, 14 and 6 foot pike pole 3 fire extinguishers, and two 1" Booster lines reels with electric rewinds, 600 feet 2 ½ canvass hose in a hose bed, and 200 feet of 1 ½" hose pre-connected in the hose bed on top of the truck. It was also equipped with red lights and a Federal Siren."
 
In/around, he built a truck for Tyro, using a 1954 Chevrolet 6400 chassis. It was equipped with a 500 GPM pump and 500 gallon tank. Source: WNC fire pics site.

Andrew Messer photo
In 1956, he built a truck for Mt. Tabor, using a two-ton Dodge chassis. It was equipped with two reels of 200 feet of one-inch hose each. It also carried 200 feet of 1 1/2-inch hose. The trucks cost $7,500, total. 

Source: Winston-Salem Journal, January 22, 1956.
In 1963, when Welcome FD needed a new truck, Beck purchased a Ford F-700 chassis, wheeled the truck into the J.C. Beck Machine Shop, and, a month or so later, brought out a "1,000-gallon capacity tanker equipped with a 350-gallon-a-minute Berkley Pump, a 24-foot extension ladder, a 14-foot ladder, axes and booster line."[2]
In 1969, Wayside FD in Iredell County approved purchasing a truck built by Beck. "On April 29, 1969, the Finance Committee submitted a letter to the group reporting the initial funding would be in the amount of $18,705.00. This funding would be sufficient to build a building; purchase the first truck, which would be a tanker; and operate for one year. The truck chassis would be purchased and the tank would be built and installed by J.C. Beck Machine shop, located in Welcome, North Carolina." Source: Wayside FD web site. 
 
It took Beck between two to three months to complete a truck. And built them without using drawings or blueprints, recalled his son.
Beck "designed some innovations" for apparatus[1], such as pre-connected hose mounted into a roller-mounted drawer in the rear of a truck, for easier packing 
His son Clifton bought out of his father's business around the time of his father's retirement. He was planning to restart his father's work of building fire apparatus, reported a newspaper in 1975.
In 1992, seven of Beck's trucks were still in service in Davidson County.
Sources
Volunteer Fire Group Formed, Charlotte Observer, Jan 15, 1950
Mt. Tabor Fire Truck is 'Personalized', Winston-Salem Journal, Jan 22, 1956
'Beck Day' Proclaimed in Welcome, Winston-Salem Journal, Nov 3, 1973
Chief Beck Has His Day, Winston-Salem Journal, Nov 11, 1973
Making Fire Engines – A Rare Craft – Son is Reviving Dad's Old Business – Winston-Salem Journal, August 3, 1975
Welcome Mourns Firefighter/Truck Builder, Winston-Salem Journal, August 1, 1992 
See this Google drive of newspaper clippings.