This is an ongoing blog posting about the project to relocate Raleigh Fire Station 3.
Contents 
3/14/22 – Call for Artists
3/14/22 – Official Project Site
5/26/21 – Design Contract Awarded
11/5/17 – Property Purchased
March 14, 2022 – Call for Artists
On March 4, the city issued a call for artists, to design artwork for the facade or grounds of new Station 3. The project budget is $126,000, with qualifications submitted no later than April 15, 2022. More information. 
March 14, 2022 – Official Project Site
Here's the official project site and includes such details as:
Address is 1000 Rock Quarry Road
Site is 1.74 acres
Budget is $11.5 million
Design contract to Huffman Architects. 
Project design started September 2021.
Final design expected in fall 2022.
May 26, 2021 – Design Contract Awarded
Included in the Consent Agenda for the May 18, 2021, meeting of City Council was authorization of a contract with Huffman Architects, PA, for the design of a new Fire Station 3 at  1000 Rock Quarry Road, for an amount not exceeding $799,988. They were selected from eight firms that responded to a request for qualifications that was issued on November 19, 2020, and were received on December 8. 
The project is for design and construction of a new station, necessitated by the age of the 1951 facility on South East Street, along with inadequate dormitory and parking space. The current station also causes an overlap of service areas that doesn't allow for maximum response coverage, and reduces the city's ability to meet the NFPA 1710 deployment standard.
The new facility will be approximately 12,000 square feet, with two apparatus bays to house Engine 3 and a reserve engine or ladder, as needed. 
View agenda item as well as PDF attachment. 
November 5, 2017 – Property Purchase Authorized
Included in the Consent Agenda for the November 8, 2017, meeting of City Council is authorization to purchase a portion of a parcel addressed as 1034 Bragg Street as a site for replacing Fire station 3. 
The fire station site faces Rock Quarry Road just north of Raleigh Boulevard. View agenda item as well as PDF attachment.
The property to be purchased is currently owned by the state Department of Corrections. The city is seeking about 1.74 acres for the future fire station. The parcel is appraised at $300,000.
Funding for design and construction will be sought in FY19, along with funding for Station 13 (formerly planned as Station 30) on Ronald Drive off Wake Forest Road.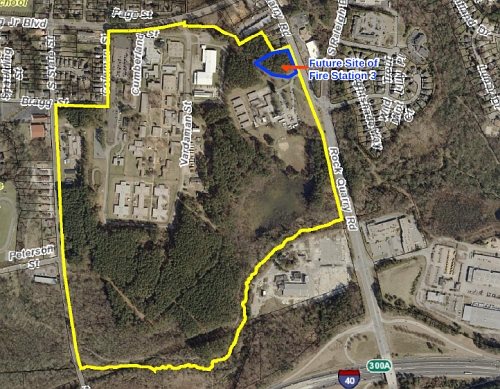 The site is located 1.7 road miles southeast of current Station 3. The change will redistribute their first-due district, and which will aid in coverage to the south and east, as Station 12 is being relocated about a mile east as well. Click to enlarge: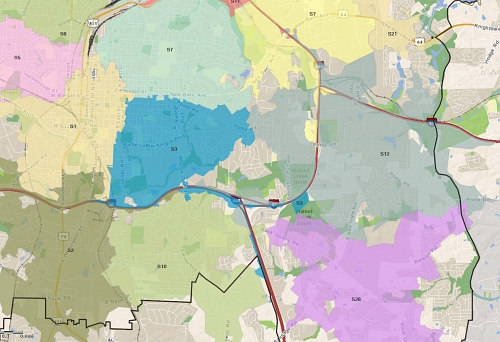 Legacy Station 3
The current (or legacy) Station 3 is located at 13 S. East Street. It was built in 1951 and is the oldest active engine house in the city. The 3,564 square-foot building occupies a 0.3 acre site. 
It's planned for replacement at a new location due to the tiny lot size. The new fire station is planned in the 15,000 square-foot range.
The city's third "career" fire station was originally located at 135 E. Hargett. It opened in 1913 and moved to the current location in 1951. Station 3 housed a rescue company from 1976 to 1978, a brush truck circa 1983 to 1985, and a mini-pumper from 1986 to 2016.