This is a re-posting of a Legeros Blog Archives posting from December 7, 2009, that's no longer available on the old site, due to technical problems.
On Sunday, September 28, 1980, fifteen ambulances assisted with moving 170 patients from Rex Hospital on St. Mary's Street to their new location on Lake Boone Trail.1 Teams of doctors, nurses, rescue personnel, and other volunteers assisted. The big move started at 7:04 a.m. when a specially fitted transfer truck was loaded with two patients in complicated traction arrangements.
Patients David S. Bostic and Paul N. Humphreys Sr. arrived at the new location 15 minutes later, and had expected to be admitted in the new facility. But they were beat by Jane Waring H. Wheeler, a mother-to-be who arrived from Louisburg. She got the drop, so to speak, two minutes earlier. Her daughter, Mrs. Wheeler's second, was the first baby born at the hospital, arriving at 10:00 a.m. The night before, the last child delivered at old Rex Hospital was born at 9:04 p.m. on Saturday.
Click to enlarge:
 
At 7:24 a.m., vans pregnant with mothers and babies started rolling out. From there, the stream was steady until just before 1:00 p.m. Huge sheets of plastic were also stretched across the roofs at each entrance, for temporary shelter in the event of the rain. The skies were gray, but the streets stayed dry.
Fifteen ambulances were utilized, and one suffered a minor mishap.2 An ambulance from Zebulon stopped working on Wade Avenue. The patient was transferred to another unit, and the Zebulon ambulance was quickly fixed. Fuel filter was the aliment.
Each patient and driver was accompanied by at least one ambulance attendant, plus a nurse, records, and personal belongings. The Raleigh Fire Department's two rescue units were likely utilized, a pair of Chevrolet/Murphy ambulances of 1974 and 1975 model years. 
Click to enlarge: 
Stoplights on Wade Avenue at the entrance to the old hospital were set to flash, and police officers helped direct traffic. Special school buses helped transport those in wheelchairs. Said one ambulance attendant to a patient, "They're going to be a little quick over here. It may make you feel like you're on a roller coaster, okay?"
Each trip, cited driver Wallace Piper, took about eight to 10 minutes each. All patients were transported safely, with he last patient arriving at 12:46 p.m., some 30 minutes ahead of schedule. The first meal prepared at the new Rex cafeteria was fried chicken, for the culinary curious.
Rex Hospital is Raleigh's oldest hospital, founded in 1894. The first location was on the present campus of Dorothea Dix Hospital. In 1937, the hospital moved to St. Mary's Street. See present day pictures of the old hospital, now a state government building, including three shown below.
Note: This article was originally posted in December 2009, and has been updated with additional photos and a little more wit.
Sources: News & Observer, Raleigh Times.
1The News & Observer reported 168 patients moved, while the Raleigh Times reported 176.
2Okay old-timers, what ambulance and rescue services would those have been?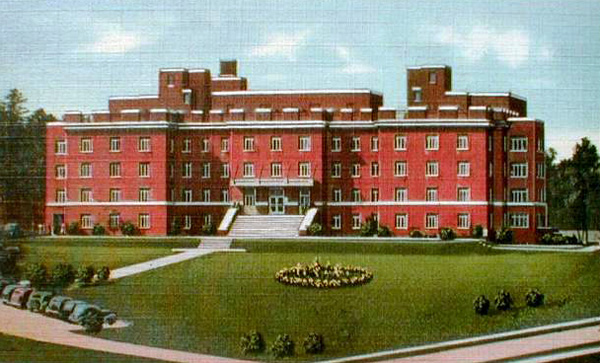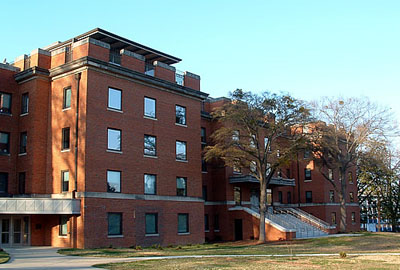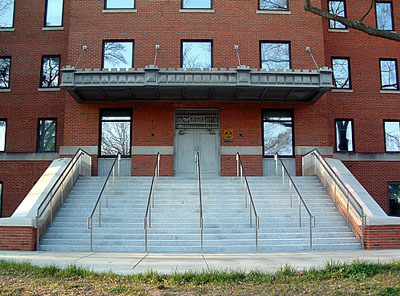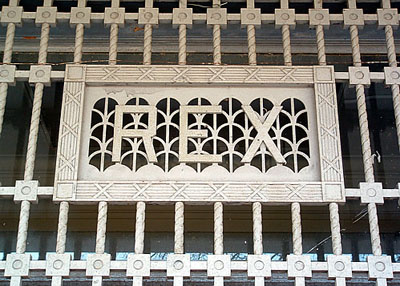 December 8, 2009 – lee
I was born at this hospital a few years before it closed.
December 8, 2009 – A.C. Rich
..I was born there a long time before it closed on St. Marys Street (lol!)
April 27, 2012 – DJ
Me, too, AC…
April 27, 2012 – T. Loy
Me Three!
April 27, 2012 – James
My born on date was 1967 @ T Rex. Rex did it all, every family member was there at one time or another. Same day surgery were non existent. So was allowing you to go up to see family when you were younger than 12? Gotta love those old Ambulances…Man those were the days and we didn't even know it.
April 27, 2012 – DJ
As to the ambulances pictured, the one with its' rear to the camera is a Wendell Rescue Squad unit (Swab body, most likely the 1171 unit), then the three facing the camera, left to right, Cary 573 (1975 Chevy/ Springfield. Parkwood also had one), Zebulon 971 (1974 or so Chevy/ Murphy, and Garner 872 (E350 van with local roof extension).
April 29, 2012 – Steve
so what are the plans for the old building?
April 29, 2012 – Brown Wynne
ow, so people that were born there are still alive?? Who knew! Just kidding of course…gotta get jabs in on the "experienced" guys when you can!
April 29, 2012 – Bob
My great uncle twice removed on my step mothers side was seen in the old emergency room back when nurses wore cool hats.
April 29, 2012 – Legeros
I was once born.
April 29, 2012- Jason Thompson 
DJ, thanks for naming the Cary unit in the pic – I had all of the other ones! My younger sister was born there on Sept 16, 1980 and my parents had to sign a transfer form in case there were complications so she could be transferred to the new Rex if needed.
April 29, 2012 – DJ
Born at Old Rex in '58 (yeah, I am that old); emergency appendectomy in 1971, back when that got you a nine day hospital stay. @ JT- its been a long time since I have seen a picture of it. It was our first out unit in Cary up until we started buying Swans in late 79 or so. Lots of room, monster 454 V8, but rode like crap.
April 30, 2012 – That was me 
Was born there and was one of those babies that hitched a ride on the 28th from the old Rex, to the new one. Mom told me she was up all night because of the packing tape was loud as the put everything in boxes.
May 1, 2012 – Lee
I was born at that Rex !