Found in my files, excerpts from transcribed minutes of the Apex Volunteer Fire Department Inc., from 1956 to 1979.
Below are some highlights that caught my eye. See related historical photos in this album from the Raleigh Fire Museum: www.flickr.com/photos/raleighfiremuseum/albums/72157687765234902
Note, will be tweaking as any typos are found, or additional annotations needed.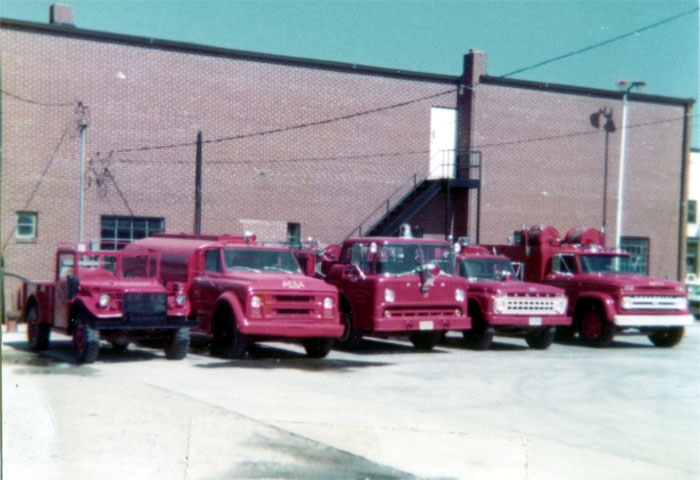 1956 to 1959
1956, Dec 3 – Civil defense report delivered. "Report was made on a civil defense tower. [Colonel] Hardeson was seen about a ground observer corp. Home Demonstration club offered their services to furnish observers to help man the post. The town will cooperate with us on the project."
[ Legeros: A civilian defense observation tower was installed atop the fire station in 1957, with volunteers participating in the national Ground Observer Corps. Blog post about the tower and the corps: www.legeros.com/blog/cold-war-history-ground-observer-corps ]
1956, Dec 10 – Drivers required to fill gas tanks and check oil after every trip.
1957, Jan 7 – Red lights purchased for all personal vehicles for $6.02 each.
1957, Feb 18 – "Two-way radios will be available in the near future. We can get them for $50. Cost to change their frequency would be about $50.00."
1957, Apr 1 – Received surplus truck from county at cost of $25.00.
1957, May 6 – Department will receive twenty-five "World War I helmets." Also, "The fire district will be three miles out on each from the fire house, in order to get better insurance rating."
1957, Jun 3 – "Fire Chief's car was brought over to the fire house by James Mason from Clark Chevrolet Company. Several of the firemen made a trial run on it." Members approve purchase for $275.00.
1957, Jun 24 – Special Meeting – "The Fire Dept. Treasury is about to be depleted, so to keep from going broke, C. S. Schaub donated the sum of $0.01 to the department."
1957, Oct 7 – County-wide meeting held at Raleigh Fire Station 1. Each fire department in county is supposed to "make a survey and inspection of every house in the Fire District as to defective wiring, etc."
1957, Nov 4 – Voted to make Ladies Night an annual affair.
1957, Dec 2 – Report on the county-wide radio project. Will cost $8,000 for the entire project, with each unit in the county costing about $600."
Continue reading 'Apex Volunteer Fire Department Minutes 1956 to 1979' »