The story is a familiar one. Members of a municipal-based fire department separate themselves into a second group to serve rural residents. A second organization fire department is formed. The resulting relationship between the two departments can be good or not so good. The latter was the case in Elon College in Alamance County in the mid- to late-1970s. Members of the volunteer Elon College Fire Department (ECFD) formed the separate, short-lived Boone Station Fire Department (BSFD) and a rivalry resulted.  
Here's an narrative of the events, based on articles from the Burlington Times-News and Hose & Nozzle (H&N) magazine, plus a couple other sources.  
Years 1974 and 1975
June 24, 1974 –  Agreement signed between ECFD and town board, for money raised or to be raised for the purpose of buying a truck for responding to fires outside of town. Source: Times-News, Nov 17, 1975.
Summer 1975 –  ECFD members wanted to establish a fire district for the areas they served outside the town limits, to reduce fire insurance rates for property owners. By that summer, they had raised about $4,000 to buy a rural fire truck, when someone suggested that they split into two groups under one roof. ECFD members voted down the idea. The 16 or so members that favored the idea went to the town board and eventually formed their own fire department. Part of the reason for the split, said the BSFD attorney later, was that "the best fire-fighting equipment was reserved for the town" and that "interference by the town board" had been the biggest problem. Source: Times-News, February 20, 1977.
June 20, 1975 – The non-profit organization Elon Rural Fire District (ERFD) was incorporated by Ralph McIntyre and his brother Richard McIntyre, the board chairman. Richard McIntyre was a Fire Training Area Coordinator with the Fire Service Training Division of the state department of community colleges. The department was located on Highway 100, about a mile west of town. Sources:: State corporate records, Times-News, Nov 20, 1975; April 25, 1976. 
July 8, 1975 – Town board meeting included a report by Richard MyIntrye, chairmen of the rural department's board of directors. He told them that that the rural department had been incorporated and asked for action on their proposals: that they split from ECFD, have their own chief and officers, be allowed to operate from the town fire station, and be allowed to use town communications equipment but purchase their own fire apparatus. Objections were expressed about turning over $3,783 to the town, which McIntrye said had been collected by ECFD members toward buying a rural fire truck. The town board met the following night and asked those ECFD members who did not want to serve under ECFD Fire Chief Fred Loy to withdraw from the department. Source: Times-News, Dec 9, 1976.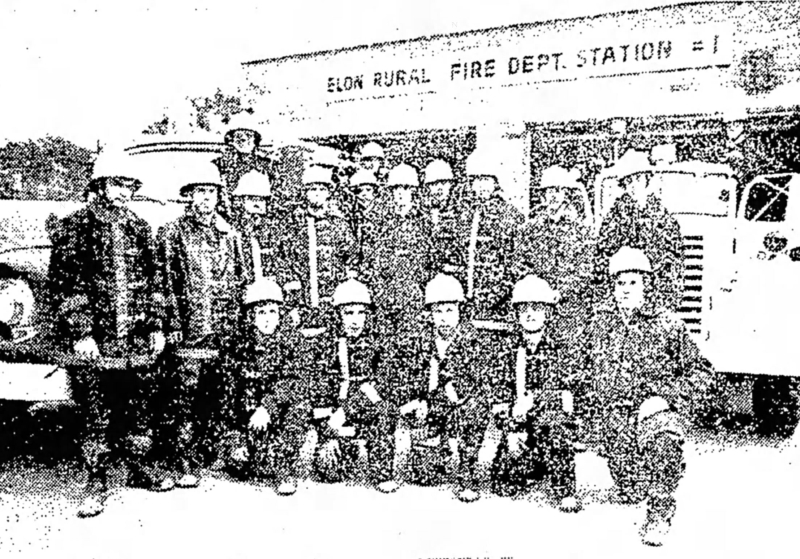 Times-News, May 6, 1976.
July 11, 1975 – Mayor T. L. Smith sent a letter to the rural members and invited them to serve ECFD and under the command of fire chief Fred Loy. Otherwise, each member must withdraw from ECFD, turn in any equipment in their personal possession, and immediately cease using ECFD equipment or facilities. Prior to the regular Tuesday town meeting on July 8, the aldermen didn't know that Elon College had two fire departments. Nor did some of the firemen. The members of the rural department had formed a corporation to make the difference official. They wanted their own department to provide better protection to rural residents and to raise more money. Except for a new (newer?) fire truck, they said that their equipment was the oldest in the county. They wanted a fire district created for the rural areas that they served, though that would have to be approved by county commissioners and then voted upon by citizens. They also wanted control of nearly $4,000 collected for a rural fire truck. [ The town recently purchased a new fire truck, but it was for town use. ] The funds were currently being held by the town in reserve and the town planned to continue holding the money until a fire district was created, if that happened. But for the time begin, the town would cooperate with the two fire departments. And until such time as a district was created, ECFD would continue to serve both the town and the four-mile radius rural area outside of town. Source: H&N, Sep/Oct, 1975; Times-News, July 13, 1975, Elon Board Orders End To Rural Fire Division.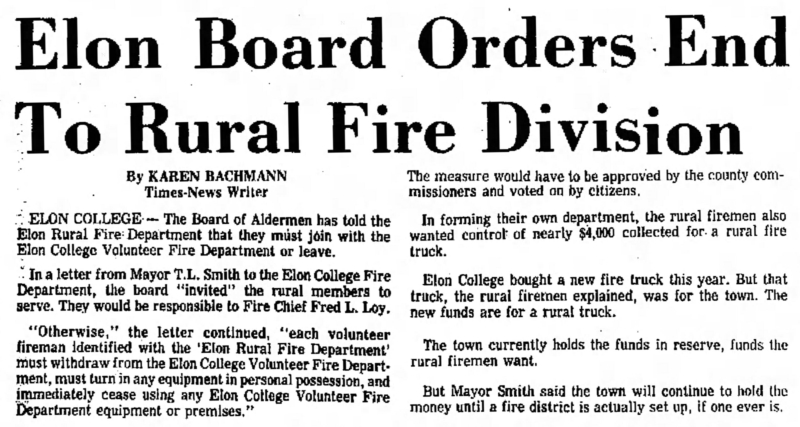 Nov 17, 1975 – Time News – Elon Rural Fire Unit to Seek County Funding – Rural fire chief Ralph McIntyre said he will request county funding for the rural department at a meeting with the county fire commission on Tuesday. He had initiated a fundraising drive for the rural department, which has no contract with county, and which caused the town board last week to issue a statement that disassociated ECFD from the collection efforts. The town provided funding for ECFD for protection within the town limits, and ECFD also has a contract with the county to provide protection in the four-mile rural district surrounding the town. Source: 
Nov 20, 1975 – Times-News – Commissioners Face Elon's Fire Dispute – On Tuesday night, the county fire commission approved without comment a request to pass on to county commissioners a request for funding by the rural department. Also noted was that many rural members were dismissed from ECFD for having missed three executive departmental meetings, a violation of the ECFD by-laws. Town fire chief Fred Loy said that any member who had quit could not rejoin without a majority vote of the members, and those voting members would include the 15 or so men that Loy had hired to replace those who had left. The chief said he had 32 men, with a ceiling of about 40. 
Nov 26, 1975 – Times-News – Fire Department's Plea Fails – On Tuesday night, the county board postponed considering the request for funding by the rural department. By unanimous approval, the board would take up the request at their next regular meeting. 
Dec 2, 1975 – Times-News – Firemen Rivalry at Standstill – After nearly two-and-a-half hours of discussions, county commissioners on Monday night decided to let the rival fire departments attempt to reconcile differences themselves. They requested two names each for an ad hoc committee on the matter, to be headed by Chairman Harvey Newlin. Also noted were such details as 27 of the 33 members of ECFD currently lived in the rural district, and removing the rural district from ECFD's response area would "cripple the department and leave the town with no practical means of fire protection inside the town limits." Also noted were response numbers, 200 fires in the rural district over the last three years, and 65 fires inside the town, in the last three years. It was also claimed that ECFD used town-bought equipment on rural fires "as a matter of course."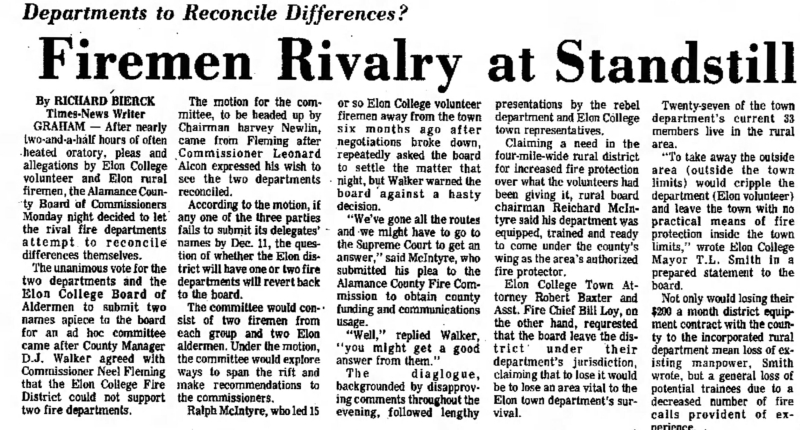 Dec 9, 1975 – Times-News – Group Appoints Fire Delegates – The rural fire department had named board chairman Richard McIntyre and fireman Lynn Ward as participants in the ad hoc committee created by county commissioners for the purpose of examining the differences between the town and rural fire departments. Commissioners created the committee last Monday night, after McIntyre requested county funding and use of the county communications system. ECFD had chosen Assistant Chief Bill Loy and fireman James Kelly to serve on the committee. Pending were two members of the town board, which would probably be appointed at tonight's town board meeting. 
Year 1976
Apr 22, 1976 – Times-News – Residents State Fire Preference In Area Survey – ECFD was the preferred provider for rural protection, according to a questionnaire mailed earlier that month to 1,911 property holders in areas outside of town. The results were 567 people responded, 282 preferred ECFD, 120 preferred BSFD, 159 responses could not be tallied, 11 were returned undelivered, and 6 were duplicates. The data would be submitted to county commissioners at their May 3 meeting.  
Apr 27, 1976 – Times-News – Delay in Answering Fire Call Blamed on 'Mistake in Radio'- On Friday, April 23, the county fire dispatchers received a call at 2:12 p.m. for a fire on Glen Raven Road. ECFD was notified. After no immediate response on the radio from ECFD, a second department was notified at 2:16 p.m., Faucette FD. At the same moment of the second dispatch, ECFD responded on the radio. Alamance County Fire Marshal David Cauble responded on the radio a minute later, and ECFD was at the scene of the fire when he arrived, with BSFD arriving behind him. Fire was reportedly visible from outside the structure, before it was reported. The fire claimed the life of an adult woman. The standard procedure for county fire dispatch was to wait three minutes before dispatching a second department, if the first department did not respond on the radio. The cause of the delay was that ECFD's radio didn't operate at the time of the dispatch, but was working during the fire. ECFD fire chief Fred Loy said the radio did not malfunction but, instead, a "mistake was made in the radio operation." He declined to give details. "I'd rather not say what happened," he said. "It's not a public affair, it's a fire department affair. There was no delay in the time getting [to the fire]." Cauble said that ECFD "arrived on the scene as they should have" and "the only thing is their radio didn't operate. When I got there, they were already pumping water."  
Apr 27, 1976 – Times-News – Not Enough Care (editorial) – Writer admonished the 1,356 property owners who "did not take the time nor even care enough about their fire protection problem" to complete the survey, which had an April 17 deadline. 
Apr 29, 1976 – Times-News – Compliance Is Questioned – After the county fire commission held a closed meeting, an attorney for the North Carolina Press Association said that he thought the "secret meeting" did not comply with state open meeting laws. Fire commission chairman J. Earl Daniely said the meeting was held "for the purpose of developing a report to present to [county] commissioners on Monday on [the subject of] the town and rural fire departments." He also declined disclose details of the meeting nor any recommendations that they might make at Monday's meeting.  
May 4, 1976 – Times-News – Elon's Town Firemen Picked Over Rivals – At the Monday meeting, county commissioners decided that fire protection for the Elon College area should be provided by ECFD. This action was based on a two-page proposal from the county fire commission. County commissioners made no recommendation concerning BSFD, but apparently they would not receive their $200 monthly county funding at the beginning of the next fiscal year. The commissioners made these requests:
That "proper equipment be available for fighting fires outside town limits."
That the volunteer firemen at ECFD be allowed to elect officers, with the election of their chief subject to approval by the town board. Also, neither that the top two leaders of ECFD nor BSFD be considered eligible for election as an officer for four years.
That the county fire marshal immediately begin working with ECFD to secure a 9-A or 9-AA fire protection rating for the area.
That BSFD be restricted to the area north of Interstate 85, with EM Holt FD continuing to serve the area south of Interstate 85.
County commissioners declined to adopt a fire commission proposal to create a service district in the rural area, to provide tax support for fire protection. The county commissioners preferred that the town initiate their own action, instead of the county "telling them what to do." 
May 6, 1976 – Times-News – Boone Station Group 'Financial Sound' – BSFD was financially sound and supporting itself with membership contributions "to an association formed for that purpose," said the department's attorney. BSFD was comprised of 41 members and was "alive and well" and "[responding to] some fire calls earlier than other departments." Since BSFD has been "denied access" to the county radio system, their members relied on "CB radios and scanners for communications." The chief was Ralph McIntyre and the assistant chief was Lynn Ward. The attorney also said that "the county has not contracted with them, and cannot prevent their operation as a legally constituted fire department," in reference to a decision by county commissioners on Monday. During that meeting, commissioners asked ECFD to provide protection for both the town and surrounding areas.  
May 6, 1976 – Times-News – Scholarship Established – BCFD announced an annual $250 scholarship for a "deserving young man or woman wishing to pursue his or her education in the life-safety and fire protection field." They were forming a nine-member selection committee and applications could now be submitted.  
May 18, 1976 – Times-News – License Request Leads To More 'Fire' Struggle – On Monday night, county commissioners delayed action on whether or not to approve an FCC radio license requested for BSFD. They requested that the fire commission study the request. Additionally, it was announced that the Burlington fire chief would not permit his dispatchers to dispatch calls to BCFD, because "it would be hazardous for two fire departments […] to answer a fire call simultaneously." Though the dispatching equipment was owned by the county, the dispatchers were employed by the city and reported to the fire chief. At the start of the meeting, one commissioner asked "just how long are we going to drag this fire matter on."  
May 28, 1976 – Elon Rural Fire District Inc. changed their corporate name to Boone Station Fire Protection Association Inc. They were now known as Boone Station Fire Department. The name Boone Station was one of the thirteen townships that Alamance County was divided into. Township 3, named Boone Station, was comprised of Elon, parts of Burlington, and parts of Gibsonville. 
April? May? 1976 – Hose & Nozzle printed a News-Times editorial about the dispute, which had been brewing for the past eight months. Meetings had been held and proposals have been offered, but nothing had been resolved. The result was that Elon College "has in effect two fire departments." ECFD is located on Williamston Avenue, just south of the business district. They had a "modern station with good equipment." BSFD was located on Gibsonville Road, just outside the town limits. They were using a converted service station, with an older pumper and an older "water truck." The rural department removed itself from the town department eight months ago. They set up their own operation for covering four square-miles outside the municipal limits. That district, however, was still "under the jurisdiction" of ECFD, which received $200 per month to provide service. The rural department wanted that money. The editorial asked such questions as "why did the rural members leave in the first place?" And "why do they feel the need for two 'fire units' in the same area?" Source: H&N – May/Jun. 1976.
April? May? 1976 – Hose & Nozzle reported that Fire Chief Fred Loy had resigned from ECFD, citing health reasons. Bill Loy Jr. was appointed Acting Chief until the department held elections in June. The position paid $400 a year. Source: H&N – May/Jun. 1976.
June 11, 1976 – Times-News – Advertisement for Wickes Lumber about BSFD sponsoring local promotions daily at the business. 
Nov 2, 1976 – Times-News – Commissioners Recognize Elon Fire Group – On Monday, county commissioners made ECFD "the department of record" for both the town and part of its surrounding area.

Nov 24, 1976 – Times-News – Turkey Shoot on Thursday – Advertisement for fundraiser.
Nov 24, 1976 – Times-News – Fire Study To Involve Boone VFD – BSFD chairman Richard McIntyre said that BSFD had been selected to participate in a "nationwide fire study program" sponsored by the National Fire Prevention and Control Administration. "The data will be analyzed by a committee of fire protection experts and a statement will be prepared for submission to the NFPCA headquarters" in Washington. And it would be funded entirely from citizen donations and without any tax monies used.
Dec 9, 1976 – Times-News – Meeting Held to Stop Spread of "Fire Feud" – Criminal charges had been brought against BSFD by members of ECFD. There was also a possible conflict developing about fire protection for a factory located just outside the town limits. For twelve years, the factory has contracted with Gibsonville for fire protection, but ECFD members said "they now have sufficient equipment to provide adequate protection" to the factory, and would like to do so. The criminal charges were:
BSFD member charged with obstructing a fireman answering a call in a vehicle, complaint made by ECFD member, at a fire call on November 29
BSFD member ticketed for running through a red light with a fire truck, while answering a fire call.
BSFD member charged with assault with a deadly weapon, complaint by ECFD who was standing in the street and collecting money for a fundraiser, and claimed the BSFD member attempted to run over him with a red pickup truck. 

Dec 9, 1976 – Times-News – Boone Station Study Cannot Be Documented – The National Fire Prevention and Control Administration had no record of BSFD participating in any study that it sponsored. But "just because I can't find any record now doesn't mean that [the department] is not a participant in a fire study program," said an NFPCA official.
Dec 10, 1976 – Times-News – Boone Station Study May Be Report; No Federal Money Used – The reported BSFD fire study was more likely a "firefighters course follow-up," according to an official with the National Fire Prevention and Control Administration. He added that the study "appears to be the result of someone very interested in [the] fire service putting extra effort into [a course] assignment." According to the official, the BSFD board chairman took the fire service course that summer. One requirement was that each student return home "and apply the techniques and principals to the operation of his own fire department."
Dec 11, 1976 – Times-News – Group Will Help Anyone, Alamance Scene Column – BSFD chief Ralph McIntyre said his department wants to work with anyone needing help. The Gibsonville town manager suggested that area departments "formalize a mutual assistance agreement into writing" in a meeting that he held with BSVFD firemen, along with another meeting held with Elon College volunteer firemen. The meetings were held "in an effort to prevent any problems from developing between the departments" and "after indications that dissention between the town and rural [fire departments] […] might cause difficulty in nearby Gibsonville." Representatives from both departments had indicated "their willingness to work together," though no "definite proposals were developed."
Dec 15, 1976 – Times-News – Boone Firemen Cleared – Two BSFD members were cleared of charges on Tuesday afternoon, after witnesses offered conflicting testimony. Presiding judge Thomas D. Cooper said he was required to enter verdicts of not guilty because "he was unable to determine which side told the truth." One incident involved a reported fire at Gibsonville Trailer Park on November 29, which was a false alarm. To reach the reported fire, which was located off NC 100, ECFD members had to drive past the BSFD station. As the town truck was approaching the rural station, the rural truck purportedly pulled into the path of the town truck. The driver of the town truck was also a town policeman and subsequent charged the driver of the rural truck.  The second incident involved the rural truck purportedly running a red light through the intersection of the town's main street and NC 100, while answering a fire call.  The third incident involved a charge of assault with a deadly weapon, when a college student and volunteer fireman was collecting donations for a needy family at an intersection in town, and said that a rural firemen attempted to run him down in his personal vehicle. The judge cleared the rural members of all charges.  

Dec 30, 1976 – Times-News – Fire Board Acts Against Boone Dept. – The county fire commission issued an ordinance proposal on Wednesday night that could block operation of BSFD, but the department's lawyer said that BSFD intended to file a lawsuit to block its enforcement. If adopted by county commissioners, the proposed ordinance would prevent BSFD members from responding to fire calls. If they did respond, they could be fined up to $50, spend 30 days in jail, or both. Noted the new story, commission members showed some reluctance before the unanimous approval. Said one member, "The worst thing in the world is to see all those dedicated people up there put down, and I feel bad about it." The proposed ordinance specifically designated ten departments to serve the county's ten fire districts, and BSFD was left off the list. Further prohibited was solicitation of funds or other contributions when "presenting oneself to be officially recognized by the county," with the exception of the ten named departments. The proposed ordinance will be presented to county commissions when they met on Tuesday morning. 
Year 1977
Jan 3, 1977 – Times-News – Fire Departments Receive Trucks – Eleven 1967 military 1 1/4-ton surplus trucks had been distributed to county fire departments and the county rescue unit. They were obtained through the Civil Preparedness agency. Fire departments were responsible for equipping the trucks, for such uses as fighting brush fires. Distribution was determined at the Thursday night meeting, following a Wednesday night meeting of the fire commission, which voted unanimously to deny a request for one of the trucks to BSFD.
Jan 5, 1977 – Times-News – Floor Costs Up $21,000 – Highlight of county commissioner's meeting on Monday – The commissioners posted until January 17 consideration of an ordnance that was expected to outlaw the operations of BSFD. 
Jan 5, 1977 – The non-profit organization E. C. Volunteer Fire Department was  incorporated. On March 25, 2013, they changed their name to Elon Fire/Rescue.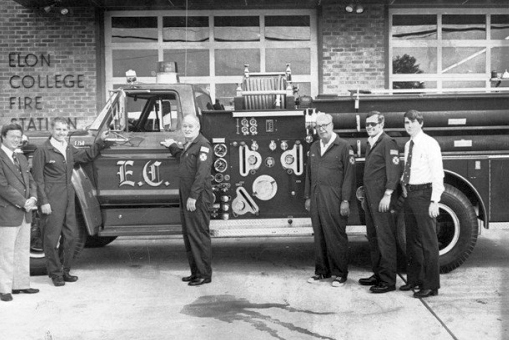 Photo courtesy ECFD, dated 1977
Jan 11, 1977 – Times-News – Boone Station Solicits Support From Residents – BSFD had mailed 300 to 400 letters to some of the 1,500 residences in their fire district, which was located outside the town limits. The letters urged attendance to a January 17 meeting of county commissioners, who would consider a proposed ordinance to govern fire protection in the county. 
Jan 18, 1977 – Times-News – Residents Defy Weather To Debate 'Old' Issues – On Monday, a crowd packed the county commissioners meeting room, with each side arguing their point for nearly 90 minutes over who should have authority to fight fires outside of the town limits. Commissioners agreed that their proposed ordnance, which would forbid firefighters from unauthorized fire departments from fighting fires, needed work, but said "the document's basic purpose would remain the same." The attorney for BSFD promised a court battle, should the ordnance pass. It was expected to be revisited on February 21, when commissions returned with a revised ordnance. 
Jan 27, 1977 – Times-News – Boone Firemen (letter to editor) – Writer praised the members of BSFD, who they noted were former ECFD members.
Feb 16, 1977 – Times-News – Boone Firemen (letter to editor) – Writer praises both the town and rural firemen and hopes they can resolve their situation and work together. 
Feb 20, 1977 – Times-News – Elon/Boone Station Questions Remains – "Can members from two neighboring volunteer fire departments resolve their conflicts and give the best fire protection they know how" opened the article. The matter would be addressed on Monday, at a county commissioner's meeting. Two new developments might help bring an end to the 20-month-old dispute. First, tentative plans to discuss an ordinance that would make it illegal for BSFD to operate and, second, a plan to be proposed by the BSFD attorney, calling for an expanded fire district that's large enough for both ECFD and BSFD to "co-exist." ECFD fire chief Fred Loy said that he'd like to see both departments operate as a [single] unit again," but BSFD members wouldn't consider it. Unlike other county departments, ECFD also receives some financial support from the town, though most of its members lived in rural areas. Chief Loy said that ECFD can't afford to compete with BSFD because "there aren't enough fires within the town and the volunteers, for lack of anything to do, will eventually leave if the two departments co-exist." He predicted these "undesirable outcomes" that the town could face: paid fire department as an added expense, contract service with BSFD, or future inadequate fire protection.

Feb 22, 1977 – Times-News – Elon-Boone Station Compromise Sought – Attorney William Durham on Monday proposed an idea to the county board that he thought could solve "the lagging dispute" between ECFD and BSFD. He suggested that BSFD take a small part of the ECFD rural district, and "couple it" with a larger portion of land currently served by E.M. Holt FD. Commissioners said that they would appoint a committee to examine the plan. The proposal also put another proposal, an ordnance that would prohibit BSFD from operating, on the back burner. Also on Monday, commissioners said that they would ask the county's volunteer fire chiefs to find a way to "prevent any similar disputes in the future." One commissioner suggested adding ambulance service to the study, to avoid overlap there. Durham's proposal called for:
Both ECFD and BSFD cover the area west of US70 and from US70 to I-85 until BSFD can build their own station. At that time, BSFD would "assume control there."
ECFD would continue to serve that area during the interim, to ensure that residents wouldn't lose their "low insurance rating which accompanies nearby fire service, equipment, and personnel specifications."
BSFD would additionally cover an area south of I-85 now covered by E.M. Holt FD, and notably because EMFD is "too far away from this particular territory" for residents to "get low insurance rates."
During this interim period, BSFD would be permitted to use a "corridor" above Highway 70 until their new station is built, which they said would take about a year. 
Feb 22, 1977 – Times-News – Boone Station (letter to editor) – Writers ask that BSFD be given a chance to serve their community, and "please hold the persecution of the Boone Station firemen by the paper and the Fire Commission until they have given reason for it."
Feb 25, 1977 – Times-News – The Fire Plan (editorial) – Despite the recent efforts of county commissioners, both ECFD and BSFD want to serve the same area. And they if cannot work together in a unified fashion or as a unified department, then one of the two rival departments should be eliminated.
April 4, 1977 – A county ordinance forbidding BSFD from operation was passed. County commissioners, voting 3-to-2, adopted an ordinance on April 4 that allowed authorized fire departments to serve the county and thus outlawed unauthorized departments. BCFD was not included in the list of authorized fire departments. Said one Commissioner during the voting, "It was an instrument used to get ride of a fire department and I didn't think we [had the authority] as a board could do that." BSFD members said that they were headed back to court, to reclaim their "authority to fight fires." They had been "temporarily forbidden" to fight fires by the new ordinance. The BSFD board had instructed their attorney to file a civil action on their behalf. The attorney would also seek an injunction against enforcement until a decision is reached.  Source: H&N, May/Jun. 1977
Apr 5, 1977 – Times-News – Boone Station Ignored by County Ordinance – In a 3-2 decision on Monday, April 4, county commissioners adopted an ordnance that recognized certain fire departments which can serve in specific fire districts, and which did not include BSFD. The ordinance carried a misdemeanor penalty for unauthorized persons fighting fires while an official department is on scene.
Apr 21, 1977 – Times-News – Boone Station To Sue – On Monday, the BSFD board instructed their attorney to file a civil action on their behalf, seeking an injunction against enforcement of an ordinance prohibiting BSFD from operating in the county.
Mar./Apr. 1977 – Hose & Nozzle reported that Elon College Rural Fire Department was now named Boone Station [Volunteer] Fire Department [although the corporate name was changed a year ago]. County commissioners voted on an ordinance that clarified the rules regarding fire department operations in Alamance County. The ordinance stipulated that only "authorized fire departments may fight fires in the county," and didn't recognize BSFD. Violations to the ordinance, if approved, were misdemeanors. The ordinance passed with the first round of voting, but must be approved with a second vote. The first vote passed with a slim margin, three to two. There was also a proposal on the table to create a new fire district for BSFD, from parts of ECFD and E. M. Holt FD fire districts. It was opposed by a special committee created to study the problem. The Burlington fire chief also opposed it, because part of the proposed district would some day be part of the city. Also, a majority of the rural fire chiefs as well as the county fire marshal had backed the ordinance that would "outlaw" BSFD.
June 17, 1977 – Times-News – EMT Service Offered – BSFD started a medical service program on May 22, the day they answered their only call to date. Jerry Ball led the program. They would respond within four miles of their station, or "within their fire district." Although the service is offered 24 hours daily, there was no one at the station to receive requests. They would start manning the station by the end of June or early July. There were nine men at BSFD with EMT certification, and two others in training. To request the service, citizens were recommended to contact the Burlington Fire Department and request that BSFD be dispatched. The department had a van for the medical service, and it was equipped with "standard apparatus," but was not an ambulance and BSFD had no plans to offer ambulance services. The new service was announced relative to the county now prohibiting its operation as a fire department.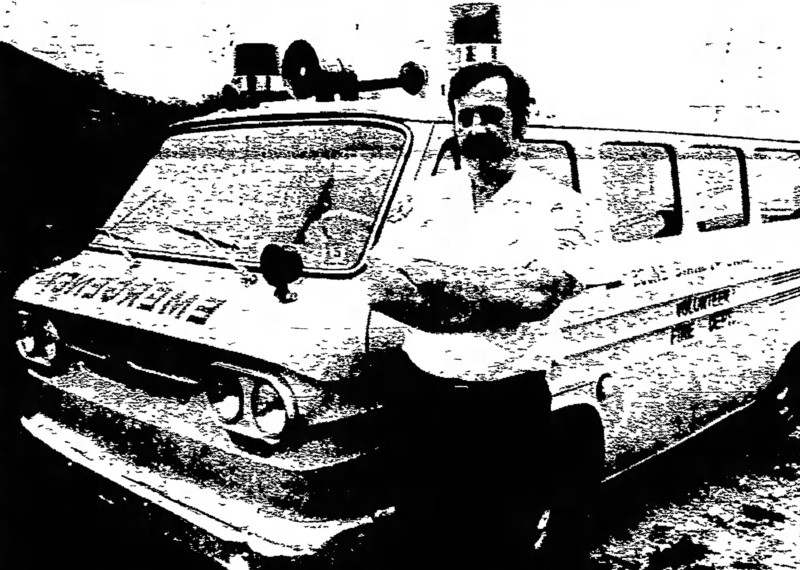 Jerry Ball with emergency vehicle, Times-News, June 17, 1977
June 18, 1977 – Times-News – Flowers Issues EMS Statement – County manager Don Flowers said that the county would not cooperate with the medical services program being offered by BSFD. County fire marshal Dave Cauble said that BSFD could operate the service without further authorization from the county, unlike that required to provide fire protection services.
June 21, 1977 – Times-News – New Boone Problem (editorial) – Writer addresses the new issue of BSFD providing EMT service.
July 14, 1977 – Times-News – Local Briefs – Blood Pressure Clinic Set – Free clinic sponsored by the BSFD medical division, will be held at local grocery store. 
Aug 17, 1977 – Times-News – Boone Action Spurs Promise Of Court Suit – County manager says the new ordinance, which recognizes only specified fire departments for operation in the county, will be upheld by court action if necessary. The county fire marshal said that BSFD answered a fire call last Thursday, even though they were not dispatched. Sherriff's deputies reported taking a complaint that BSFD had responded. The county attorney said Tuesday evening that the matter had not yet been referred to him, but his recommendation will be to secure an injunction.
Sep 7, 1977 – Times-News – Big Crowd Attends Hearing – At the Monday county commissioners meeting, the board granted franchises to ten rural fire departments under the authority of a Senate bill passed this year. This followed adoption of a county ordnance on April 4, specifying which fire departments had authority to fight fires in the county.  
Sep 20, 1977 – Times-News – Boone Station Sues County – BSFD filed suit against the county board, alleging "the constitutional rights of the department have been violated by a county ordinance." BSFD attorneys said that they would appear in Alamance Superior Court on October 27, to request an order that would allow BSFD to continue to operate, pending a full hearing in the matter. Marvin C. Pickard Sr., a member of the rural department, signed the suit on behalf of BSFD. 
Oct. 1, 1977 – Times-News -Firemen File Petitions in Boone Station Suite – Petitions from both sides were denied Friday in county Superior Court during a preliminary hearing in a suite brought by BSFD against the county commissioners. The suit was filed last week. The firemen argued that their constitutional rights were violated when the commissioners adopted an ordinance in April that allowed only "franchised fire departments" to operate. Presiding was Judge Henry A. McKinnon Jr. Attorneys for BSFD asked that the ordinance not be enforced, pending this trial. The county asked that BSFD not be allowed to operate, pending this trail. Both were denied. Attorneys for the county filed a response to the suit on Wednesday, noting BSFD was in violation of the ordinance. They also contended that their operation was a safety issue, with "danger, confusion, and inefficiencies resulting from the intrusion of competing fire protecting units." One instance was cited in the summer of 1976 when both ECFD and BSFD arrived at the same fire on Coal Chute Road. Further, they noted that a "conflict" occurred between the ECFD firemen and the BSFD firemen, when the latter "appropriated to his own use" the air pack of the ECFD fire chief. 
Fall 1977 – Hose & Nozzle reported that Asst. County Manager Don C. Flowers Jr. said the county ordinance which recognized only authorized fire departments to operate in the county would be upheld by court action if necessary. He made the statement after learning that BSFD responded to a call. The department was not recognized by the county, and an ordinance prohibited their operation as they were not considered "official." County Fire Marshal Dave Cauble said that BSFD monitored radio calls, and answered what ended up as a false call on Catherine Drive. The department wasn't dispatched and arrived after ECFD was on scene. Sheriff's deputies reported taking a complain that BSFD had responded to the call. The BSFD attorney said they planned to file suit against the county about the ordinance. Source: H&N, Sep/Oct 1977.
Year 1978
Summer 1978 – Hose & Nozzle reported that final determination of the legal stations of BSFD was still pending in the Civil Division of Alamance County Superior Court. Meanwhile, members of BSFD were circulating a letter urging people living outside the Elon College corporate limits to vote against a proposed tax-supported fire district. Roy Whitesell was fire chief. He noted that BSFD was created through the voluntary contributions of rural residents. Bill Hetzel was the town fire chief. He wanted a 2.92 cents per $100 tax from rural residents, to augment the funds they received from the town. Source, Jul/Aug 1978.
Fall 1978 – Hose & Nozzle reported that a court decision had been rendered that prohibited BSFD from operating as a volunteer fire department. They filed notice of an intention to appeal. The decision was entered by Judge D. Marsh McLell. Source: H&N, Nov/Dec 1978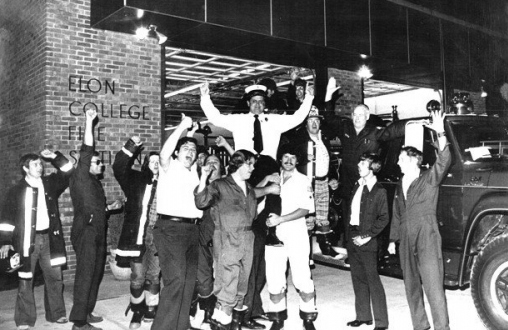 Photo courtesy ECFD, members celebrating after a court ruled in favor of ECFD over BSFD.
Then What Happened?
BSFD ceased operation in late 1978. Exact date TBD. What happened to their members, equipment, and facility? TBD. The non-profit corporation, however, was never dissolved.