The News & Observer this week has a neat story by Josh Shaffer[1] about Raleigh's old Catholic Orphanage, the cemetery that was once on the grounds, and reconstructing the history of what happened to the graves.
[1] Link now broken, http://www.newsobserver.com/news/local/news-columns-blogs/josh-shaffer/article183205001.html
The article also references the Sunday, October 29, 1905 fire at a dormitory that forced three seminary students to jump from the fourth-story roof.
Mattresses were spread to cushion their fall, but John Gladish, 16, leaped and missed the softer landing spot. He died from his injuries later that day.
Here's Mr. Blogger's summary of the fire, from his Raleigh Fire Department timelines:
Dormitory at Catholic orphanage burns.Fire reported about 2 a.m. on a Sunday morning in the four-story "Priest's building." Five young men, students at the orphanage preparing for the priesthood, escape by jumping from the windows. Three are injured after leaping from the roof, one of whom later dies that evening. Four priests also escape from third-story windows. They survive unscathed. The building is almost a total loss, with only the walls left standing. A "squad of cadets" from nearby A&M college assist with the firefighting. Members of the Rescue and Hook and Ladder companies also respond, but can only prevent the spread of the fire to nearby buildings. Several decades later, the fire inspires the legend of "Cry Baby Lane," a nearby road upon which visitors purportedly hear the screaming of children and smell smoke. Loss $20,000. The orphanage is located in the Nazareth Community, two and a half miles from Raleigh. (October 29, 1905)
Original Newspaper Articles
Here are the original newspaper articles from the Morning Post and News & Observer, scanned microfilm and saved as JPG images.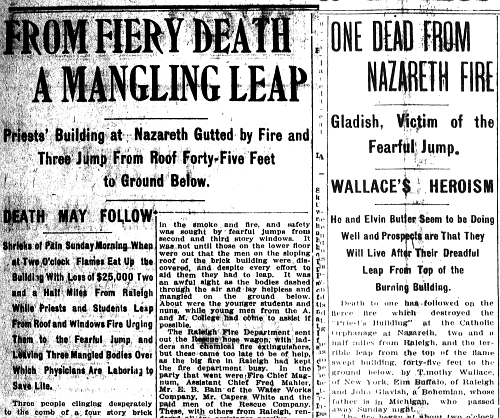 Maps, Photo
This Sanborn Fire Insurance Map from 1903 depicts the fire building and the orphanage grounds. See a 1950 map on my Hidden Raleigh site. Click once or twice to enlarge:
This photograph appeared in the November 25, 1905, issue of the News & Observer, a month after the fire: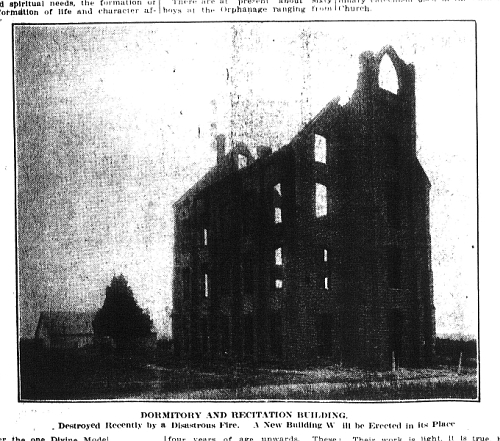 Second Major Fire That Morning
The fire was the second major fire in (or near) the city that morning. The first damaged Walter Woollcott's store on Martin Street:
Walter Woollcott's store at 14 Martin Street burns. Fire reported at 12:30 a.m. from Box 23. Fire originates on the third floor, which is a total loss. Water damages the first and second floors. Flames burst out the rear end of the store, adjacent to the Yarborough Hotel and causing panic among the guests. Though flames threaten to spread to the hotel and the Merchants and Farmers Bank building, the fire is contained to the Woollcott store. Loss $35,750. The fire caused by a stove. Owner Job P. Wyatt. (October 29, 1905)