October 3
Update. See these photos and video recordings:
September 24
On Wednesday night, September 27, thirty-six new firefighters will join the ranks of the Raleigh Fire Department. Recruit Academy 42 will graduate in a ceremony at 7:00 p.m. at the Fletcher Opera Theater in the Duke Energy Center for the Performing Arts, 2 E. South Street.
The new firefighters have completed over 1,000 hours of classroom, practical and physical fitness training. Each of them will be certified by the State of North Carolina as a Firefighter Level II, Emergency Medical Technician, and Hazardous Materials Responder I.
Their 32-week academy started on February 20. And in a change from prior academies, fire training preceding EMT training, instead of following it. Most of their instruction was conducted at the Keeter Training Center in downtown Raleigh. Click to enlarge: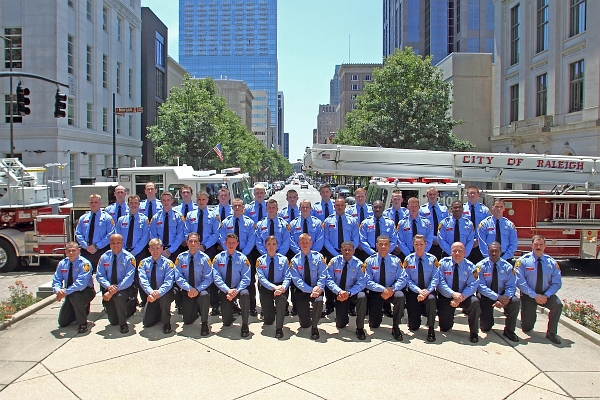 Mike Legeros photo
Names and Faces
Back row, left to right:
Brady A. Alton – Greensboro, NC
Jason A. Rumpler – Boynton Beach, FL
Colby T. Stepp – Zebulon, NC
John R. Atkins – Lillington, NC
Joseph E Jensen – Wake Forest, NC
Dalton S. Tant – Bailey, NC
Jared P. Mickschl – La Crosse, WI
Mitchell A. Mallory – Raleigh, NC
Matthew C. Carithers – Four Oaks, NC
Andrew M. Perlak – Greentown, PA
Joshua A. Fritz – North Tonawanda, NY
Middle row, left to right:
Matthew G. Bledsoe – Raleigh, NC
Justin B. Hales – Zebulon, NC
Justin T. Casey – Goldsboro, NC
Daniel W. Dean – Raleigh, NC
Paul R. Krahe – Raleigh, NC
Joshua M. Lull – Raleigh, NC
Brandon M. Baucom – Wilson's Mills, NC
Steven C. Merritt – Wendell, NC
Ross M. Hope – Miami, FL
Austin J. Partin – Pittsboro, NC
De'Quantia Jones – Augusta, GA
Robert E. Jones – Clayton, NC
Front row, left to right:
Brannden C. Campbell – Zebulon, NC
Johnathan T. Headen – Siler City, NC
Devin R. Callahan – Wake Forest, NC
Andre M. Fanto – Goldsboro, NC
Brett E. Siebel – Wake Forest, NC
Hannah R. Canterbury – Clayton, NC
Chase A. Golden – Pittsboro, NC
Jeremiah J. Davis – Raleigh, NC
Lebro C. Burnette – Queens, NY
Mary E. King – Wendell, NC
Bruce N. Rice – Wake Forest, NC
Lamarr P. Davis – Knightdale, NC
Jason E. Finnegan – New Canaan, CT
Family Connections
Alton – Brother-in-law of Firefighter Adam Walker
Atkins – Son of Capt. Chris Atkins
Baucom – Second cousin of Capt. Jerry Ward
Callahan – Stepson of Capt. Dominic Orlando
Campbell – Son of Capt. Doug Campbell
Hales – Nephew of Asst. Chief/Fire Marshal Keith Tessinear, nephew of Battalion Chief David Whitley
Merrit  – Cousin of Lt. Glenn Todd, Firefighter Harrison Todd, and Firefighter Joe Montague
Partin – Nephew of Capt. Phil Morgan
Siebel – Son of Capt. Richard Siebel
Tant – Son of Capt. Anthony Tant.
Raleigh Fire Department Explorer Post
Other Fire Department Connections
Archer Lodge FD – Canterbury, volunteer
Bailey FD – Tant, volunteer
Corinth Holders FD – Hales, volunteer
Durham FD – Dean, former career member
Elroy FD – Casey, volunteer
Four Oaks FD – Carithers, volunteer
Greensboro FD – Alton, former career member
Hampden Township FD (Pennsylvania) – Perlak, former career member
Lillington FD – Atkins, volunteer
Little River FD – Jones, volunteer
Marine Crops crash-fire-rescue – Rumpler, former career member
New Canaan FD (Connecticut) – Finnegan, former volunteer
Philadelphia FD – Mickshl, former career member
Silk Hope FD – Partin, volunteer
Stony Hill FD – Jensen, volunteer
Swift Creek FD – Bledsoe, volunteer
Wake Forest FD – King, former career member
Wake Forest FD – Mallory, volunteer
Wilson's Mills FD – Baucom, volunteer
Zebulon FD – Stepp, volunteer
Historical Perspective
See this page of fire academy photos, from 1978 to 2016. Click a picture for information on each year's graduating firefighters.