On May 11, 2020, the City of Raleigh Fire Department opened a training annex at Fire Station 26 on Barwell Road. They've occupied the former emergency communications training center and back-up facility, which was a separate section of the fire station building. Station 26 opened in June 2003. The Raleigh/Wake Emergency Communications Center vacated the space in the fall of 2016.
The fire department's Training Division has relocated the offices and storage areas for the EMS and Haz-Mat programs, which were previously housed in the classroom building at the Keeter Training Center on Keeter Center Drive in South Raleigh.
The new space is larger– 4,062 square-feet, from tax records–and adds a meeting room, more office space, and improved storage areas for the programs, notably the EMS equipment and supplies that are used by firefighters on emergency medical calls. One vehicle will also be parked there, for EMS logistics.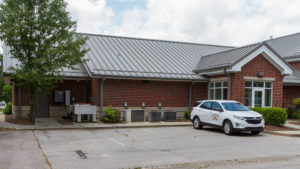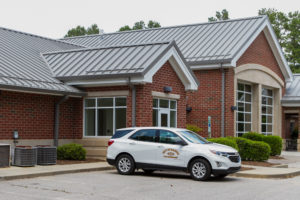 By moving these programs to a second location, space has been made available at the training center to accommodate future full-time instructions. That need was recently identified in a fire department staffing study, and the proposed budget for FY21 recommends the creation of two positions, to serve as full-time recruit academy and continuing education instructors.
Though their program offices have been relocated, all EMS and haz-mat training will continue to take place at the Keeter Training Center.
See photos below by Mike Legeros (exterior) and courtesy Raleigh Fire Department (interior).
Fun Fact #1 – This isn't the first training annex. Old Station 4 on Wake Forest Road served as additional training space, as well as city office space, from 1993 to 1997. Among other functions, it housed the office of the haz-mat program manager, Captain S. T. Eudy.
Fun Fact #2 – Long before there was a formal training division, then-named Memorial Auditorium served as a training facility. It housed both a basement fire station and a rear training tower. That is, the rear of the 1932 building was designed to function as a drill tower. It served as a training location until a dedicated drill tower was erected in 1954, at the current location of the Keeter Training Center.