We covered the future plans (prospective or otherwise) of Cary and Apex in their respective prior postings. Let's look at the city and see what they're cooking for the next five years...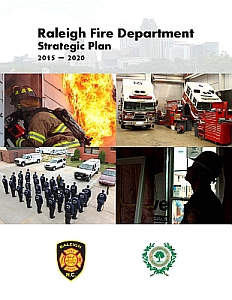 The Raleigh Fire Department recently produced a five-year strategic planning document. A copy has been posted to the RFD newsletter site and accompanies an article about the plan in the fall 2015 issue. The plan was created by a thirty-two member planning committee during a series of meetings this summer. It was developed with inputs gathered from a stakeholder survey in May 2015.
Five goals are outlined in the Strategic Plan: promoting workforce excellence, adjusting operational and support staffing levels, strengthening functionality and condition of infrastructure, automating business systems, and enhancing public communication. The thirty-four page document concludes with appendix materials.
Let's look closely at staffing, apparatus, and facility objectives through 2020:
Staffing
Hiring 20 firefighters per year, from F17 to F21, to optimize supplemental staffing levels.
Expand Operations with second Division, e.g. Three Division Chiefs, three Aides, and three Battalion Chiefs
Expand Services with a Division Chief, a Battalion Chief, an Emergency Fleet Parts Coordinator, and a Fire Equipment Inventory Coordinator
Expand Training with an Asst. Career Development Coordinator (Lieutenant), and a Fire Academy Training Officer (Lieutenant).
Expand Office of Fire Marshal with a Division Chief, a Public Information Officer (PIO), three Fire Educators, four Deputy Fire Marshals, and a Training Officer.
Apparatus
Implement multi-year replacement schedule, as part of fleet management program.
Facilities
Renovate legacy fire stations to improve them. Planned schedule:

Station 5 (FY16)
Station 2 (FY16, FY17)
Station 10, Station 15 (FY17, FY18)
Station 8, Station 16 (FY18, FY19)
Station 9, Station 17 (FY19, FY20)
Station 18, Station 19 (FY20, FY21)
Station 4, Station 20 (FY21, FY22)
Station 21, Station 22 (FY22, FY23?)

Relocate two legacy facilities:

Headquarters (Office of Fire Chief, Office of Fire Marshal, etc.) and Station 1 (as joint facility)

Add additional fire station:

Station 30 (see page 10 for map of city growth areas. Includes both in-fill and expansion areas.)

Develop a [new] training center that includes an emergency vehicle driving course.
Improve (e.g., likely expand) Services facilities.
Technology
Move from legacy mobile data terminals (MDTs) to hybrid tablet and cloud-based systems.
Move to new computer-aided dispatch (CAD) system.
Notes
What would six battalions look like? Page 32 has a prospective map:

West Division

Station 1, 2, 3, 10, 26
Station 4, 9, 15, 16
Station 5, 6, 8, 14, 20

East Division

Station 7, 11, 12, 21, 27

Station 19, 22, 25, 28
Station 17, 18, 23, 24, 29