The Swansboro Fire Department in Onslow County is celebrating their 75th anniversary Saturday, October 28, at the town Public Safety Facility from 10 a.m. to 5 p.m.
Public Safety Facility
That building is the former fire station, which was renovated and expanded in 2015 to also house the police department. The $567,273 project included new bay doors, adding more first-floor space, and an upgraded exterior to meet the town's appearance standards.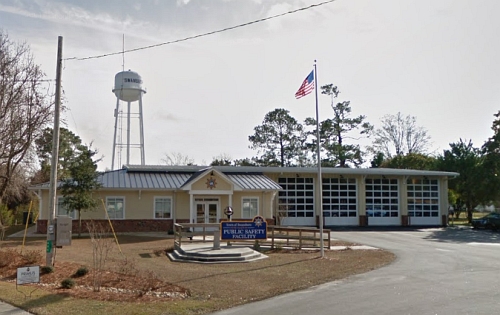 Google Maps
Chartered in 1942
The fire department was chartered in 1942, recalls former member James Baggs, 93, in this Tideland News story. "Back then people just showed up to help [when the fire siren went off]," he notes. "There was no real training, but fires got put out."
Their first fire engine was an "old Dodge" that was homemade. Had a pump mounted on the back and was parked in one of the stalls at Ed Trexler's service station. (The truck was moved outside during business hours.) [ Notes the SFD web site, it was a 1943 Dodge pick-up that also had a small water tank. ]
Later, the town built a storage building behind the old USO building. "Some of the Jaycees got some [concrete] block and we buil tthat building. It had two stalls. The fire truck went into one and the trash truck went into the other," Baggs notes.
Their first new apparatus was brought from Chicago, and three members flew to the Windy City to drive it back. Funds for the truck came from whatever "the town could spare, augmented by the occasional fundraiser." Eventually, the county also helped with funding.
Anyone have old or old-old photos of SFD? Shoot me a note and we will add.
Established in 1783
The fire department's web site also notes that the  Swansboro Fire Department was established December 26, 1783. That was "concurrent with the establishment of the town as a municipal corporation." The town had only six streets and the firefighters "were, of course, volunteers."
Need to dig into that reference. Guessing the newly incorporated town had some basic fire equipment, probably hand equipment. But also a formal fire department? Unsure.
Sources:
The Daily News – Public Safety biulding project nears completion, December 14, 2015 – Retrieved from http://www.jdnews.com/article/20151214/NEWS/151219573
Tideland News – Former chief recalls Swansboro Fire Department's early days, October 25, 2017 – Retrieved from http://www.carolinacoastonline.com/tideland_news/news/article_7976fec6-b98e-11e7-a5c2-ebd9d5a4eb5b.html