Two swift-water rescue teams left Raleigh yesterday, headed to Texas to assist with the aftermath of Hurricane Harvey. They were part of a five-team deployment requested by Texas emergency officials. 
Personnel and equipment from NC USAR Task Force 8 and Task Force 9 departed from the Raleigh Fire Department training center, following a 10:00 a.m. press conference that included remarks from Governor Roy Cooper and Mayor Nancy Macfarlane.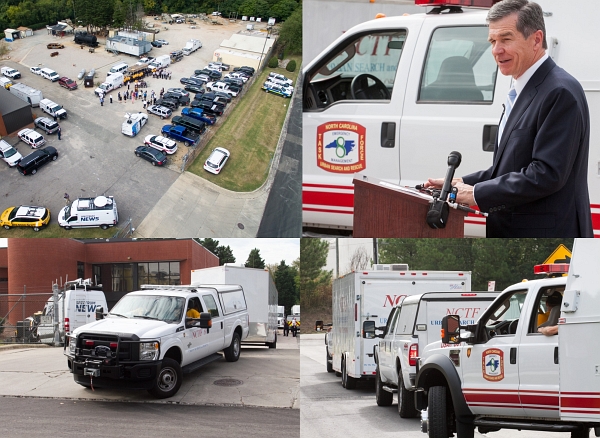 Mike Legeros photos
Personnel and equipment from Chapel Hill and Durham fire departments arrived at the training center after 8:00 a.m. Crews prepared the Task Force 8 vehicles, which included:
Two four-door utility trucks/water rescue, pulling trailers with boats and rescue equipment
Two pick-ups with camper shells, one pulling a logistics trailer that includes a UTV
Box truck/communications unit, pulling a generator, lighting, and antenna trailer.
The Fayetteville team from Task Force 9 arrived around 10:00 a.m., with a similar vehicles and equipment.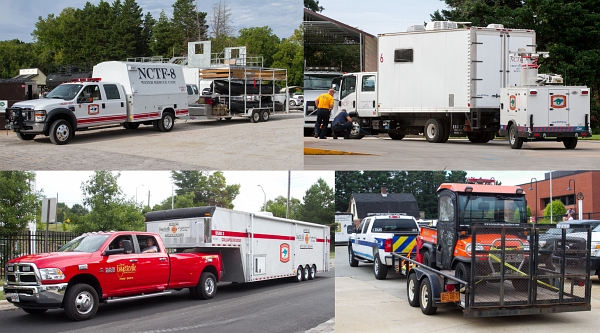 Mike Legeros photos
News media, local officials, and Mr. Blogger also gathered at the training center that morning. They interviewed and photographed the firefighters. Google for news stories. Also search Twitter for stories, pictures, and video. 
See more Legeros photos. Or watch this short clip:
Five Teams From Across The State
The five teams consist of 92 personnel from the following agencies, each part of a larger North Carolina Urban Search and Rescue (USAR) Task Force:
Task Force 9 – Fayetteville FD, Fayetteville PD, Cumberland County EMS and Lumberton Rescue & EMS
Task Force 8 – Raleigh, Durham and Chapel Hill fire departments
Task Force 6 – Greensboro FD
Task Force 3 – Charlotte FD
Task Force 2 – Henderson County Emergency Services, Blue Ridge FD, Etowah Horse Shoe FD, Fletcher FD, Henderson County Rescue Squad, Saluda FD, Valley Hill FD
The Greensboro, Charlotte, and Henderson County teams departed from the Charlotte Fire and Police Training Academy, also on Friday morning. 
The five teams are part of the state's swift-water rescue program, which is organized by North Carolina Emergency Management. There are 30 teams positioned across the state. They meet national standards and can be deployed locally, regionally, or across the country.
Read this NC DPS press release for more background.