These musings were originally part of postings to Legeros Fire Line on Facebook this week.
Marketing, Baby!
The Raleigh Police Department again displayed a display at the State Fair this year, at the Kerr Scott Building. And with a double-wide booth, no less!
We meaning me have long wanted to see Raleigh Fire in the same space. They'd fit perfectly alongside the city, county, and state police booths nearby. As well as the Department of Insurance, which had sundry safety materials on display. 
The fire department should have its own full-on marketing of who they are, what they do, and how to join.[1] That's been a notable absence at the Fair for years. (And where's Wake County EMS, come to think of it?) One of these days/years, hopefully. Click to enlarge: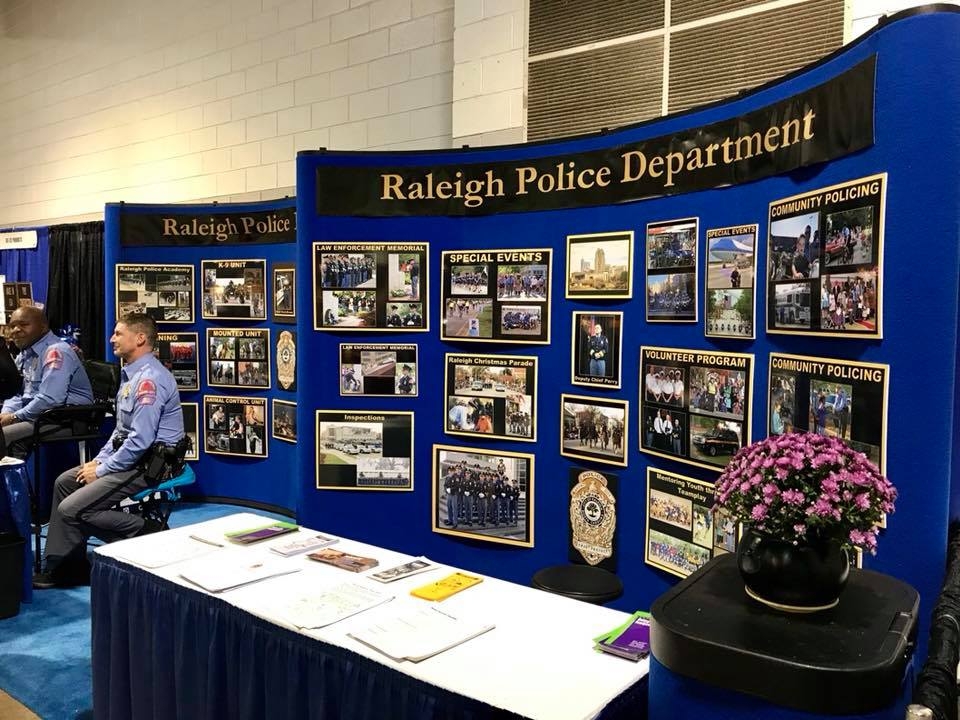 Social Media Specialist
And speaking of marketing and our friends in the police department, the city has a job opening for the newly created position of Social Media Specialist. 
It's described as assisting the police Public Affairs Manager in the coordination of communication activities in order to enhance the flow of information within and outside RPD using various social media platforms. Other duties include creating social media analytics reports; media contact; social media production; and developing, updating and revising informational products and materials.
This is exciting news and on a couple fronts. For Police, it's a big add, and will hugely help with public information and community relations. It also shows that city officials are recognizing the use of digital platforms to connect citizens with the work of their emergency workers.
Can Raleigh Fire be far behind? Hope we'll see added resources on that side soon enough.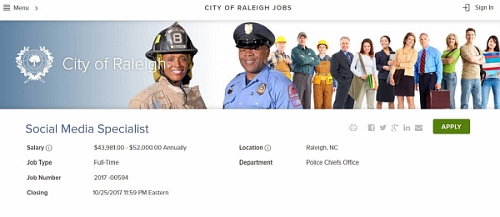 Who Needs Marketing?
Everyone in public safety. Every department in public safety, from fire to police, from EMS to comms. 
Pause. Let's define marketing. Mr. Blogger says, it's communication outside an agency, that helps its customers learn such things as:
What you do
How you do what do you
How they can help, when they call you
(when a fire truck arrives, do this; when a police officer stops you, behave this way; etc.)
How they can help themselves, first, so they don't always have to call you
(how to prevent fires, how to prevent injuries, etc.)
What you're doing on a particular day, at a particular call
(drivers can take alternate routes, residents can be calmed over nearby incidents, reporters don't have to call to with questions, etc.)
Why you need the resources you have
How they can support you, as citizens or voters
Why you do things they have questions about
(why does a fire truck arrive when I call an ambulance, why do I see firefighters buying groceries, etc.)
How they can learn more
How they can visit you
How they can join
etc.
Okay, okay, okay, we're blending public information and even life safety into our model. But the "M" word is valuable here, as it's a newer expression in public safety. 
Public information officers, life safety educators, those are tried-and-true concepts. But… marketers and marketing. Whoa, what's that?
Google is your friend and there's much more "out there" about this.  About the important of marketing in emergency services. Take a look, have a dive.
Knowledge is good, as the statue said in Animal House.
Your Thoughts?
Start or join the discussion below. Or opine on the Facebook side, on Legeros Fire Line.
[1] The Raleigh Fire Department does indeed do marketing. From display booths, notably during Fire Prevention Week, to their web site to their recruitment team, that travels locally and regionally. Would love to see more, both in the digital and physical realms. And surely that's coming. It's the wave of the future. You don't even have to be named Shirley.