These notes were originally posted on Facebook, after a trench rescue incident on Wednesday, January 15, 2020. See more photos from Mike Legeros in this SmugMug album.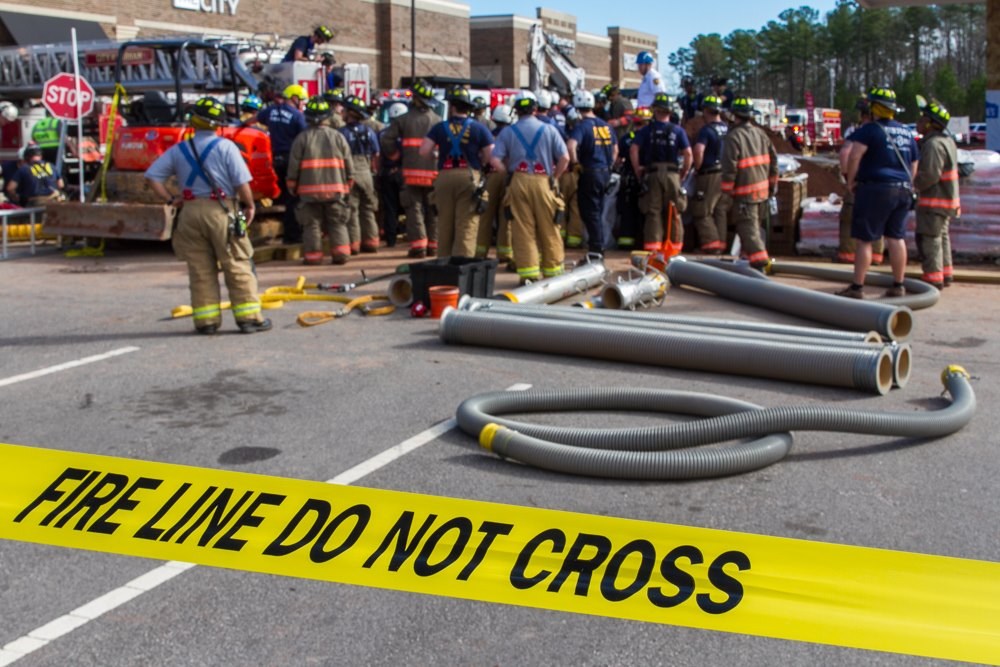 Incident
Dispatched 11:03 a.m. Gas station construction site at 4209 Corners Parkway, near intersection of Glenwood Avenue and TW Alexander Drive. Below grade earth collapse trapping four workers. 
One self-rescued and two were rescued by responders. The second worker was removed soon after air readings showed safe conditions for rescuer entry. The second worker was removed about 11:45 a.m.
The third worker–reportedly trapped up to his waist–required a longer operation, including assistance from a City of Raleigh Public Works vacuum truck that arrived about 12:10 p.m. The third worker was extricated about 12:35 p.m.
Two of the workers were transported to Duke University Hospital. Their conditions were reportedly non life-threatening.
Crews continued working at the scene into the afternoon, to locate the missing fourth worker. Though, as news stories noted, their pace was slower, as a precaution to protect the rescuers. The fourth worker was recovered, deceased, about 4:15 p.m.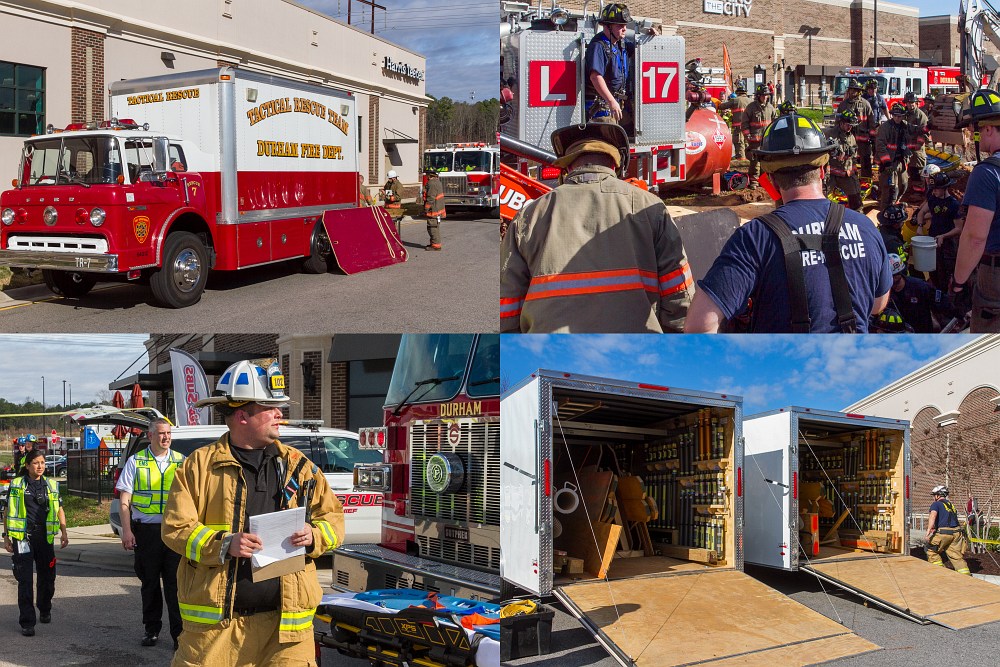 Response
Location was inside the Durham city limits, but just inside Wake County. [ Initial dispatch assignments go here. ]
Raleigh sent a full technical rescue assignment: Rescue 1, Squad 7 and 14, Engine 17, Ladder 3, USAR 801, Battalion 5. Plus special call for the two new trench rescue trailers. (In addition to the nearby closest engine and ladder, at Station 24.)
Durham's technical rescue assignment consisted of [ goes here ]. And, of notable note, Raleigh Rescue 1 and Durham's newly reactivated Rescue 1 were working side-by-side.
Fire command by Durham Battalion _. Rescue branch command by [ goes here ]. EMS command by Wake County EMS Chief 200, then Chief 102.
EMS resources responded from both Durham and Wake County, including major incident support units from both (MIRV 1 and Truck 1).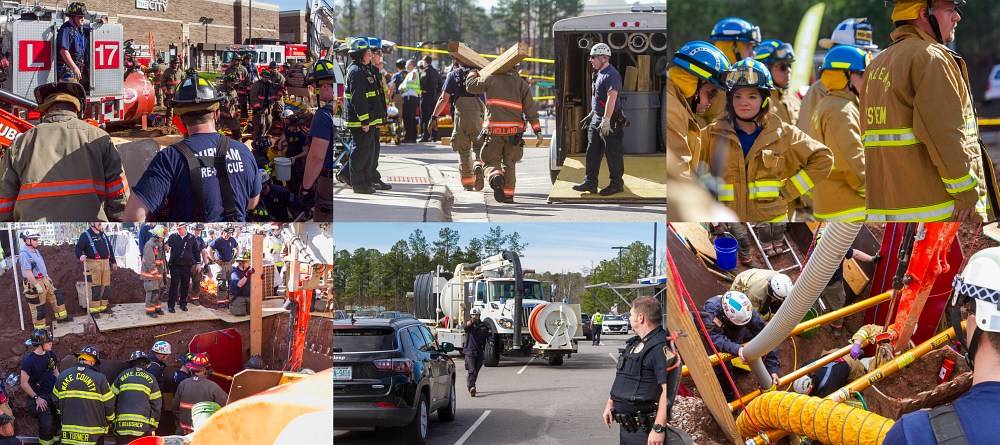 Other
Units staged at various locations around the incident site, including the parking lot of Harris Teeter for medical and some unit staging.
News helicopters were overhead. See those stories for aerial footage and images.
Legeros arrived about 11:40 a.m. See his pictures in this album.
Run Card
Durham Fire
E3, E17, E9, E13, E4, E8
L12, L3, L17, L2
R1, Tactical 2 (technical rescue box truck)
Sq4
Bat 3, Bat 4
Haz-Mat 13, MS1 (air truck, support unit)
FD20 (Shift Training Officer), FD8 (Division Chief), FD3, FD2, FD1 (Fire Chief)
Durham County EMS
Medic 22
[Unit] 51 (Supervisor)
Chief 203, Chief 204
MIRV 1 (major incident support)
Durham Highway Fire
Raleigh Fire
E24, E17
Sq7, Sq14
L6, L3
R1
Bat 5, Bat 4
Air 2
Safety Officer
Mini 3 + Collapse Rescue 1 (trailer)
USAR 801 + Collapse Rescue 2 (trailer)
Wake County EMS
EMS 10, 33, 39, 44, 49, 52 (Cary EMS)
DC 6 (Eastern Wake EMS)
Medic 96
Truck 1 (major incident support)
Chief 200 (Shift Commander)
Chief 102
MD20 (Deputy Medical Director)