See Legeros photos | Listen to radio traffic
Two alarms were struck Sunday night at 8917 Midway West Road. Dispatched 7:39 p.m. One-story, abandoned modular office building, with approximately 6400 square-feet. Site (8.66 acres) owned by state since 2001, used by DOT for salt storage.
Engine 23 first-arriving, flames showing through roof. Interior attack with three+ hand lines, from Engine 23. Aerial to roof, from Ladder 9. Supply line from hydrant in cul de sac, boosted by Engine 24.
Extra lighting from Rescue 1, in cul de sac. Staging along long driveway, in cul de sac, along Midway West, and in a couple driveways that access the street. Durham Highway third-due, auto-aid.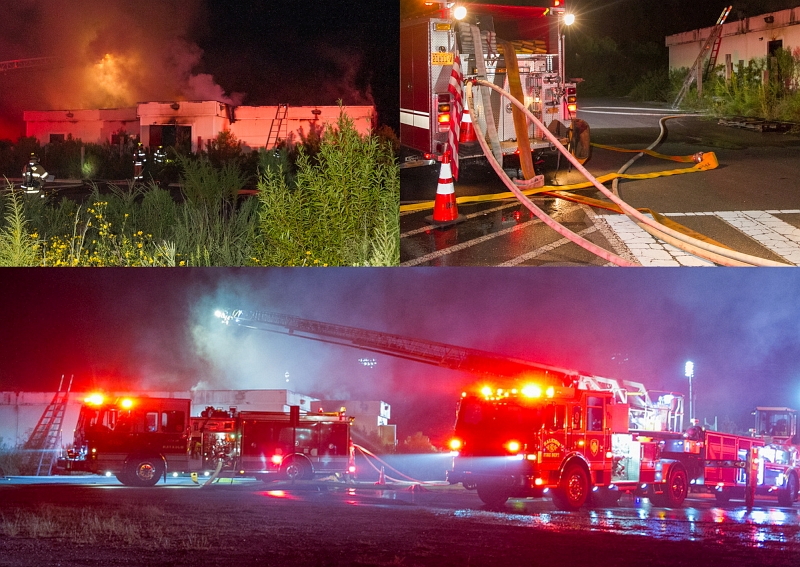 Second alarm requested for manpower, dispatched ~8:04 p.m. Controlled 8:40 p.m. Wake EMS and Cary EMS with medical monitoring and rehab, in NE corner of parking lot, in front of building. No injuries, no occupants. Cause determined as intentional.
Units on scene included E23, E24, E29, E17, E18, E16, E4, L9, L6, L3, L1, R1, B4, B5, C3, C12 [?] (Safety Officer), DHFD P162, EMS5_, EMS 4_, D4. Run card included additional DHFD and EMS units. Some (three?) of the RFD second-alarm companies released 8:10-8:15 p.m. or abouts. 
First photo above about 8:03 p.m.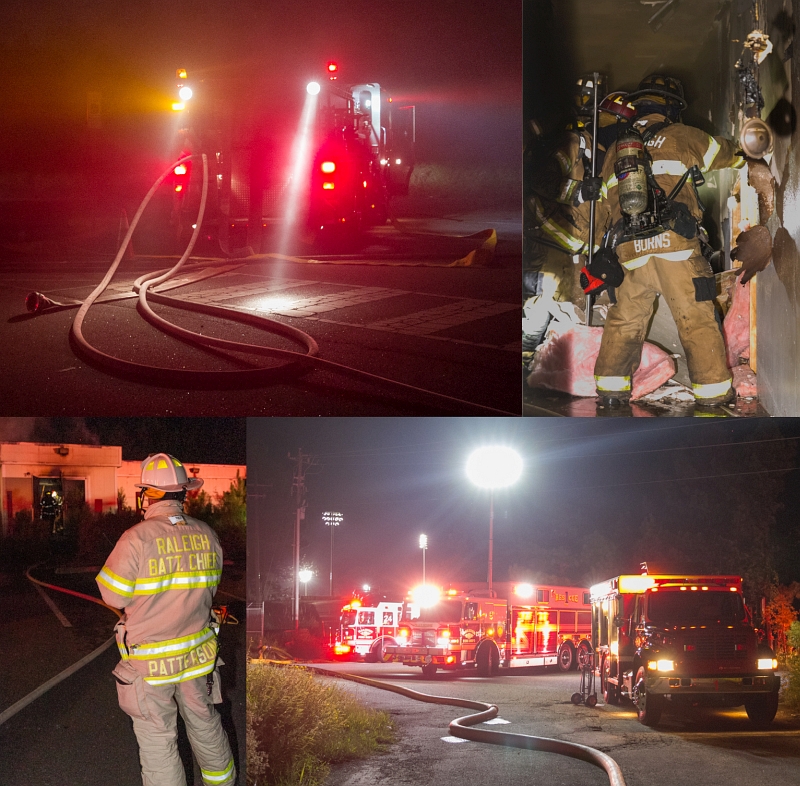 See more Legeros photos at https://legeros.smugmug.com/Fire-Photos/2020/2020-09-20-rfd-midway-west-dr 
Listen to radio traffic at https://www.youtube.com/watch?v=wzl7AYT79VU