This posting compiles information posted earlier in several Facebook postings on Legeros Fire Line.
See photos by Legeros | Listen to radio traffic
Two alarms were struck at 6200 St. Regis Circle on Friday afternoon, April 4, 2019. Dispatched 2:42 p.m. Three-story, wood-frame, garden-style apartment building with 19,140 square-feet and 24 units, according to tax records. Built 1986.
Working fire assignment dispatched while units were en route, due to multiple callers. Engine 8 arriving with heavy fire showing in the front of the structure, from the first floor and extending through the roof. Heavy fire was also found on the back side of the structure.
Cary Engine 2 second-arriving, as automatic aid, and brought the (first) water supply.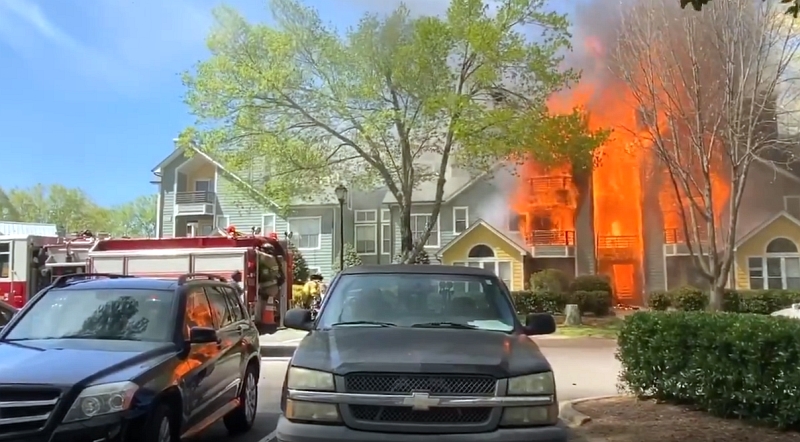 Elizabeth Thorpe video still, from Facebook
Rescue Mode
With reports of occupants still inside, first-arriving fire companies were in "rescue mode", conducting searches and evacuations as needed, and checking balconies for people needing rescue. Battalion 5 took command on arrival, and reported 60 percent fire involvement. Car 20 then took command, followed by Car 1 at 3:14 p.m. 
Early into incident, Cary Battalion 1 also arrived, and offered additional nearby units. Affirmative. Cary Rescue 2 and Engine 9 were sent to the scene. The dispatcher asked command (Battalion 5) if they wanted a second alarm, about 2:56 p.m. Affirmative. Second alarm dispatched 2:57 p.m. Staging set on Farm Gate Road.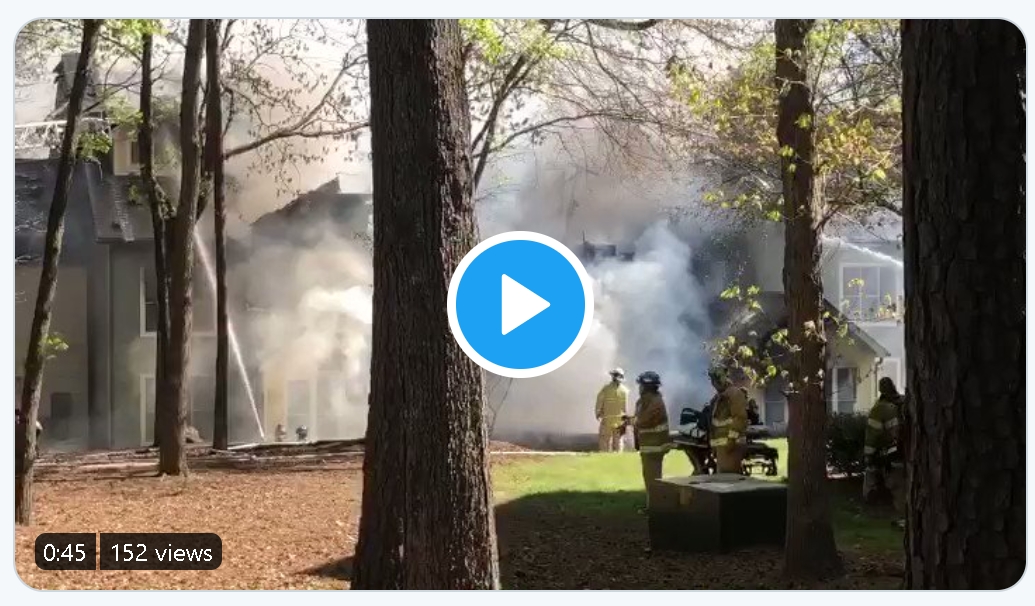 Farmer911 video still, from Twitter
Four Hydrants, Two Aerials
Two aerial streams operated after all interior searches and evacuations were completed, with Ladder 3 (on Farm Gate) and Ladder 7 (on St. Regis). Evacuation tones were sounded at 3:17 p.m., when Ladder 3 first started flowing. Also operating was a deck gun from Engine 8 in the front, and at least one portable monitor in the rear courtyard.
Four hydrants were utilized:
Farm Gate – Laid by Cary Engine 2 to Engine 8 on St. Regis
Farm Gate – Engine 10 boosting to Ladder 3 on Farm Gate
Farm Gate – Squad 14 boosting to Ladder 7 on St. Regis
St. Regis – Engine 6
Water pressure issues presented and some (all?) hand lines were shut down during aerial operations, to allow greater reach for Ladder 3 and Ladder 7.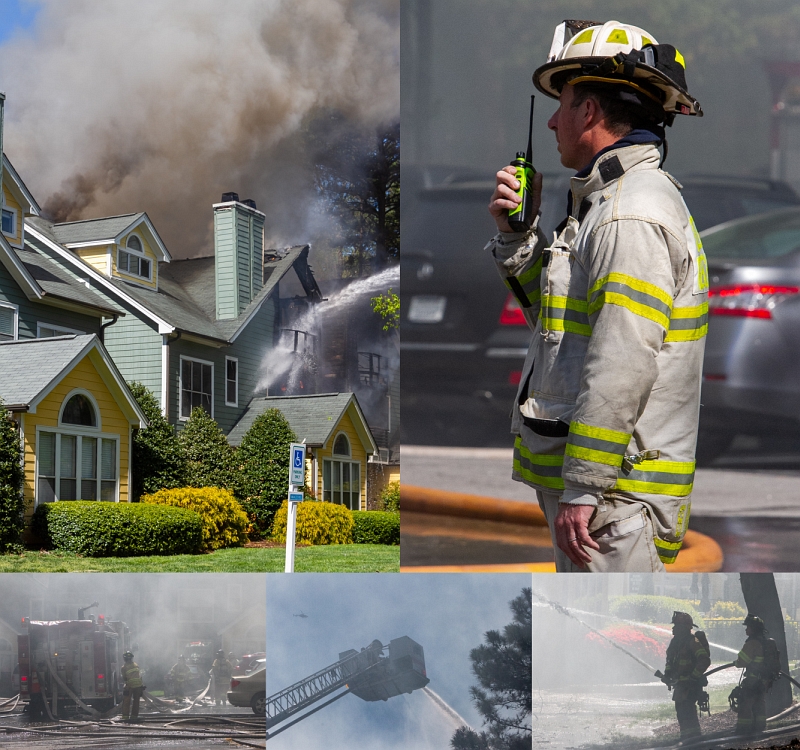 Mike Legeros photos
Extended Overhaul
Controlled at 3:55 p.m. All residents accounted for at 5:12 p.m. Staging ended at 5:37 p.m., with Ladder 2 released. Relief units were sent into the evening, to continue overhaul and extinguish hot spots. Units continued to be rotated for periods of fire watch until 8:00 a.m. Saturday morning. 
Cause has not been released. No residents nor responders were injured. Twelve units were destroyed, and dozens of residents were displaced. 
Hots Spots
Crews returned to the scene the following morning, to extinguish hot spots. Engine 8, Squad 14, Ladder 4, Ladder 7, and Battalion 4 remained on scene after a bystander reported seeing flames. Companies returned two more times, to further extinguish hot spots.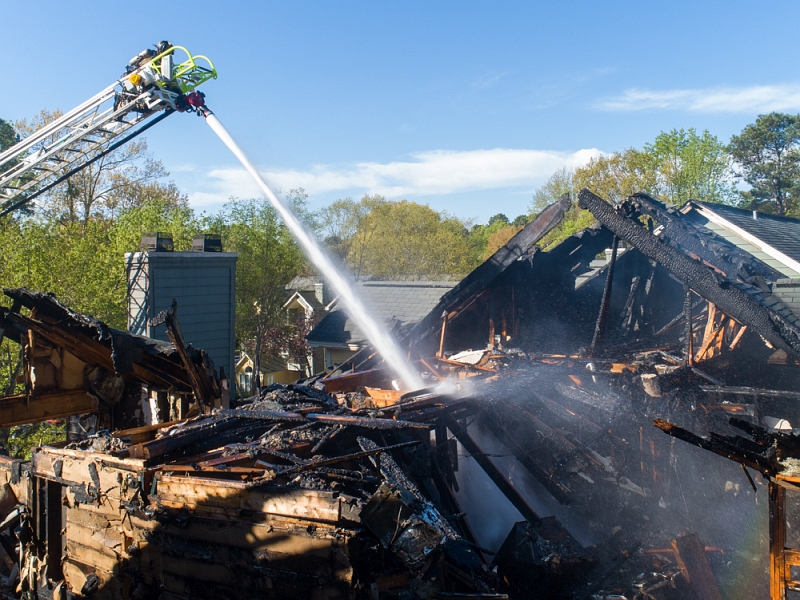 Mike Legeros photo
Run Card
1A: E8, E20, E2, Sq14, L3, L7, R1, B5, B4
WF: C20, C402, A2
Plus: C1 C3, Safety Officer
2A: E16, E9, E10, E6, L8, L2,
Cary: E2, E9, R2, B1, C1
Wake County: WC1
Plus numerous EMS resources including Truck 1
Plus numerous move-ups
See more photos by Legeros.
See videos and pictures at Farmer911 on Facebook.
Listen to a recording of radio traffic. 
News coverage includes:
Diagram