See aftermath photos (forthcoming) | Listen to radio traffic
Two alarms were struck in Raleigh on Monday morning, March 22, 2021. Dispatched 9:24 a.m. for 2110 Thesis Circle in south Raleigh, near Lake Wheeler Road and I-40. Three-story, wood-frame, garden-style apartment building with 16,128 square-feet. Built 2014 say tax records.
Engine 2 first-arriving with heavy fire showing on the second and third floors, in the front of the structure. Second-arriving Engine 13 with water supply. Lines pulled, and exterior and interior fire attack started, along with searches of the building.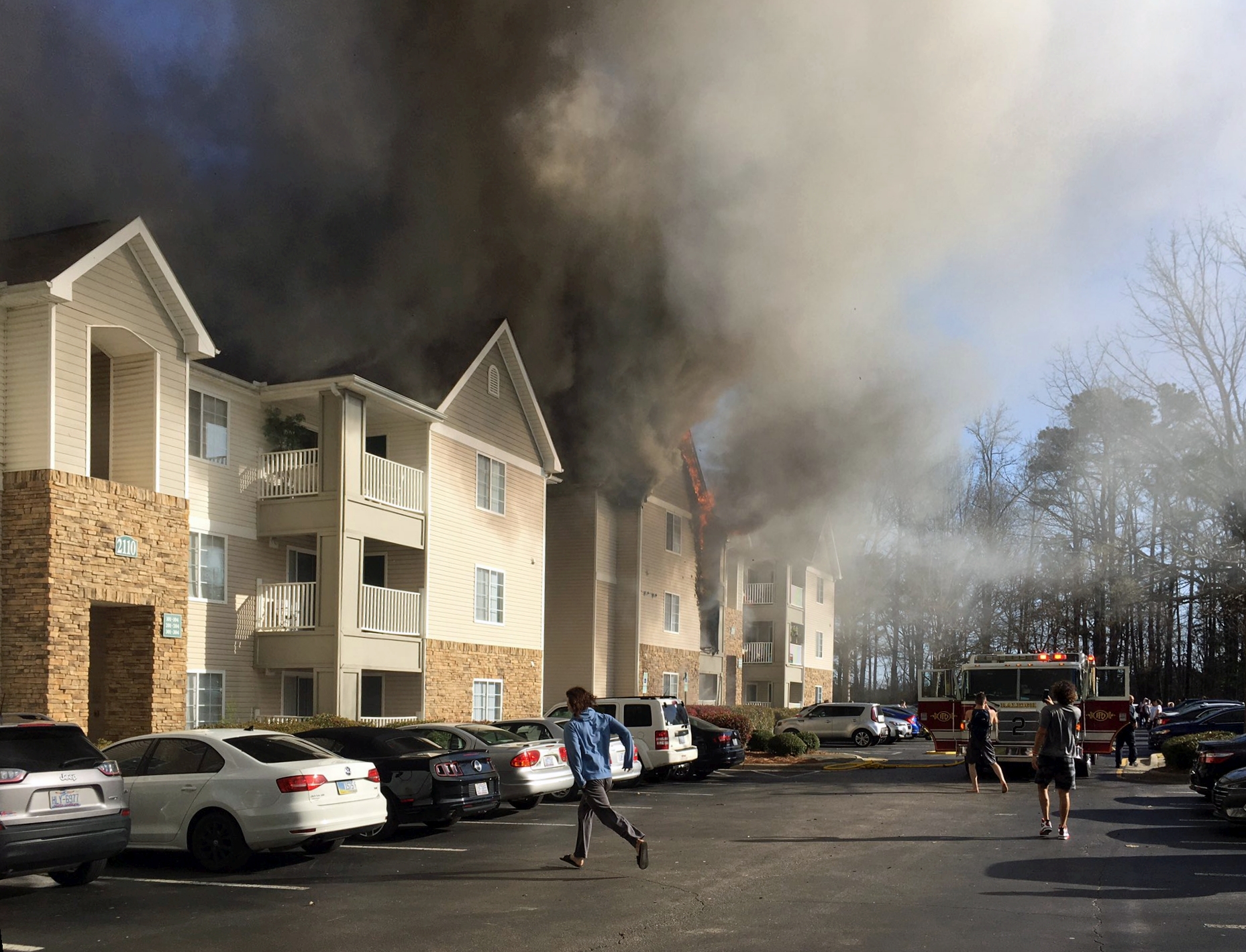 ______ photo via Twitter
Battalion 3 arrived, gave secondary size-up, assumed command, and requested a second alarm about 9:35 a.m. By that time, fire was showing through the roof. Staging for second-alarm companies designated as Lake Wheeler Road.
Crews were withdrawn about 9:45 a.m., with evacuation tones sounded. Aerial operations were started, with Ladder 1 in the A/D corner, and Ladder 12 in the A/B corner. Once the bulk of the fire was knocked down, aerial operations were halted and crews returned inside the structure, to complete extinguishment.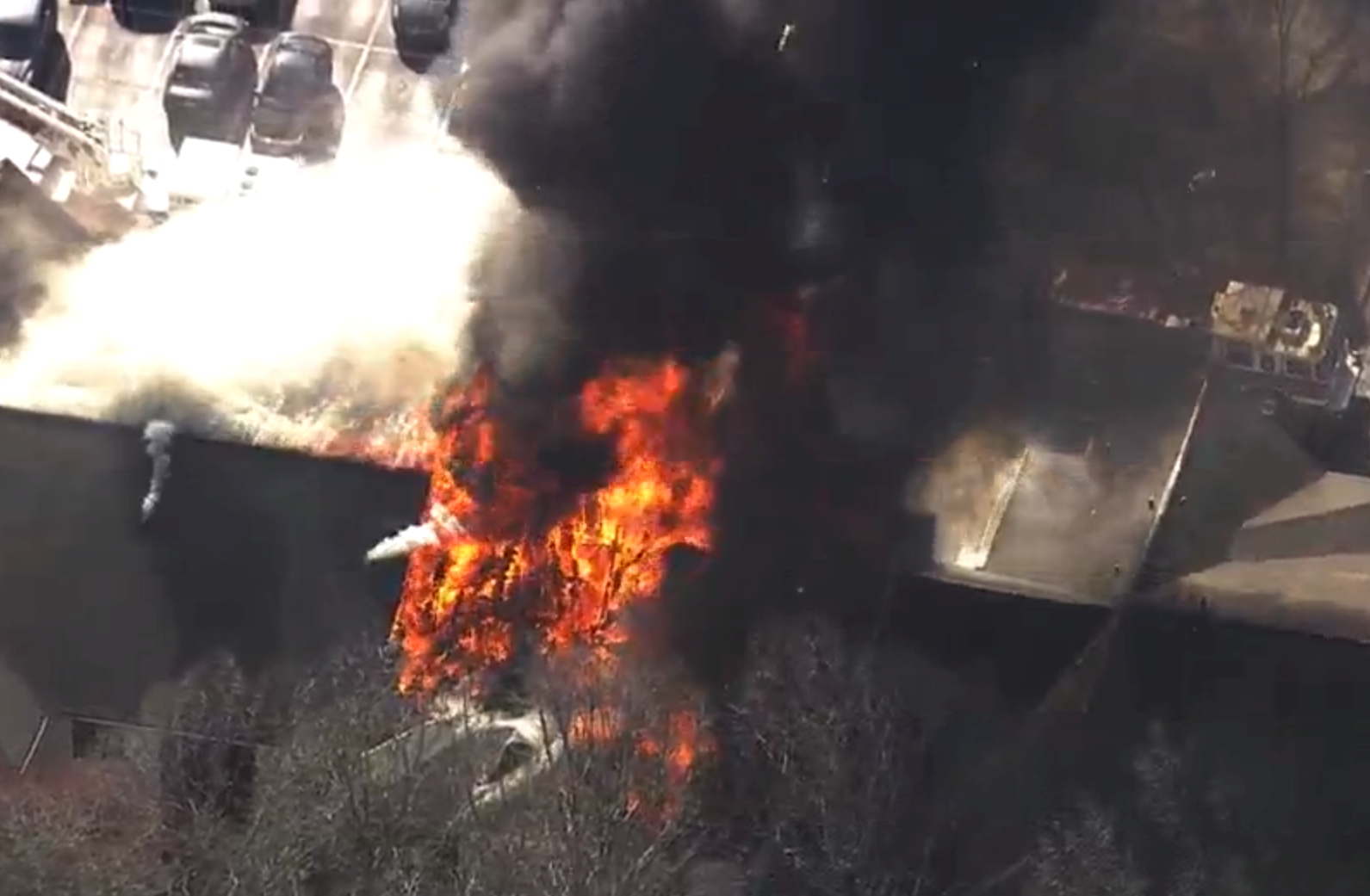 WRAL image, screen grab from video footage
Controlled at 11:00 a.m., with crews remaining on scene through the next morning performing overhaul, extinguishing hot spots, and assisting residents with removing personal property. Cause determined as accidental, with twelve units rendered uninhabitable, and 95 people displaced, from news reports. No residents were injured. 
Run card: E10, E13, E2, E20, L1, L12, R16, B3, B5 (first alarm), A28, B1, DC1, INV1 (working fire), E12, E8, E6, L14, L20 (second alarm), E5, Sq7, E11, B2 (special call), plus C1, C2, C3, C5, C14 (Safety Officer), plus EMS 11, 29, 50, 14, Truck 1, Medic 91, D1, D7. Chief 200, Chief 102.
Relief: L6, L15, E16, E21 (1300-1500); E4, E22, L23, L25 (1500-1700); E8, E27, B4 (1700-1900); E24, E26 (1900-2100); E17 (2100-0000); E25 (0000-0300); L4 (0300-0600).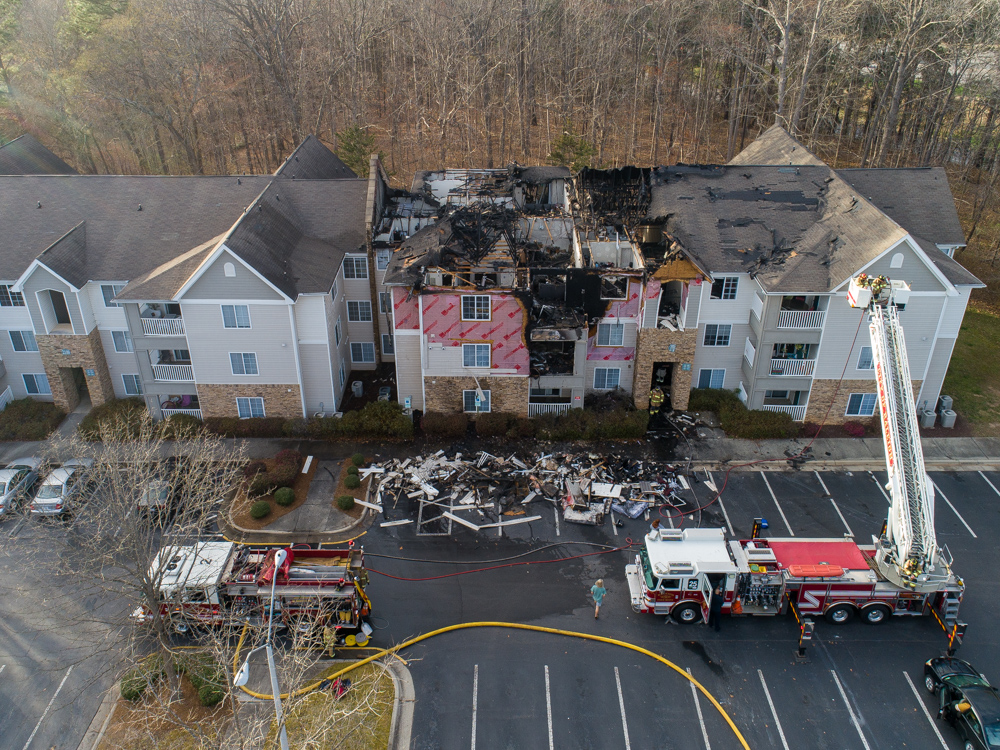 Mike Legeros photo
Timeline
09:24 – First alarm – E10, E13, E2, E20, L1, L12, R16, B3, B5
~09:30 – Working fire – A28, B1, DC1, INV1
~09:34 – Special call – C401
~09:37 – Second Alarm – E12, E8, E6, L14, L20
~09:45 – Evacuation tones
~09:46 – Special call – B2
~09:51 – Move-up – E25 to Sta 3
~09:56 – Move-up – L4 to Sta 1
~09:56 – Special call – E5, Sq7
~09:57 – Move-up – E18 to Sta 1
~09:58 – Special call – E11
~09:59? – Move-up – New Hope engine to Sta 11
11:00 – Under control