On June 30, 1996, at 20:10 hours, the Cary Fire Department placed its first rescue company in service. Though they operated a volunteer-staffed Civil Defense rescue truck in the mid- to late-1950s, this was their first "modern-era" rescue company.
The new company and the added role of rescue provider resulted from an agreement with the Cary Area Rescue Squad, which transferred rescue duties to the fire department effective July 1. They also donated their rescue truck and its equipment to the town. More on that in a moment.
Rescue 2 was activated with a 1975 GMC/Alexander service ladder truck, fleet #922. The apparatus had originally served as Truck 1 at Station 1, until replaced with a 1988 Pierce Arrow aerial platform. From there, we're told, it also operated as Truck 2 and Truck 3. Specifics on timeframes, staffing levels, etc., TBD.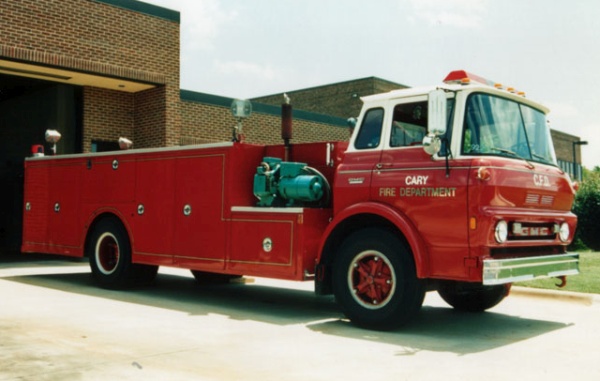 Lee Wilson photo
New Rescue 2… From Cary Rescue
Two months later, it was replaced with a new(er) unit, a 1983 International/Swab medium-duty rescue, with a 12-foot walk-in body, Swab build #4288. (Factory records also say 1982 model year, all other sources say 1983 model year.) The truck was designated with fleet #1293.
It was placed in service on August 26, 1996, at 17:30 hours. Firefighters Jones and Wilson on "A" shift were working. The first fire call answered with the new truck was a structure fire on Bruce Drive at 18:19 hours.
Over the next days, the crews worked on equipment placement, mounted sets of SCBA, visited other fire stations to familiarize their crews with the new unit, and started training with such new equipment as a rescue boom that could be mounted in the back.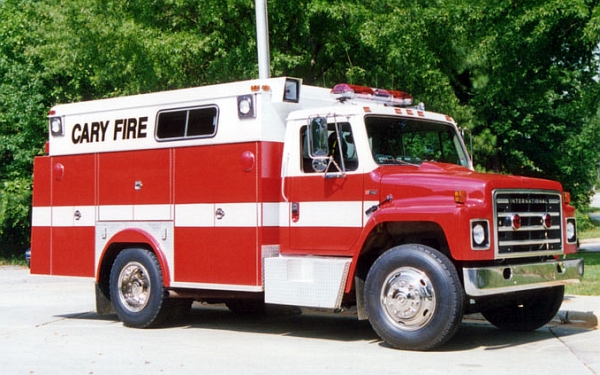 Lee Wilson photo
The truck was originally operated by the Cary Area Rescue Squad, and originally painted white with an orange stripe. The squad donated the truck to the town, after making changes to their rescue program. They had operated a "crash truck" since the early 1970s, and were the first rescue squad in Wake County to obtain a hydraulic Hurst rescue tool.
By 1995, though, they were considering changes. EMS calls were increasing, and greatly outpacing rescue calls. The squad was increasingly concerned that the rescue truck might be called, but not be able to respond, because paid or volunteer staff would be answering EMS calls. It hadn't happened so far, but the potential was there. As was increasing volunteer unavailability during weekdays, used to supplement staffing.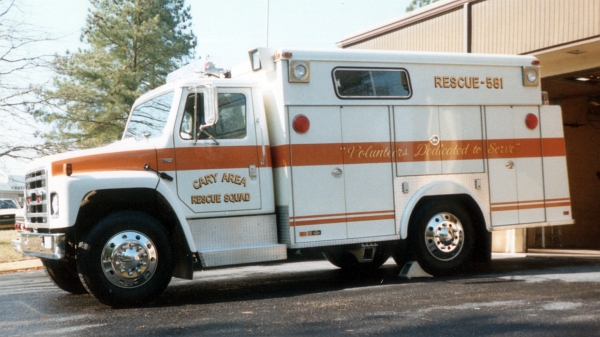 Jeff Harkey photo
The organization elected to transfer the role of rescue provider to the town fire department. The Cary Fire Department would answer all rescue calls in town, while neighboring rescue squads (Apex, Garner) and fire departments (Fairview, Morrisville) would cover calls outside of town, in the rural areas previously covered by CARS. (Both FFD and MFD had added extrication equipment about this time.)
By June 1996, the truck and all but one piece of its equipment was donated to the town, for use by the fire department. That consisted of:
two-cycle gas generator for the Hurst tools
70-pound spreader
one of the "original style" jaws
o-ring cutters
three sizes of extending rams
set of high-pressure air bags
various in-house tools, such as those for pulling steering wheels and dashboards
chains and pulls
A-frame and pulley, for lifting. They used  a winch, which was mounted on back, and an A-frame mounted inside the truck, in the rear. Plus several hundred feet of rope, for the four of five members who were training on rope rescue at the time.
They donated turnout gear, three or four MSA air packs, an electric generator, and a few stand lights. The one piece of equipment declined by the fire department was a three-section, 24-foot extension ladder.
Rescue 2 in Service – June 30, 1996
The Cary Fire Department placed Rescue 2 in service at Station 2 on Maynard Road, on Sunday, June 30, 1996, at 20:10 hours. It operated fleet #922, a 1975 GMC/Alexander service ladder truck. Firefighters Frazier and Kennedy were the first crew that day on "C" shift. The others assigned were Janes and Lee on "A" shift and Moore and Baker on "B" shift.
Two minutes after activation, Rescue 2 answered its first call, an EMS call on Hunter Street. The spent the remainder of their day doing such activities as continuing their training on the truck, and learning their territory. They also created "check sheets" for the new truck.
The truck's first full day of operation was July 1, 1996. Activities that day included a trip to the town shop for fuel, going to Station 4 for a water rescue class, training on the rescue truck's extrication equipment, and returning to the town shop, to swap equipment with reserve vehicle #950 (pick-up truck used for training), which they operated through the next morning.
Early Call Volume – August 1996
What was the call volume of Rescue 2, in those early days? During the month of August 1996, they answered 66 calls, or two per day on average:
28 – Vehicle collision
23 – EMS
6 – Child locked in vehicle
4 – Structure fire
2 – Unknown
1 – Vehicle fire, threatening structure
1 – Smoke investigation
1 – Other
Hurricane Fran – September 1996
Rescue 2 assisted with duties after Hurricane Fran passed through the area on September 5, 1996.
The log book entry for that date ends with:
"(HURRICANE HERE)"
The following morning, Rescue 2 with Bone and Kennedy staffing, attended a meeting in the day room about searching and damage assessment after the storm.
For the rest of the day, they were deployed in town to perform searches and conduct damage assessments, south of Walnut Street from Maynard Road to the Lowes, and south of Maynard Road from Walnut Street to Kildaire Farm Road, in the response area of Engine 2.
They returned to the station for a short lunch, and again at 2:00 p.m. for rehab. Search and damage assessment continued until 4:00 p.m., when they returned again to the station, to wash the vehicles and catch up on administrative duti4es.
Fire calls answered by Rescue 2 on September 6 were:
Wires down on Waldo Street
Injured person on Woodberry Court
Medical emergency on Buck Jones Road
Structure on Maynard Road.
Other Bits and Pieces
The original log book from Rescue 2 contains some other interesting bits and pieces:
By August 1996, confined space rescue training was being conducted, with classes at locations including Station 3 and station 4.
The department also had a confined space trailer, housed at (or parked outside) Station 1. It was towed by Brush 9, also housed at Station 1.
Later Rigs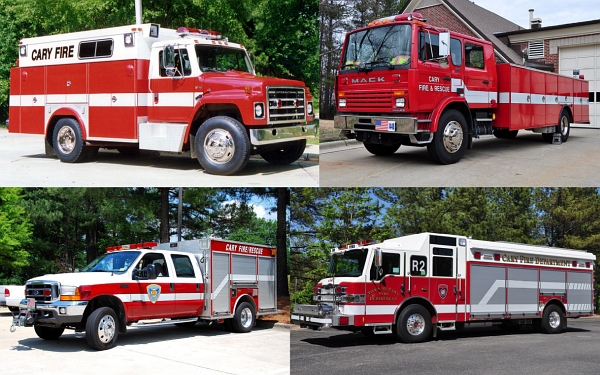 Lee Wilson photos
The 1983 International/Swab was replaced in a few years by a 1996 Mack/Craft service ladder truck, fleet #1446. That truck was delivered on April 1, 1998, as a new reserve ladder and rescue truck. The 1983 International/Swab subsequently developed major mechanical problems, and the 1996 Mack/Craft was used as its permanent replacement.
On March 1, 2001, a new Rescue 2 was delivered, a 2000 Ford F-550/KME light-duty rescue truck (#1706). Later that year, a second one was delivered–2001 model year (#1770)–and activated as Rescue 4 at Station 4.
These were used until early 2012, when a pair of 2011 Pierce Velocity heavy-duty rescue units (#2952, #2953) were delivered. They're still operating today, along with a third rescue company, Rescue 7 at Station 7.
Sources
Cary Fire Department records