Note: See subsequent posting about the truck's delivery on April 28, 2016.
Production is complete on the airport's new 2016 Oshkosh Striker 3000, 2000/3200/420/450#/460# + Snozzle. It's also the first lime apparatus since the 1990s. Here are some pictures from the pre-delivery inspection last week, shared by our friends at RDU Fire-Rescue. Delivery is expected next week. Click once or twice to enlarge. Then scroll down for specs, details, and more.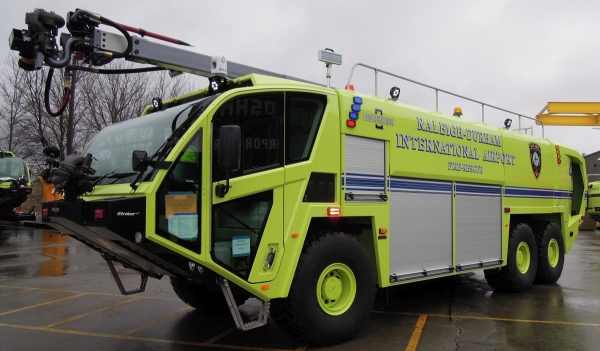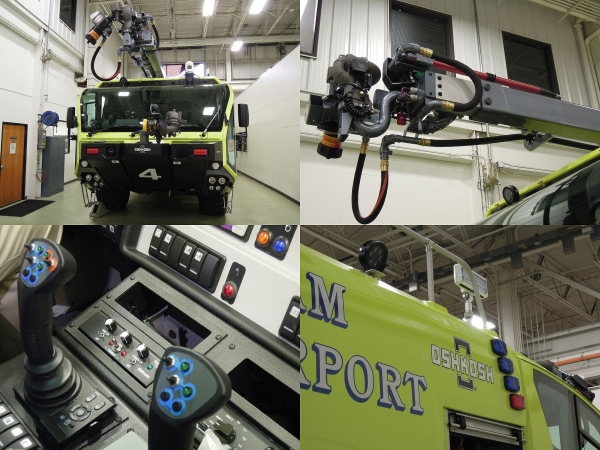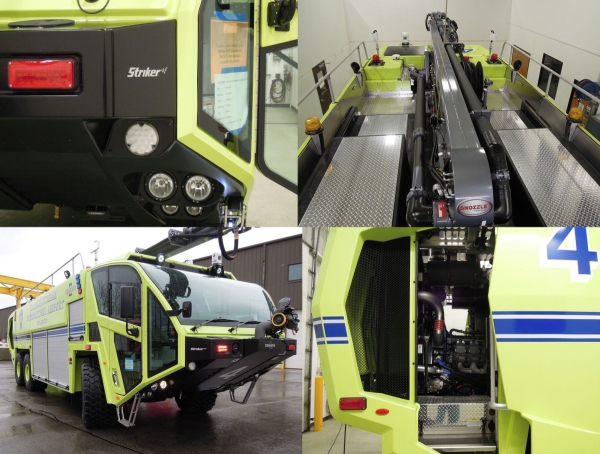 Production is underway on a new crash truck for Raleigh-Durham International Airport. Our friends at RDU Fire-Rescue have passed along some pictures and detailed information.
The 2016 Oshkosh Striker 3000 (with Snozzle!) will replace CFR 4, a 2000 Oshkosh T-3000. It was purchased by the airport authority with 85% of the funding from federal and state sources, via the Airport Improvement Program. The truck will be painted safety yellow, which is a requirement of the program. (The department's fleet is presently white with blue striping.)
Check out these pics, which include a trio of similar trucks awaiting delivery to Charlotte. Then keep scrolling for specs and more information. Click to enlarge: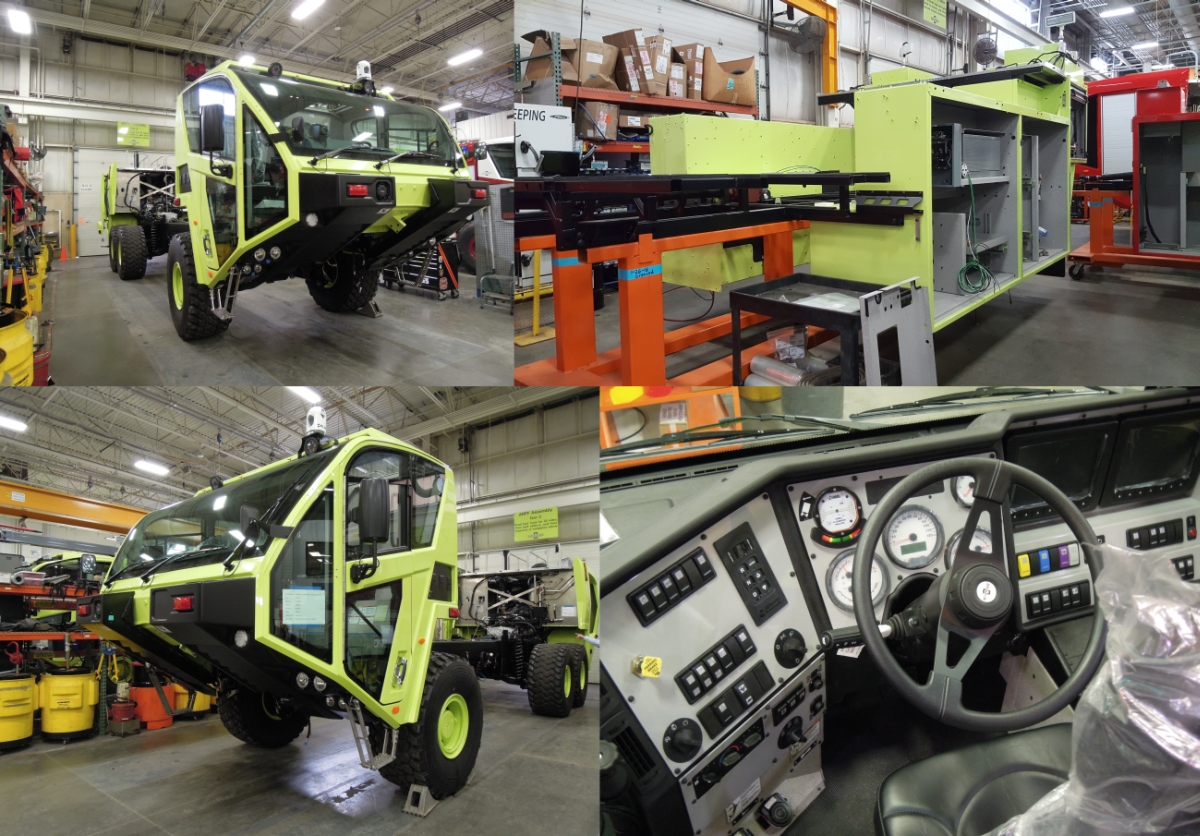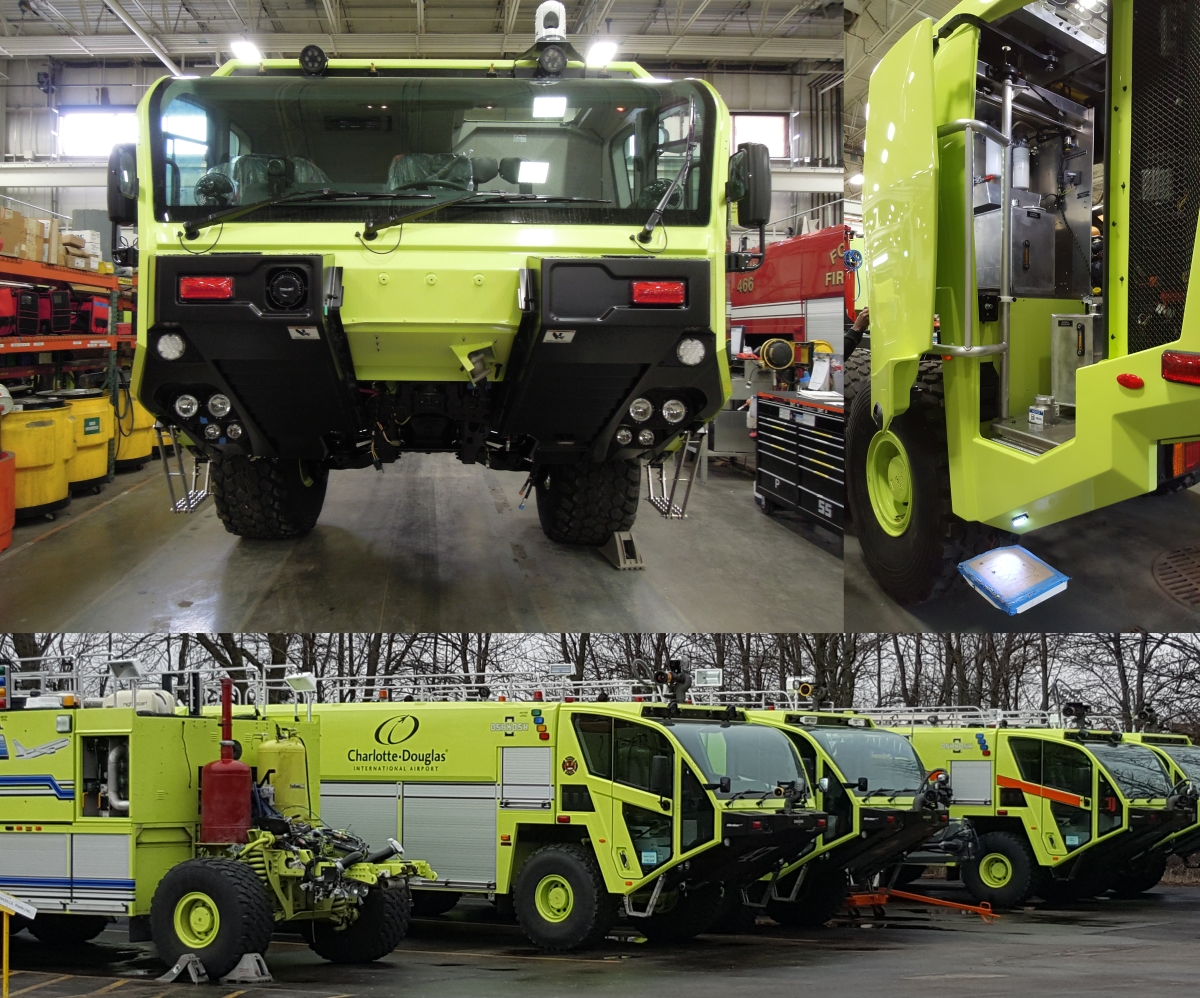 Bottom photo showing a trio of Strikers in production for Charlotte.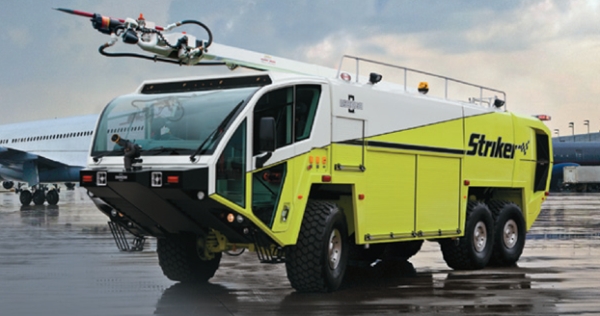 Stock picture. The RDU truck will be solid yellow.
Specifications
Engine
Deutz TCD 16.0L V8, 670 HP, 1950 ft. lbs. of torque at 1400 RPM, US Tier 3
Transmission
Allison 4800 EVS automatic
Suspension
Oshkosh TAK-4 independent system
Pump
Power divider driven Waterous CRQB, single stage, pump and roll capable, 2000 GPM at 240 PSI
Water
3000 gallons
Foam
420 gallons (3% AFFF)
Dry Chemical
450 pounds (nitrogen propellant)
Halotron
460 pounds (argon propellant)
Special Features
Snozzle, 50 foot extendable boom, 500/1000/1250 GPM.
High volume, low attack bumper turret, 1250 GPM.
Driver s Enhanced Vision System (DEVS)
About the Snozzle
This is a first for the airport's crash trucks. Called a High Reach Extendable Turret (HRET), it adds the ability to:
Flow 500 GPM (low flow), 1000 GPM (high flow), or 1250 GPM (with limited horizontal travel). Plus 250 GPM through the piercing tip. (The airport's current crash trucks flow 300 GPM from the bumper.)
Flow water, foam, and dry chemical.
Deliver precise and controlled piercing over the wing, under cargo areas, and from high angles of aircraft.
Extend the reach of extinguishing agents, so the vehicle can be positioned away from escape slides and triage efforts.
Flow a full master stream at ground level, for such uses as extinguishing burning tires and/or hot brakes quickly and effectively.
Deliver a wide spray pattern to reach under an aircraft, for cooling fuel tanks and cargo areas.
Master stream can be adjusted to deliver a quick mass decontamination shower.
Lift up to 500 pounds.
Can be used as a stand pipe.
About the Driver's Enhanced Vision System
This is another new capability for the airport's ARFF units. DEVS is a moving map display that helps vehicle operators safely navigate in low visibility conditions. Such as rain, sleet, fog, or smoke from a fire. It displays the location of the truck on the airfield, and also provides alerts as the vehicle approaches runway holding markings and runway safety areas. (Called an Imbedded Runway Incursion Warning System.)
Additional features of DEVS are:
Waypoints and crash site information can be placed on the map for easier low visibility navigation.
Routes can be programmed into the system to avoid unsafe areas and for most efficient routing.
Ability to create geographic zones to avoid areas of construction and other obstacles.
Full internet access from within the vehicle.
Document storage gives personnel access to schematic drawings of aircraft, hazardous materials information, GIS maps, etc.
Allows for vehicle location tracking for incident commanders.
Production Status
The fire department just finished with their mid-construction inspection at the Oshkosh/Pierce plant in Appleton, WI. Their pre-delivery inspection is scheduled for mid-April.
Delivery is anticipated at the end of April. After it has arrived, two weeks of hands-on training will be provided by Oshkosh for all personnel. That training hasn't been scheduled, and the timeframe for in-service is still being determined. Maybe by mid-June.
Airport administration, meanwhile, is evaluating retaining the current CFR4 as a reserve truck. (The fleet currently consists of front-line rigs only.) They're also looking at replacing CFR 2 and CFR 3 in a future budget year.
Current Crash Trucks
The current fleet of ARFF apparatus at Raleigh-Durham International Airport:
CFR 1 – 2001 Ford F-550/4 Guys mini-pumper, 500/250/20 foam
CFR 2 – 2000 Oshkosh TI-1500 4×4, 1500/1500/210/450 pounds dry chemical
CFR 3 – 2000 Oshkosh TI-1500 4×4, 1500/1500/210/450#
CFR 4 – 2000 Oshkosh TI-3000 6×6, 1950/3000/420/450#
Plus support units including a 2001 Ford Excursion command vehicle (CFR 10), a 2015 Ford F-350/UPF brush truck 300/300/10 (CFR 12), and a 2015 Command Support Products foam trailer 1000/265×3.
Learn more about the airport fire department and its history on my web site.