Wake County Fire Services has implemented a new organizational chart, with two new Deputy Director positions reporting to the Fire Service Director, a new Logistics Manager position, and a couple other changes. Let s chat with Fire Services Director Nick Campasano for a closer look.
The new structure was originally conceived by [prior Fire Services Director] Mike Wright, notes Campasano. It was designed to provide additional support for both the Fire Tax District and the county fire departments. Wright retired in 2014, as readers recall, and here s a great blog post about him and his career.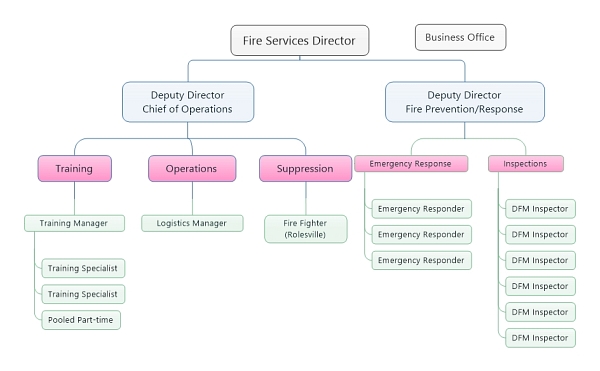 Above is the new organizational structure. Notable changes include:
Repurposing the Director s two direct reports Chief of Training and Chief Fire Marshal as deputy directors, and with the functions of Chief of Operations and Fire Prevention/Response.
The Chief of Operations still oversees training (and suppression and now logistics functions), but has additional duties including as liaison with the county fire departments, and supporting the OSFM rating reviews.
Under Chief of Operations, a third functional area added. Operations (with a Logistics Manager position) joins the functions of Training and Suppression.
The Logistics Manager oversees the apparatus purchases, inventory control, and other capital purchases, such as PPE, SCBA, and thermal imaging cameras. They are also responsible for developing the replacement schedules and apparatus maintenance programs.
Under Fire Prevention/Response, one supervisor position removed under the functional area of Inspections. The inspectors now report directly to the Deputy Director.
The transition to the new configuration has been a gradual one, notes the Director. We hired Grant Vick as the Logistics Manager and Darrell Alford as the Operation Chief, back in the fall, says Campasano.
He adds that the Fire Training Chief position went away in December, when Ricky Dorsey retired. We are currently in the process of hiring a Fire Training Manager, so the reorg is still a work in progress.
Are future changes planned?
Says Campasano, At this time, there are no future changes contemplated. As the current organizational layout is very new, we would need some time to determine how it is working and what future tweaks it may need.
Other Details
Looking closely at the chart, here are a couple other things:
The Rolesville Firefighter is the last of the county-paid firefighters. They re assigned to the Rolesville Fire Department and work full-time on a 24-hour schedule. Believe there were other funded firefighters in the past, with members who retired or left. Maybe readers can advise.
The Emergency Response personnel are position that staff WC1. That s the emergency response unit that provides 24/7 support for fire departments in Wake County (both county-funded and otherwise), for functions of fire investigation, logistical support, etc.
The Business Office is a department under Wake County EMS, but provides business related support to Fire Services. They handle contracts, payroll, invoicing, etc.
Comparing Old and New
The old org chart consisted of:

Fire Services Director

Chief of Fire Training

Training Program

Training Specialists (x3)

Fire Suppression Program
Firefighter-Driver (for Rolesville FD)

Chief Fire Marshal

Fire Prevention/Inspection Program

Inspector (as supervisor)

Emergency Response Program

Fire Rescue Responder (x3)

 

The new org chart consists of:

Fire Services Director

Deputy Director – Chief of Operations

Training (function)

Training Manager

Training Specialist (x2)
Pool of part-time resources

Operations (function)
Suppression (function)

Firefighter (for Rolesville FD)

Deputy Director – Fire Prevention/Response

Inspections (function)
Emergency Response (function)

 
Scope of Division
Wake County Fire Services has the mission of fire code enforcement, emergency response, fire investigations, [fire response] planning, fire training, and readiness for emergencies. They accomplish same in five program areas, reflected in the above org chart: Fire Services Administration, Fire Code Enforcement/Fire Prevention, Fire Services Training, Emergency Response, and Fire Suppression Operations and Support. They have seventeen full-time positions, and a budget in FY2016 of $1.669,732.
The division also works closely with nineteen fire departments in Wake County that provide service in the Fire Tax District. Thirteen departments are non-profit corporations, and six are municipal fire departments. The Fire Tax District includes most of the unincorporated areas of the county, along with the town of Wendell. These departments use a combination of full-time staff, part-time staff, and partially compensated volunteers. What's the total count of personnel or units or stations, and/or area or population served? Maybe one of our readers will crunch those numbers.
Wake County has twenty-three fire departments total. The four not contracted by the county are Holly Springs, Knightdale, Raleigh, Raleigh-Durham International Airport. The North Carolina Forest Service also has a base in Wake County, and provides fire suppression services and support. Wake County Fire Services also provides support to these agencies as well.
Historical Perspective
Here s a blog post and accompanying research document (PDF) with a historical perspective on the Fire Services division. Some highlights:
In 1953, the first rural fire departments were formed. Subsequent departments are organized to provide protection to people living outside of municipalities. Funding includes some support from the county.
In 1954, first full-time Civil Defense director position was created. Later renamed Director of Civil Preparedness, then Emergency Preparedness, then Emergency Management. The office also provides support to the county fire departments.
Between the 1950s and the 1980s, the Fire Marshal was created as role of the Director. When did this exactly happen? To be determined!
By 1986, the Fire Marshal position is a function of the Director of Emergency Management, who was also EMS Director until 1980.
In 1986, a full-time Fire Marshal position was created.
In 1987 (on July 1), the division had four full-time positions, including two fire inspectors. When were the first county fire inspectors hired? To be determined!
In 1988, a fire trainer position was created. This followed completion of the Wake County Fire Training Center in 1985.
In 1989 (on July 1), the division had seven full-time positions. Three were added in January 1989.
In 1990 (on July 1), the division was expanded to eight full-time positions.
In 1992 (on July 1), the division had 11.5 positions.
In 1994, Fire Marshal s Office was restructured, after a study of county fire protection recommended these actions: Hire a county fire administrator, who leads office with three divisions: Fire Marshal. Support Services, and Human Resources. Create two additional fire inspectors/investigators ASAP. More clearly define FM role and authority in area of emergency response.
In 1995, the position was renamed Fire/Rescue Director.
In 1998, the Wake County Fire Commission was formed, as an advisory board to both the Fire/Rescue division and County Commissioners. That function was previously served by the Wake County Fire Chief s Council, which had operated since 1963.
In 1999, a single fire protection service tax district was created. Previously, county fire protection as financed through twenty-one separate fire tax districts.
By 2011, the position was renamed Fire Services Director.
During the 2000s and 2010s, the Fire Service Division has waxed and waned between 17 and 22 full-time positions. (During some of that time, Emergency Management was part of the division and included in that count.)