June 23, 2019
Here's a posting about the entire painter's log, added to my new digital history library: https://legeros.com/blog/seagrave-paint-log-1906-1951.
March 20, 2016
What do the pages of the painter's log look like? Here's an example: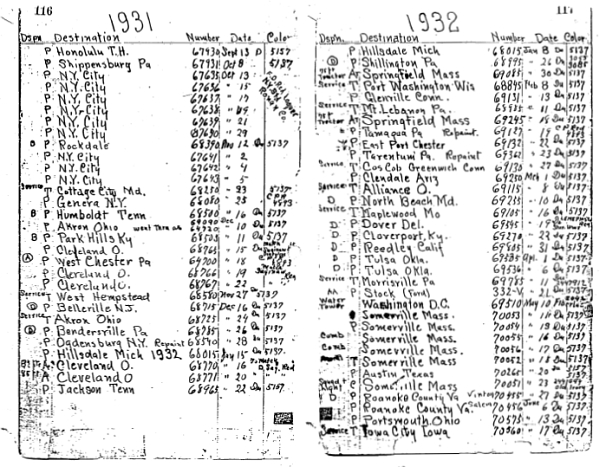 And here's a page that mentions Tarboro, North Carolina. Page 119, from 1933. The notation says something like "April 18th, Mr. Wolfe J. Fleming and C. Babcock went to Tarboro, N.C., came back April 29th, 1933." Why did they travel? Was their trip related to the rigs on that page, or the earlier Tarboro rig? No idea.

March 18
Here's a list of Seagrave apparatus deliveries in North Carolina, as transcribed from a copy of the Seagrave Master Painter's Record, which recorded all trucks painted at their plant in Columbus, OH, from May 1906 to September 1940, plus four entries from September 1942, and from September 1943 to December 1951. (There were gaps during World War II.)
It constitutes the only known record of Seagrave serial numbers, which were job numbers used for its own internal manufacturing and cost record system. (And when apparatus was returned for repairs or repainting, the notes note, the apparatus received a new serial number.)
How complete is this list? First, we're hoping for zero transcription errors. Did multiple passes, so crossing fingers there. What about deliveries not record in the painters log? Such as rigs produced for our state during World War II. We'll see if readers have information about other trucks, or supplementary information worth noting.
Also, the first entry in the book in Gastonia's wagon. Two-horse wagon. How many of these are horse-drawn rigs? Guessing the first couple, tops. Thirty-two rigs are listed. That's far fewer than American LaFrance delivered during the same period. ALF was the predominant builder of motor fire engines in our state, during that time. Somewhere over 350 rigs.
Page
Code
City
Note
Number
Date
Color
2
Gastonia
2 horse wagon
1805
5/9/06
5
T
Tarboro
2273
1907
11
Auto T
Asheville
3198
1908
17
City T
Statesville
4849
9/10/10
22
CW
Asheville
6392
2/17/11
CP red 4891
22
CW
Asheville
6393
2/17/11
White
27
W
Smithfield
8763
6/6/13
SC PR 4891
29
T
Black Mountain
10146
12/2/13
4891
29
T
Tryon
Spelled "Tyron" in log
10145
12/3/13
4891
31
Auto CW
High Point
11176
6/6/14
white
32
City C T
Asheville
12044
11/6/14
CPR 4891
68
P
Charlotte
34045
5/5/23
CPR 4893
82
P
Hamlet
42115
12/16/25
CPR 4893
89
P
Smithfield
47725
3/31/27
DUCO 1623
93
Service T
New Bern
49750
10/22/27
DUCO 1623
103
P
Thomasville
57445
6/19/29
Battleship Gray
108
B P
Graham
60830
3/13/30
4893
110
B P
Rockingham
61955
6/25/30
4893
111
P
Tarboro
extra fancy
63420
9/24/30
Battleship Gray
121
P
Durham
No. 2
78225
11/18/34
5137
121
P
Durham
No. 5
78226
11/27/34
5137
121
P
Charlotte
repaint / repair
78255
12/15/34
5137
131
P
Pinehurst
88110
10/18/37
5137
132
P
Gastonia
88080
11/2/37
5157
137
Quad T
Wilmington
93140
2/13/39
5157
141
Ford P
Aberdeen
A4160
2/15/39
Spec bk [book]
150
Ford 500
St. Pauls
B9900
2/9/44
P & R____
Gold t____ [trim?]
153
80.750 pump
Carthage
C4080
2/16/45
Red
154
J1000 P
High Point
C4815
9/_/45
Red
177
66-750
Gastonia
E2525
8/15/49
Red
182
J-1000 CB[?]
Charlotte
E8260
4/18/50
Red
187
J-1000
Charlotte
F3055
5/10/51
Red
Abbreviations:
C – Chemical
P – Pumper
T – Truck, service ladder
W – Wagon, hose
CW – Combination Wagon, chemical and hose
Color codes:
CP – Coach Painter's
CPR – Coach Painter's Red