This is a blog archives posting from August 30, 2014, and re-posted here as the original is unavailable due to technical issues.
On April 1, 1963, a two-year study was started of ambulance service in North Carolina. Questionnaires were mailed to 718 ambulance providers, the majority of which were funeral homes. They were asked questions in categories of (a.) organization, (b.) area served, (c.) availability of service, (d.) equipment, (e.) services rendered, (f.) personnel, (g.) communications, (h.) records, (i.) financial, (j.) auto accidents, and (k.) opinion. Plus other data, including call details for one specific week of service.
Also contacted were 183 hospitals and 52 nursing homes, 100 county governments and 355 incorporated towns and cities, and 119 users of ambulance service (during a single week in October 1983). They were also asked both categorical questions as well as for general opinions. The medical care facilities also provided data.
The results were published in January 1965 as Organizing Ambulance Service in the Public Interest. It included seven pages of recommendations, notably of standards and principles and the recommendation to implement via legislation. Read the report (6.5M, PDF).
The 126-page bound book was described as a "research project conducted by the North Carolina Hospital Education and Research Foundation Inc., in cooperation with the Institute of Government and the Department of Hospital Administration of the School of Medicine of the University of North Carolina." The study was financed by the Division of Community Health Services of the United States Public Health Service.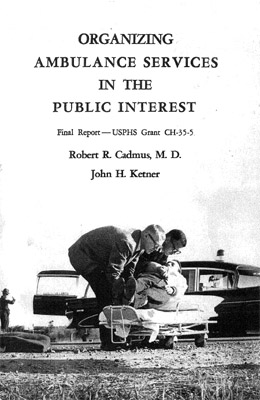 Robert R. Cadmus, M.D., was the study's principal investigator. John H. Ketner was the project director. The study also included a long list of advisory committee members, ex officio (from the Latin phrase, meaning a member who participates by virtue of holding another office), special advisors, and staff.
The study was prompted by changes in the state's ambulance service. In at least ten communities, notes the introduction, funeral homes had discontinued service. Local governments were notified, but were poorly suited to solving the problem. Queries to academic institutions and reviews of literature found no easy answers, either. Nobody had studied ambulance problems on a statewide basis, and along the lines of the problems faced in North Carolina.
Thus commenced the study and the resulting report. There's much to read and absorb in the document, which was scanned from a photography of a book borrowed from the North Carolina State Government Library. Such as notes about auto accidents. They were deemed a growing concern, due to the recently developed interstate highway system, the limited access roads (which made communicating about and locating accidents harder), and the maximum speed limit having been raised.
As summarized in a News & Observer story on March 16, 1965, the report concludes (or confirms) that state and local governments in North Carolina should be authorized to help provide supervised ambulance service.
There's also pages upon pages of data. Some interesting bits:
905 vehicles were used to transport patients. Half were combination hearse-ambulances.
99% of providers said they covered large areas, either town plus rural or entire county/more than one county.
96% of users were satisfied with the service. Only two criticism were noted: another attendant need, and, once, the driver didn't know the way to the hospital (!).
83% of providers were funeral homes. Only 16% were rescue squads. Of the squads, 84% were private non-profit organizations and 16% were government-related.
63% of providers did not provide first aid at the scene. They were "load and go" and with half of those noting the reason that "police or bystanders insisted the patient be transported at once."
33% of providers said they had considered discontinuing service in the past year. Three-quarters of those cited financial reasons.
26% of calls were for non-emergency reasons.
And what happened next? (And before?) Here's a quick sketch of contextual events in North Carolina (and local) EMS history:
1937 –

Forsyth County

Winston-Salem Rescue Squad organized, first in North Carolina.
1965 – Two-year study on ambulance service in North Carolina published (this report).
1966 – National Highway Safety Act enacted. Each state directed to develop a regional EMS system. North Carolina Governors Highway Safety Program charged with assisting in the funding of such a program in North Carolina. Soon after the law is enacted, US DOT released national standards for the design and equipment of ambulances, and training for ambulance attendants.
1967 – North Carolina General Assembly passes Ambulance Services Act, under Chapter 130, Article 26, Regulation of Ambulance Services. Licensing regulation for operators of ambulances is adopted by the state board of health. Advisory Committee on Ambulance Service created, to develop standards.
1969 – EMT classes first taught in Raleigh-Durham area.
1971 – Legislative Research Commission authorized to study problem of emergency care in North Carolina, and develop adequate system to provide statewide.
1973 – North Carolina Office of EMS established. Legislation passed consolidating rule-making authoring over ambulance and personnel, as well as authorization of training EMTs to perform advanced first aid and limited medical procedures.
1976 – Basic life support (BLS) rules created for North Carolina ambulance services, published as a document by the state's Medical Care Commission. Effective January 1, at least on attendant on every ambulance must be certified EMT. Also, advanced skills for EMTs allowed, via new Mobile Intensive Care Technician certification.
1984 – First paramedics in service in Wake County.
1993 – Legislation passed that requires development of Statewide Trauma System.
1995 – Legislation passed that requires licensing of EMS providers.
2001 – North Carolina EMS legislation rewritten.
(What milestones are missing from that list?)
Read the report (6.5M, PDF), which is linked from my History of EMS in Wake County.
Comments
Jeff – In 1937, it was the Winston-Salem Rescue Squad that was the first rescue squad formed in North Carolina. That was quickly followed by squads being formed in Davidson County and Elkin. The Forsyth Rescue Squad (note no "county" in their name) as formed in 1962 by the Moose Lodge on the south side of Winston-Salem. In 1968-69, physician community combined with members of the Haywood County Rescue Squad took advanced cardiac training and applied for grant money to equip two ambulances thru the North Carolina Regional Medical Program (RMP). Their "paramedic" training predates the official NC legislation of EMS.
Legeros – Thanks Jeff, my Forsyth citation didn't quite seem right to me. Here's some history on the Haywood Rescue Squad: http://www.haywoodrescue.org/history-2/hcrs-history/ http://www.haywoodrescue.org/history-2/the-paramedics/ Alas, I didn't quite know where they fit into the picture. This EMS and paramedic history stuff is still new to me!
bfd1151 – Rescue Squads are quickly becoming a thing of the past in many parts of NC due to decreased volunteerism, the need for participation in fundraising, increased medical calls, fire dept provides the same or great services, etc. Off the top of my head Belmont, Gaston Co Lifesaving, Lincoln Co RS, East Lincoln RS, Boiling Springs RS, Cabarrus Co Rescue, Grover Rescue?, Rosman Rescue, and Winston-Salem RS have closed their doors within the past 5-7 years due to various reasons. It would be interesting to find out the history of former Lifesaving crews and Rescue Squad throughout the state.
bfd1151 – Add one more to the list: Rutherford Lifesaving Crew (separate agency from Rutherford Co RS) closed down last year after a bitter fight with the county. Here is a link to part of the story: http://www.thedigitalcourier.com/news/x1235865757/Rift-between-county-Rescue-continues. 
DJ – The demise of many 'rescue squads' is also representative of a change in culture. In my early days in the emergency field, fire departments, for the most part, had no desire to do 'rescue stuff'. I can remember in some parts of the state that FDs did not respond to MVCs unless something was on fire, not for standing by in the case of an extrication. I once requested a fire stand-by in the case of an extrication with diesel fuel and gasoline spilled and leaking. The FD arrived and the volunteer chief told me to "call us back if it catches on fire" and they left. Times and things change. That is sort of represented by the time that I attended the NC Rescue College (held at Durham for several years). The only fire department members that I saw attending during my five years of taking that program were Durham, RDU, Raleigh, and a few volunteer departments from around the state. The vast majority of the attendees were volunteer members of various rescue squads.