Last week, on Tuesday, June 7, Raleigh firefighters, police officers, and friends, family, and supporters met at the Municipal Building on Hargett Street, in advance of a public hearing on the proposed budget for FY17. (See the budget documents.)
They came with signs and matching shirts (for fire)–"would you do this job 56 hours a week for $11.22 per hour" and "we can't live in the city we protect"–and conducted a peaceful demonstration about their salaries. They want higher pay, and say firefighters and police officers deserve higher raises than the 3 to 3.5 percent increase in the City Manager's proposed budget.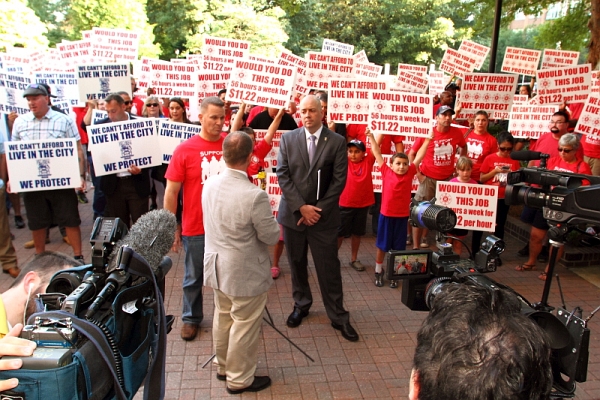 Speaking at a press conference held before the hearing, representatives from the Raleigh Professional Fire Fighters Association and the Raleigh Police Protective Association announced that they would jointly submit proposals for a 15 percent raise over the two years. They also addressed other issues, such as low starting pay in comparatively sized fire departments around the nation, as well as far smaller departments in Wake County.
Some 200 firefighters and police officers and supporters attended. Due to the large number of attendees, two conference rooms were opened on the third-floor for remote viewing. The hearing was also broadcast to a pair of television screens outside the council chambers on the second and first floor lobbies.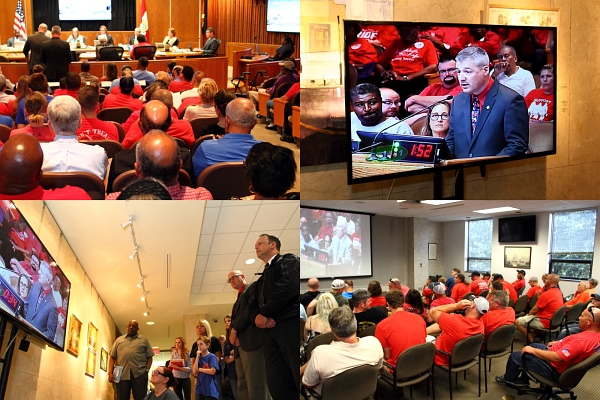 The spokesmen for the RPFFA and RPPA addressed City Council early into the budget hearing. This live blog recap from the Independent Weekly has a summary of their statements. Or you can watch the session as recorded by the Raleigh Television Network.
See also these news stories from WRAL, WTVD, and News & Observer[*]. And here are some photos from the event by Mike Legeros.
[*] Link now broken, http://www.newsobserver.com/news/local/crime/article82335182.html
Want to express your support? Contact your local City Council representative. Their e-mail addresses are listed at the bottom of this web page.