March 12, 2020
Ready to Open
Long-overdue update. Cary Station 9 is but days away from going into service. Paid a visit on Tuesday and snapped some pictures inside. Have also been taking pictures over the last eighteen months of construction, both ground and drone pictures. See those photos. 
Station 9 will house Engine 9 and a relocated Battalion Chief.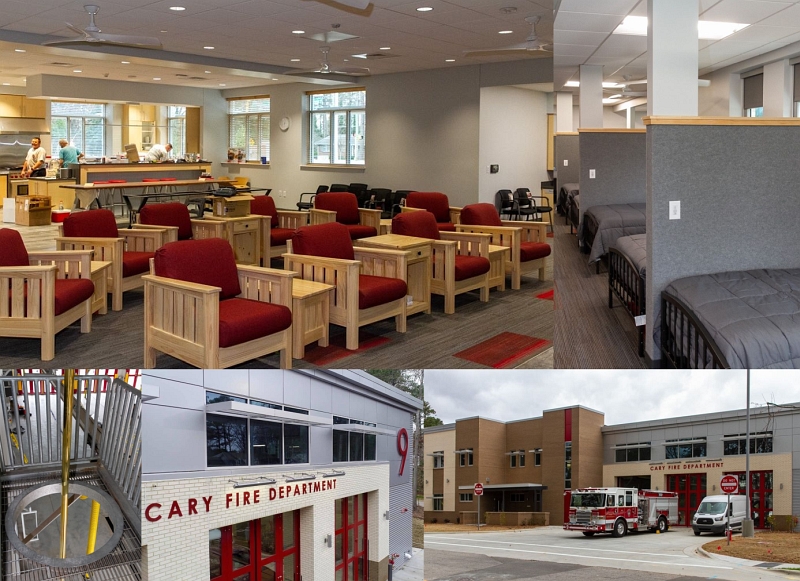 October 25, 2018
Groundbreaking
The Town of Cary on Tuesday held a groundbreaking ceremony for the relocation of Fire Station 9. The 2.53 acre site is located at 1427 Walnut Street, and will replace a smaller facility built in 1974.
Station 9 currently occupies old Station 2, which relocated in 2015 to a new station on Chatham Street. Engine 9 was activated on December 18, 2015. Read blog post.
The new Station 9 is located 1.4 miles to the south and east, and closer to the interstate and commercial properties on the southwest side of town.
Construction of the $7.9M facility is expected to be completed in winter 2020.
Project History
2013, October 10 – Property purchased by town of Cary. Site had church buildings on the property.
2015, December 18 – Engine 2, Rescue 2 relocate to new quarters.
2015, December 18 – Engine 9 placed in service at old Station 2.
2016, Fall – Planning and design started.
2017, August – Buildings demolished on site.
2017, September 12 – Community meeting at Station 2 about project.
2018, October 23 – Groundbreaking ceremony.
Video of Rendering
Filmed at the September 12, 2017 ,community meeting at Station 2.
More Information
Visit the project site [link expired:https://www.townofcary.org/services-publications/fire/fire-station-9-relocation], which includes a project history, renderings and a site plan, and the planned project schedule.