Did you know that Memorial Auditorium once contained a fire station? The performance hall that's today called the Duke Energy Center for the Performing Arts was dedicated in August 1932 as "War Memorial Auditorium." It was named as it was a memorial to the solders that died in World War I, and replaced the earlier City Auditorium at Davie and Fayetteville streets, that was destroyed by fire on October 24, 1930.
As this NC Theater web site well-summarizes, the land for the new auditorium had a long history of public use. The city's original Governor's Palace was erected on the site in 1813 and occupied until April 1865, when seized by General Sherman during the Civil War. (As the story goes, it was declared no longer fit for habitation after the war ended.) In 1876, the building was sold to the city, and turned into Raleigh's first public school. (And the second graded school in the state.)

Source: NC Theater web page
Memorial Auditorium cost about $310,000 to construct, and was considered the city's largest expense since the Great Depression. It also included a fire station under the stage. The one-story, two-bay fire station faced Fayetteville Road. It originally housed Engine 2, which relocated from 412 S. Salisbury Street. (The old fire station was retained by the city and became a paint shop.)
The new fire station included separate dorm rooms for officers and firefighters. There was a "lounge" in the far back, a combination kitchen, dining room, and a day room. A maintenance shop was located in the rear of the apparatus bay. The floor plan also included bathrooms, an office, and a utility closet.
Click once or twice to enlarge: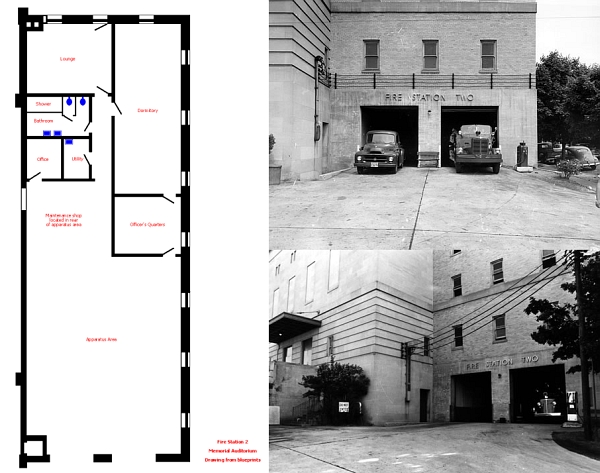 Top right: North Carolina State archives photo; bottom left: Raleigh News & Observer
Why Add a Fire Station?
Adding a fire station to the project saved the city the cost of building an additional structure. It also provided the auditorium with 24-hour "watchmen service" as no additional cost. (Unsure how that responsibility played out. They crews certainly kept an idle eye on the structure and the grounds. And, recalling log book entries, a firefighter was assigned watch duties, during performances.)
Engine 2 was housed at Station 2 until August 12, 1941. On that date, Station 1 on Morgan Street was closed. Engine 1 moved to old Station 2 on Salisbury Street, and the two ladder trucks (Aerial Truck 1 and Service Truck 1) moved to Memorial Auditorium. The displaced second engine was moved to Station 1. They operated as a two-engine house until 1949, when the service truck was moved to Station 6. (To my thinking, that's also the origin of having two engines at Station 1. They liked it and repeated it, when new Station 1 opened in 1953.)
Truck 1 remained there until 1953, when the new Station 1 opened on Dawson Street. Also during this time, the "squad truck" was housed at Station 2. Believe beginning around 1950.
Click once or twice to enlarge: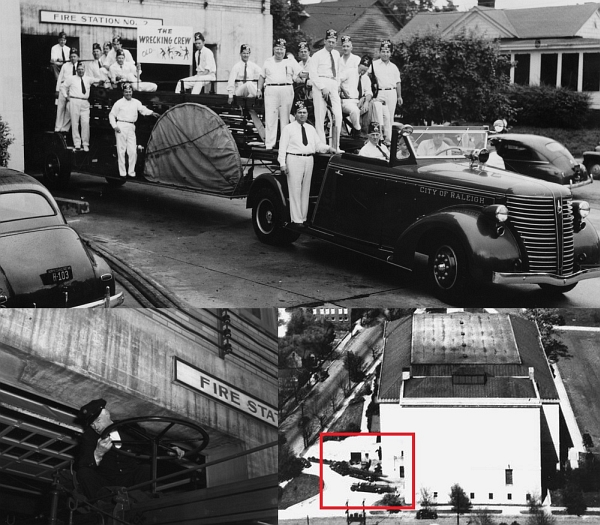 Top left: Courtesy Charles Watson. Lower left: Raleigh News & Observer; bottom right: North Carolina State Archives photo
Also a Drill Tower!
The auditorium building was also designed to function as a fire training tower, with five additional stories of windows above the fire station, that were available for ladder training. Other drills, such as catching hydrants and pulling lines, were conducted in the auditorium's lower parking lots. Watch this color video footage from circa 1950, that show such drills in action.
It served as the fire department's second training tower, after the tower at the old Morgan Street fire station. A dedicated training tower was constructed two decades later and a few blocks south on Wilmington Street. (Built in 1954, the five-story brick tower occupied the grounds of the later-named Keeter Training Center.)
Click once or twice to enlarge: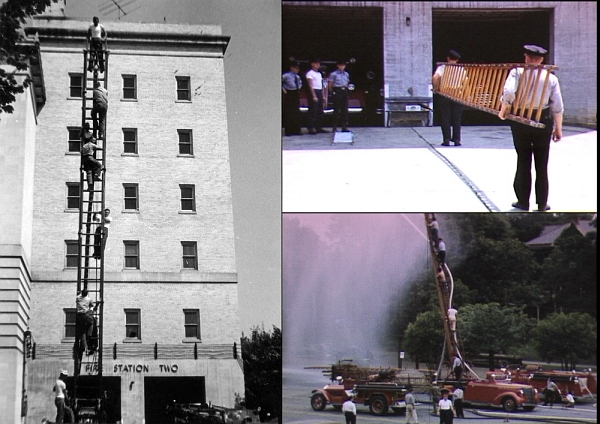 Left: Raleigh Public Affairs photo
Looking Inside
What did the inside of old Station 2 look like? Precious few photos have survived. Here's a pair, a kitchen view from 1950, and a maintenance shop shot from the 1950s, showing the well-dressed firefighters fixing children's toys for Christmas.
Click once or twice to enlarge:


Courtesy C.T. May (left), Raleigh News & Observer photo (right).
Station 2 operated at this location until October 1969, when the fire station was relocated farther south to 263 Pecan Street. The new one-story fire station included a separate-but-attached mechanical shop building. (The latter was used until 2004, when the shop and other support functions moved to a new Support Services Center on New Bern Avenue.)
The fire station at Memorial Auditorium also housed six of the city's original seven black firefighters, hired in 1963 to 1964. (That is, first career black firefighters.) They worked along with white firefighters, though in separate living quarters. They were assigned to Engine from a period starting in June 1963 through April 1964. In August 1965, five of the six were transferred to other fire stations. Read more of that history (PDF).
The Old Fire Station Space Today
In 1990, the auditorium underwent a $10.5 million renovation, which likely impacted the old fire station space. In 2000, the auditorium was expanded with the construction of Meymandi Hall, Fletcher Auditorium, and Kennedy Theater. Despite these improvements, some traces of the old engine house are still visible.
Here's a look inside, in the space that was once the apparatus bays. Alas, there isn't much to see here, that reveals the original structure and its floor plan. To the left of the camera is a wall with a bricked-in window. That's about the only historic evident that I saw, when visiting some months back.
E.W. = Exterior wall.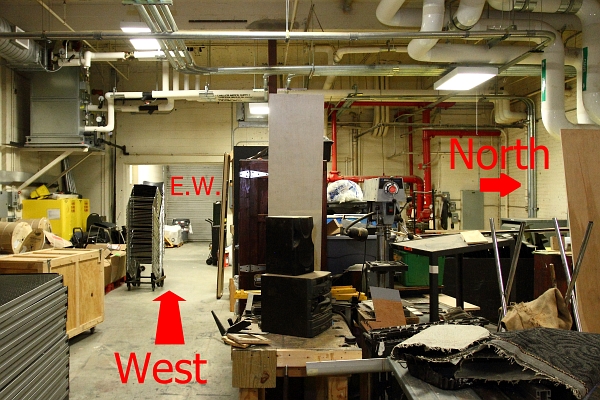 And here are a couple exterior views, showing the how the building's been updated on the west and east sides: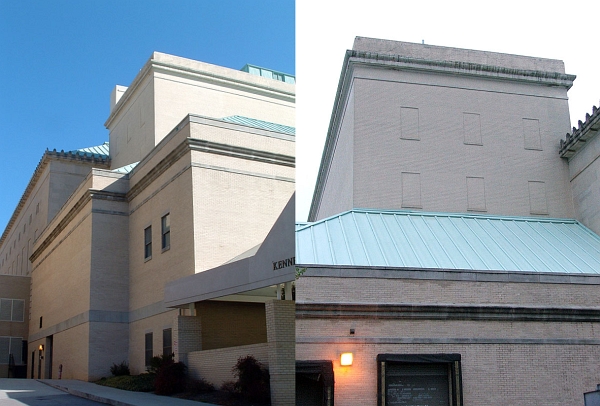 More Information