Two alarms were struck in northeast Raleigh late Saturday afternoon, with two duplexes damaged after an accidental outdoor fire started. Engine 21 was dispatched 2420 Pumpkin Ridge Way at 5:21 p.m. for an outside fire. Within a minute it was upgraded with a structure fire response dispatched at 5:22 p.m. and adding E27, E11, E19, L2 (operating reserve Ladder 125), L8, R1, B1, B2, and Car 420 (Deputy Fire Marshal). While units were en route, it was upgraded to a working fire, with Air 1, Car 20 (Division Chief), and Car 401 (Investigator) dispatched at 5:26 p.m.
Engine 21 arrived at 5:28 p.m., with smoke and flames showing from the left side (Division B) and extending to the attic of a two-story, brick duplex with ~2000 square feet. Built 2001. The officer requested a second alarm almost immediately, as a second structure became involved, with siding catching fire and soon extending to the attic at 2424 Pumpkin Ridge Way. That's a two-story, vinyl-sided duplex with ~2,8000 square feet. Built 2003.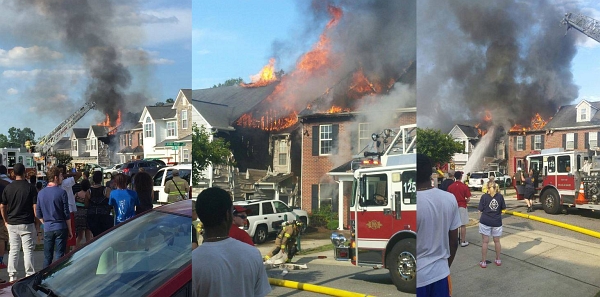 Benjamin James Cirasole / WTVD photos
The second alarm was dispatched at 5:29 p.m. for E12, Sq7, E3, L5, L4, B5. The Assistant Chief of Operations, Car 2, also responded. Initial operations were interior attacks along with a "blitz nozzle" (portable monitor) outside in the front. Ladder 2 was positioned for master stream operations in Division B/C on Pumpkin Ridge Way, while Ladder 8 was readied in Division C, on the parallel street Blackwolf Run Lane. Evacuation tones were sounded at 5:43 p.m., crews were withdrawn from both structures, and both aerial streams began flowing.

Mike Legeros photos
Command was located on the south side of the intersection of Pumpkin Ridge and Linville Ridge Drive. Staged apparatus utilized Linville Ridge Drive and Bay Harbor Drive. At least two hydrants were tapped. Medical monitoring and rehab was conducted in driveways on Pumpkin Ridge, across the street from Division B/C. The fire was controlled at 6:44 p.m., and some second alarm companies were soon released.
The cause was determined as accidental, due to smoking materials, and presumably improperly discarded. Watch your butts! Three families were displaced, and Red Cross provided assistance. One pet was reportedly killed.


Mike Legeros photos
Fire response included E21, structure fire: E27, E11, E19, L2, L8, R1, B1, B2, C420; working fire: A1, C20, 401; second alarm: E12, Sq7, E3, L5, L4, B5. Also C2. Medical response: EMS 34 (first alarm), EMS 62, D9 (working fire), EMS 63, D6, M92, T1 (second alarm).
Early-incident photos by Benjamin James Cirasole were posted to this WTVD story. Legeros arrived about 5:47 p.m. See his photos.