Updated October 9 with an incident description retrieved from Wake New Hope Fire Department Facebook posting.  
See Legeros photos | Watch drone video | Listen to radio traffic
Narrative by WNHFD
New Hope Car 1, Engine 282 second due arriving to 4 alarm school fire in Wendell
Sept 25th 2020- At 510pm, Raleigh-Wake County 911 dispatched E282 for working fire in a former school at 5901 Riley Hill Road, in Wendell's primary district. Wendell Fire Department Engine 112 was first on scene, with New Hope Car 1 (Chief Price) right behind them, reporting heavy smoke and flames visible from a large H shaped single-story structure, and requested RW911 "Send me every tanker in the county."
Engine 282 arrived next, taking position on the west side of the structure, while Wendell Engine 112 had taken position on the east side. Multiple lines were stretched from both engines, deck guns & portable master streams were deployed, and 5 drop tanks were set up, due to the are being without any nearby fire hydrants.
The water point was established by Rolesville Fire Department Pumper 152 at a hydrant at 1099 E Young St at Rolesville High School. Over 60,000 gallons of water were used, with every tanker making at least one shuttle run from the water point to the drop tanks.
Wake New Hope Fire Department Tankers 9, 10, & 11 responded as part of the tanker shuttle, and Engine 281 from New Hope Station 1 and Engine 284 assisted with suppression efforts. The fire would eventually escalated to an equivalent of a 4th alarm, before being marked under control after 90 minutes. Crews remained on scene for another 3 hours hitting hotspots and assisting WC1 with the investigation.
Narrative by Legeros
"Send me every tanker in the county." That was New Hope Fire Chief Lee Price early into the major fire at old Riley Hill School in northeastern Wake County on Friday afternoon, September 25. Dispatched 5:11 p.m.
Heavy fire showing through the roof of a historic former school building at 5901 Riley Hill Road. Built in 1928, the "H"-shaped, single-story structure has 14,728 square-feet. Plus the adjacent 6,308 square-foot gymnasium building.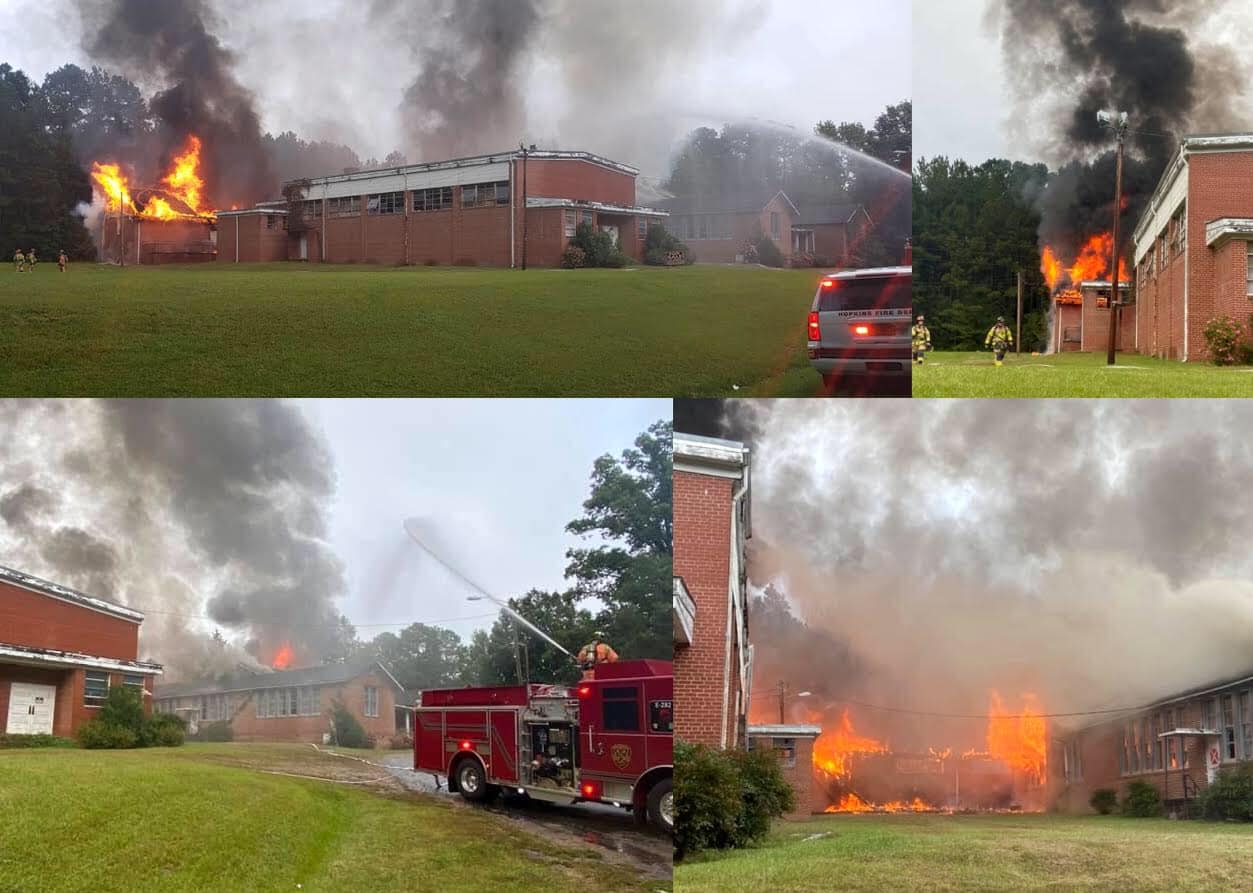 Photos by Charlie Honeycutt (top left) and Ray Fetchko (top right, bottom). 
Water-shuttle operations, with [five] drop-tanks in two locations, supplying a NHFD engine on the west side, and WFD E112 on the east side, boosting WFD E112 in rear corner of the structure. Deck gun(s) and portable monitor(s) used, plus numerous hand lines. Rolesville aerial deployed for observation. Controlled 6:49 p.m. Crews remained on scene for another three hours or so.
Fire departments on scene: Wake New Hope, Wendell, Hopkins, Zebulon, Wake Forest, Knightdale, Rolesville, Garner, Fairview, Northern Wake, Western Wake, Durham Highway, Raleigh, plus Pilot (Franklin), Bunn (Franklin), Archers Lodge (Johnston), Corinth Holders (Johnston). Plus Wake County EMS, Eastern Wake EMS. 
How many alarms, or alarm equivalents? I guess… two or three, plus the tanker requests.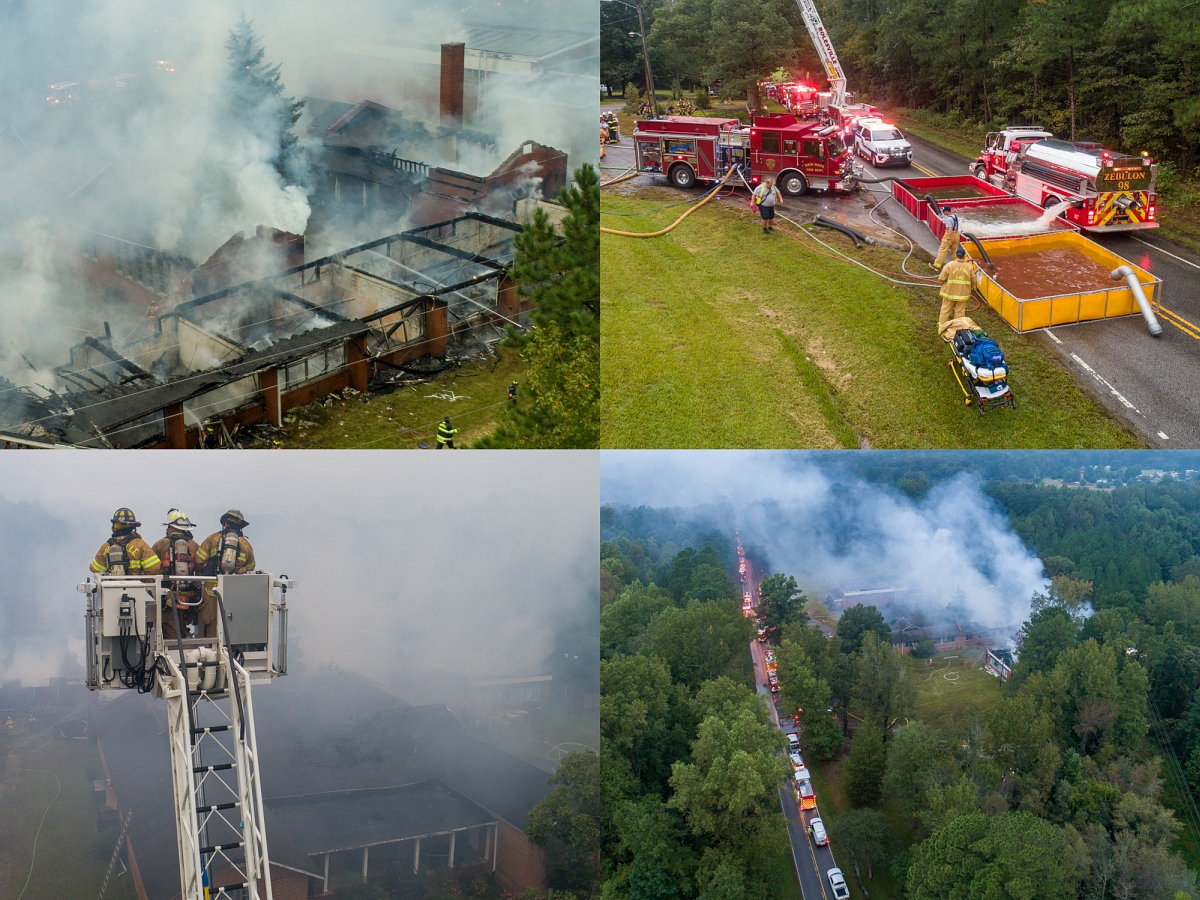 Mike Legeros photos
See more Legeros pics at https://legeros.smugmug.com/Fire-Photos/2020/2020-09-25-wfd-riley-hill-rd.
Diagram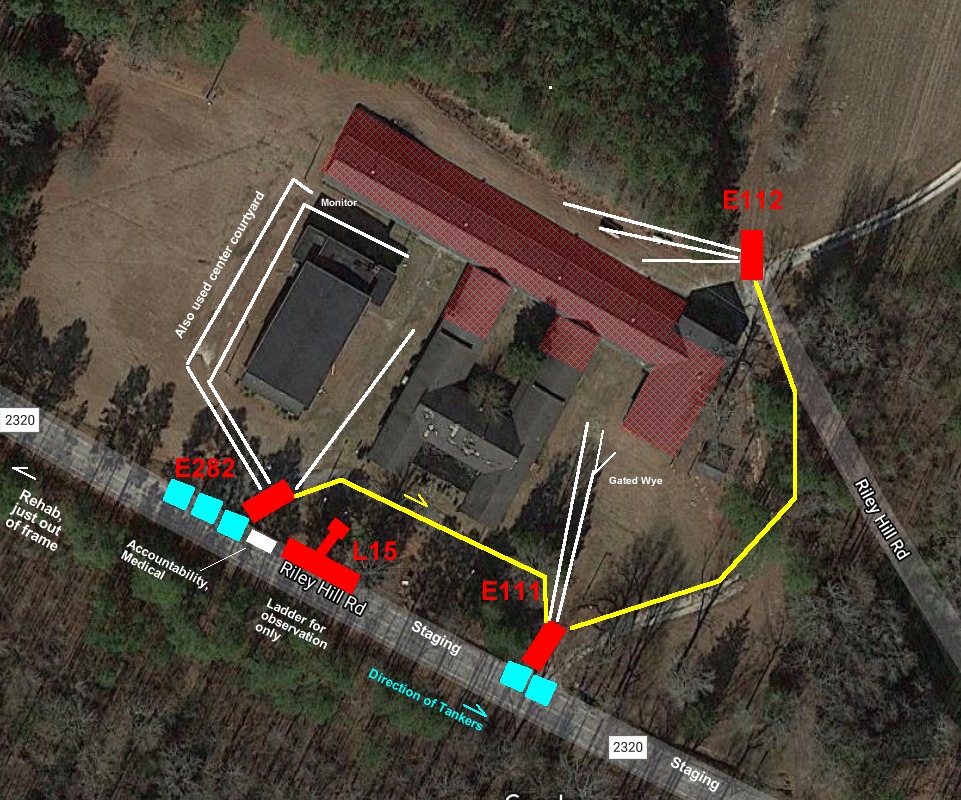 Run Card
Durham Highway P162
Fairview E1
Garner E4, TA12
Hopkins C1, C2, E221, R22, TA227
Knightdale TA2
New Hope C1, E281, E282, E284, TA9, TA10, TA11
Northern Wake TA18, TA28
Raleigh Air 2
Rolesville L15, P152, TA157
Wendell C1, C2, E111, E112, E113, L11, TA11
Wake Forest E3, FE5, TA3, TA4
Western Wake TA198
Zebulon TA98
WC1
(Unsure if some units were diverted as coverage, or swapped.)
Archers Lodge FD
Corinth Holders FD
Pilot TA76
Bunn E23, TA22
 
EMS 1, 34, 62, 68
Medic 96
Dist 3, 6
Truck 1
Chief 600
Plus coverage including:
Durham Highway FD to New Hope Station 2
Cary L3, Morrisville L23 to Knightdale Station 2
Swift Creek FD to New Hope Station _
Ferrells FD to Pilot
Audio and Video
Facebook Posts