Here's a vintage booklet about the Salem Fire Department, printed for the occasion of their fiftieth anniversary, celebrated on September 16, 1893.
The twenty-page booklet includes a history of the department going back to the Moravian settlement of 1766, and first fire protection laws in 1773.
It's presented courtesy of Duke University's David M. Rubenstein Rare Book & Manuscript Library, scanned from their collection.
View the booklet (PDF, 19MB)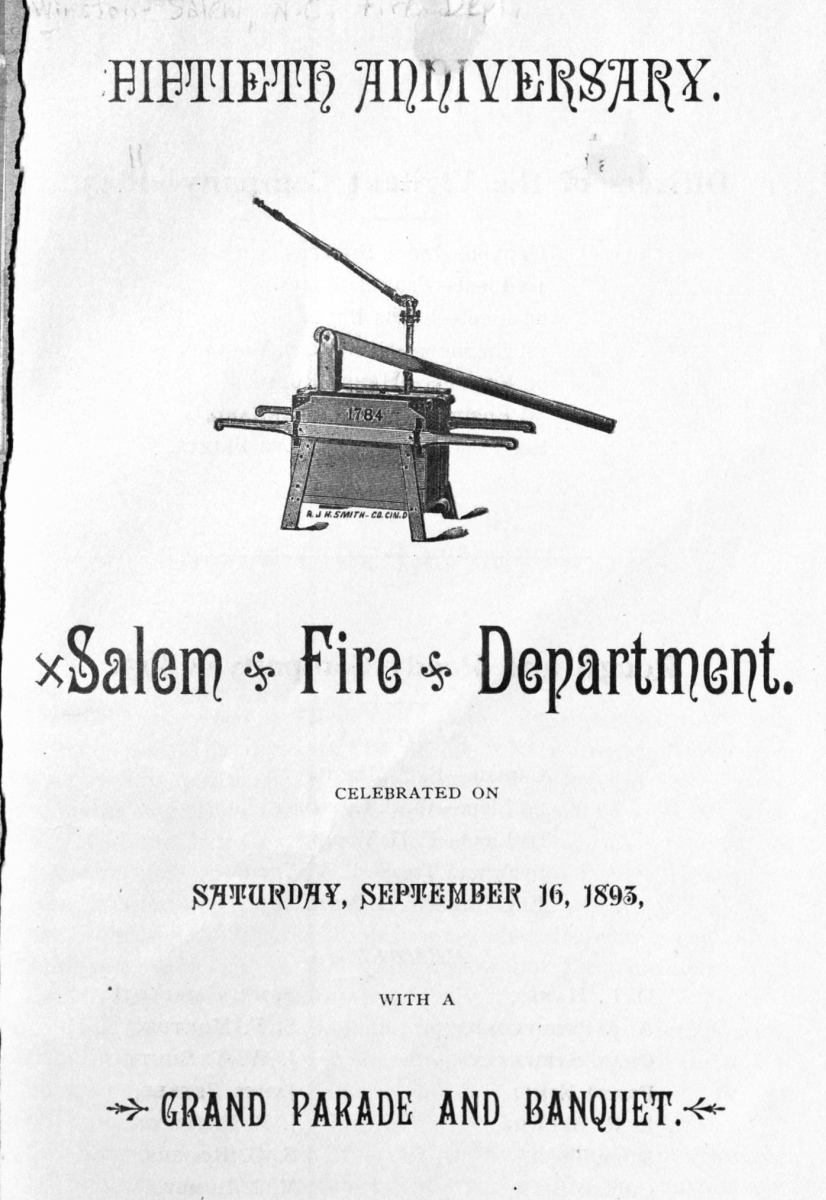 Department Milestones
These milestones are noted in the booklet:
1766 – Settlement of Salem started.
1773 – First regulations related to preventing fires, by sweeping chimneys. 
1778 – First "system of water works."
1781 – First recorded fire. 
1785 – First fire engines delivered, two hand engines from Europe.
1785 – Fire buckets ordered by town, with each house required to have at least one.
1828 – Pump added to water system. Water was moved into the town's reservoir, which fed via "earthen pipes" some ten or twelve cisterns around town. Each cistern had a "common wood pump" with a brass connection for hose, for supplying the fire engine. 
1832 – Newer hand engine delivered from Philadelphia, 200 GPM capacity, built by Merrick & Agnew. Also equipped with two-inch hose, first fire hose for town.
1843 – State law exempts firemen from militia duty. It's thought that this led to the old Salem Military Company being disbanded, and the first "organized fire company" created.
1843 – Salem Vigilant Fire Company organized. 
1845 – First fire for Vigilant Fire Company, Siewer's Cabinet Shop.
1853 – Second fire for Vigilant Fire Company, outbuilding near "dwelling house."
1854 – First uniforms for Vigilant Fire Company.
1855 – Four-wheel hose carriage added. Used for about 30 years. 
1855c – Engine house moved from original location on Salem Square to Academy Street, just west of Tar Branch.
1858 – Newer hand engine purchased, from Baltimore. Named "the Watchman."
1859 – Larger 1785 hand engine retired.
1861 – Vigilant Fire Company disbanded, after state law no longer exempted firemen from militia duty. They had "done duty at four fires" over 18 years. 
1864 – First dwelling house destroyed by fire. Most of the former firemen were in the army, and citizens took their places at the engine, and in a bucket brigade.
1866 – Fire company reorganized after the end of the war. 
1868 – Fire company adopted new by-laws and constitution, and chartered as Rough and Ready Fire Company.
1868 – Total fire alarms from 1766 to 1868 is nine.
1871 – First fire for Rough and Ready Fire Company, a smokehouse.
1874c – Engine house moved to Main Street.
1884 – Button hand engine purchased. 
1886 – Hand engine exchanged for Button steam engine.
1886 – New engine house.
1893 – Hose wagon added, built by captain of the department.
1893 – Electric fire alarm system added. 
1893 – Total fire alarms from 1868 to 1893 is 24, with grand total of 33 fire alarms since settlement of town in 1766. 
More Information
See also related content, including Mike's modern photos of Salem's old fire engines and a history of old Winston and Salem fire stations.