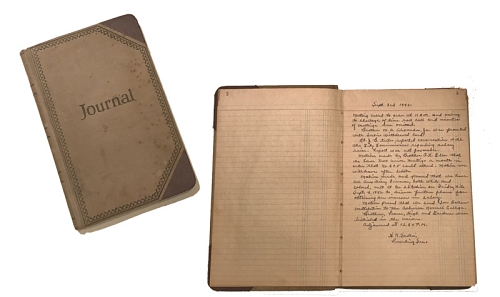 How about some vintage meeting minute excerpts for your hysterical historical enjoyment? These are from the Raleigh Fire Fighters Association, Local No. 548, as transcribed by Yours Truly. Read many more at http://legeros.com/ralwake/raleigh/history/union/
1942 – Meeting came to order at 10:30 a.m. followed by prayer by all members. Motion made and carried that men at work on duty at No. 4 and 5 be marked as present."
1942 – Brothers, O. L. Wilkerson and L. Q. Godwin, sworn in as members of Local 548.
1942 – Motion made by Bro. J. S. Honeycutt that a man be in the department for 60 days before accepting him in union. Passed unanimously."
1942 – Discussion concerning the purchase of pajamas [as a Christmas present] for Chief Butts. Bro. Ellen stated that #5 refuses to pay any part on same. Bro. Averett stated #4 would pay their part, but later disagreed to pay. Bro. Pearce stated that his wife did not wear silk pajamas and he would not buy any man some. Motion made by Bro. Mills that the other stations play for the entire sum. Passed.
1943 – Motion made by Bro. Sadler that the minutes of each meeting be copied and sent to each station to be placed on the bulletin board, in order that Stations 4 & 5 will know what is going on when they can't attend the meetings. This motion passed.
1943 – There was considerable discussion concerning writing the men in the service. Capt. Burnette suggested that we send the boys the News & Observer. This was adopted, the money to come from the treasury. The following were appointed to write each man: J. D. Grimes to Puryear; Wilkerson to Holmes; Randolph to Alexander; Strayhorn to Gregory.
1943 – Pres. Keeter asked for 2 volunteers to visit H. V. Lloyd [who had had a stroke] at intervals. Bro Lassiter & Watkins volunteered.
1944 – Pres. Keeter discussed State Fire Fighters Convention to be held here July 27th & 28th. Bro. Burnette suggested that we give a supper and a dinner for delegates. Br. Burnette, Smith, Lassiter, High, & Godwin to help Pres. Keeter toward preparations for convention.
1945 – Bro. King mentioned that there [was] too much profane language used by members during Local meeting.
1945 – After some discussion by various members on 24 on 24 off, motion was made by Bro. Smith that Pres. Keeter go to Chief Butts & discuss the matter with him. Bro. Sadler asked for an amendment that 90 day trail be included. Motion carried 100%.
1946 – Pres. Keeter gave his findings on the meat situation in regards to the proposed barbecue. Bro. Burnette spoke on the great cost of a barbecue, and suggested that it be postponed.
1946 – Pres. Keeter gave a talk on meeting & various bills taken up by IAFF at Toledo. Bro. Hayes gave talks on the opinions of other city firemen in regards to pensions & the IAFF.
1947 – The initiating committee prepared our shivering & shaking candidates for their coming ordeal. This program was carried out with hilarious gusto.
1947 – Bro. Hayes explained why some of the men were not able to get into the ballpark on their passes. He explained (as it was told to him) that some of the firemen had been loaning their passes to non-members and that they were trying to get others in on their passes. Bro. Blake said that he had talked to Grimes. Stephenson and Grimes told him that no pass cards had been wrongly used at his gate.
1947 – Bro. Keeter gave his view on the condition of the Fire Dept., and also working dances at auditorium.
1948 – The union voted to accept the state [fire fighter's association] meeting if High Point turned it down.
1948 – A discussion followed on extended sick leave by several members. Bro. Keeter explained about sick leave.
1948 – A very lengthy discussion on the political mechanics of the Charlotte Fire Dept. was held.
1948 – Hobby made a motion that we vote on 24 on, 24 off. Seconded by Bro. Brannan. Motion carried unanimously that we adopted permanently the 24 on, 24 off mode of working with only 4 voting against.
1949 – Discussion was brought up on the seniority and ability method for making promotions in the dept. After a lengthy discussion, Bro. Mims made a motion that the organization go on record as favoring the plan, and that the President appoint a committee to represent the dept. at the Civil Service Commission about this method of promotion.
1949 – J. W. Godwin made motion we repair typewriter. Motion carried.
1950 – The condition of [original Raleigh Fire Chief] Sherwood Brockwell was discussed, and the need for blood donor was brought out by several of the members.
1950 – Brother J. W. Godwin made a motion that an assistant driver be made on each shift for each company. Brother Burnette seconded. Motion carried.
1950 – It was brought up about forming a ladies auxiliary, but it was decided we talk with our wives about it first, and see how they feel about it.