Update 8:14 a.m. – Corrected to note that Eastern Wake EMS will exclusively occupy the facility. 
Wake County is building a new EMS station at 3001 Wendell Boulevard, which is across the street-and-to-the-right from the fire station. It will replace the current Wendell Main EMS Station, located downtown. Construction is nearing completion. Lee Wilson took this photo this weekend: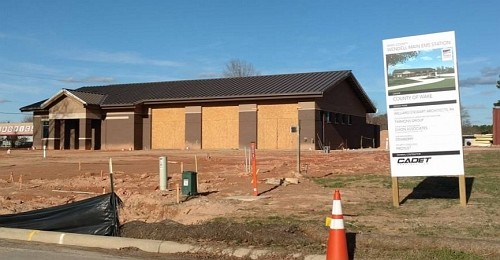 Lee Wilson photo
The 4,231 square-foot building will be equipped with three ambulance bays and eleven parking places. The 0.95 acre site is located at 3001 Wendell Boulevard. The $1.7M building was designed by Williard Stewart Caliendo Architects. 
It will occupied by Eastern Wake EMS, which currently utilizes the old Wendell Rescue Squad building at 401 E. Third Street. That 4,080 square-foot structure was built in 1974, and will be retained by Eastern Wake EMS as an administration facility.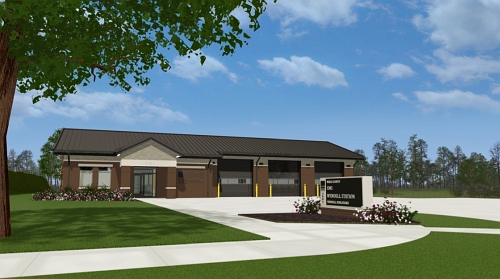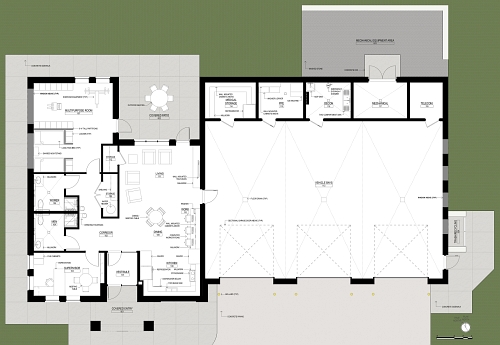 See larger version of rendering and floor plan on the county's project page.
Project Summary
Here's a project summary, from this county's project page:
On May 12, 2016, Wake County closed on a 0.95-acre tract of land located at 3001 Wendell Blvd., Wendell, for the purpose of building a new EMS station that would serve the Town of Wendell and provide improved response times to the target coverage area.
On July 18, 2016, the Wake County Board of Commissioners approved the schematic design for the new EMS station, composed of 4,231 SF, including 3 single-length ambulance bays, room to house a peak load unit, a 24-hour response unit, and an Advance Practice Paramedic vehicle. Eastern Wake EMS will also [exclusively] occupy and operate EMS units from this location.
On January 17, 2017, the Wake County Board of Commissioners approved a construction contract with Cadet Construction Company of Raleigh to construct the new facility along with all of the necessary site improvements.