What have been the worst wildfires in our state's history? Either in recent decades or way back when? Below is a "worst one" from 1985. 
Let's look back at another series of huge wildfires in western North Carolina. From the Raleigh Times on April 5, 1984, found while doing some local fire department research. List format, of course:
April 1985
Uncontrolled fires burning in Burke, Caldwell, Polk, and Wilkes counties.
Contained fires burning in Buncombe, McDowell, and Stokes counties.
As many as 8,000 "tinder-dry" acres burned.
As many as 44 homes destroyed.
Thousand evacuated.
Fought by 1,500 forest service members, 429 National Guardsmen, 400 emergency services personnel, and various other state/local officials.
Relief en route from National Guard, 36 firefighters from Guilford County, 300 firefighters from Texas and Mississippi.
Red Cross relief centers established.
Managed from Raleigh, at the state Emergency Operations Center, where 30 men and women coordinate emergency efforts:  employees from various state division, plus Highway Patrol, National Guard, Red Cross, and amateur radio operators.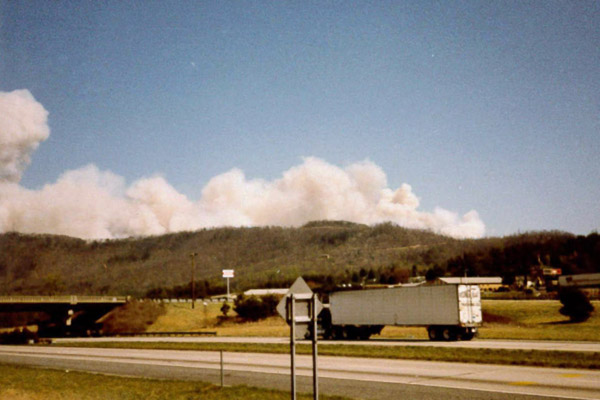 Smoke seen from Interstate 40 in Burke County. Courtesy News-Herald, from this April 2015 retrospective
Mineral Springs Mountain near Valdese
Worst of the fires
Nine firemen overcome by smoke.
Several residents also treated for minor smoke inhalation. Two treated for minor heart attacks.
Burned as many 20 houses and mobile homes.
Some 100 homes on the mountain threatened by flames.
"It's run through poor neighborhoods and it's run through nice neighborhoods" said Valdese Fire Chief Sherrill Brittain.
Six homes burned on outskirts of town.
Some parts of town, and nearby Rutherford College were evacuated.
"The wind's been blowing 50 mph all day and it's dry" said one resident. "I'm watering the grass down around my house and then I'm getting out of here."
Shelters for evacuated residents at schools, churches, and National Guard armories.
Notes: Also/later called the High Peak fire. Notes this News Herald story from April 2015, it burned 4,770 acres, destroyed 27 homes, and cost more than $3M to extinguish. Cause later determined as local man burning garbage in cleared garden area. 
Rutherfordton
Six houses and two businesses destroyed in downtown Rutherfordton.
Some 75 families evacuated.
Air National Guardsmen brought blaze under control with shovels and rakes.
Flames reached within two blocks of the courthouse.
Buncombe County
75 acres burned.
Fire contained.
Burke County
Interstate 40 and Highway 18 closed for several hours on Thursday, April 4.
Fire "closed in" on both sides of the roadways.
"There's nothing but anxious people in this county right now" said Beth Henderson of Burke County EM.
County declared state of emergency on April 4, after 400 people were evacuated in the southeast corner of Valdese.
See Mineral Springs Mountain above.
Caldwell County
1,500 acres have burned, mostly US Forest land.
On Thursday, residents were "rushed from their homes" as fire "raced over more than 1,000 acres of woodland."
At least nine homes destroyed.
"It's a total madhouse here" said a fire department dispatcher.
McDowell County
More than 1,000 acres burned in western McDowell County.
Three houses and one mobile home gutted.
Threatened Crooked Creek community of about 300 residences.
Some 25 families were evacuated.
"We're calling it 80 percent contained at this time but we're staying out there overnight just in case" said firefighter Charles Presnell.
Rutherford County
Ten acres burned.
Ten homes burned.
See Rutherfordton above.
Stokes County
800 acres burned.
Fire contained.
Wilkes County
200 acres burned.
Fire contained.
Then What Happened?
See this News Herald story from April 2015, remembering the High Peak Fire in Burke County, one of the blazes noted above.
The fire resulted in the development of a program utilizing inmates as firefighting resources. Notes the introduction to this legislative report on the Young Offenders Forest Conservation Program (PDF):
On April 4, 1985, within a one-hour period, three large wildfires broke out in the foothills and mountains of Western North Carolina. These fires, along with numerous smaller fires, destroyed thousands of acres of woodland and more than forty homes and outbuildings. The High Peak Fire destroyed 27 structures and 5,000 acres of woodland in Burke County alone. Resources were stretched to their breaking point and often unavailable.
Following the devastating 1985 fire season, the North Carolina Division of Forest Resources began exploring ways to supplement their wildland firefighting capabilities. After visiting an inmate program in Washington, and researching programs in California and Utah, the Division of Forest Resources, in conjunction with the North Carolina Division of Prisons, developed the concept of the BRIDGE Program. The concept focused on the training of inmate crews to be used and readily available when needed to suppress wildfires.