Update – The fire was declared 100% contained as of December 1. The fire burned 7,142 acres. The cause remains under investigation.
On Friday, November 11, 2016, fire departments around North Carolina were requested to help fight a wildfire in the western part of the state. A blaze had started six days earlier at Chimney Rock State Park. It had grown to over 2,000 acres in size, and was threatening hundreds of structures in nearby communities. The local fire departments of Buncombe, Henderson, and Rutherford counties were already on scene, but more help was needed.
By the end of the weekend, dozens of engines and brush trucks and their crews had arrived at the command post in Lake Lure. The firefighters were told to plan for seven-day deployments. They would provide protection for the structures and assist the forestry crews. Wildland resources were also arriving from across the country, with hand crews and Type 6 engines coming from as far away as Alaska, Florida, and Texas.
The Party Rock Fire continued to grow that week, with its peak size of 7,000 acres by Monday, November 21. By that date, the fire was determined as sufficient contained to begin demobilizing most of the mutual aid structural crews. Over 170 fire departments from around the state had assisted.
Read narrative, notes, date, and more.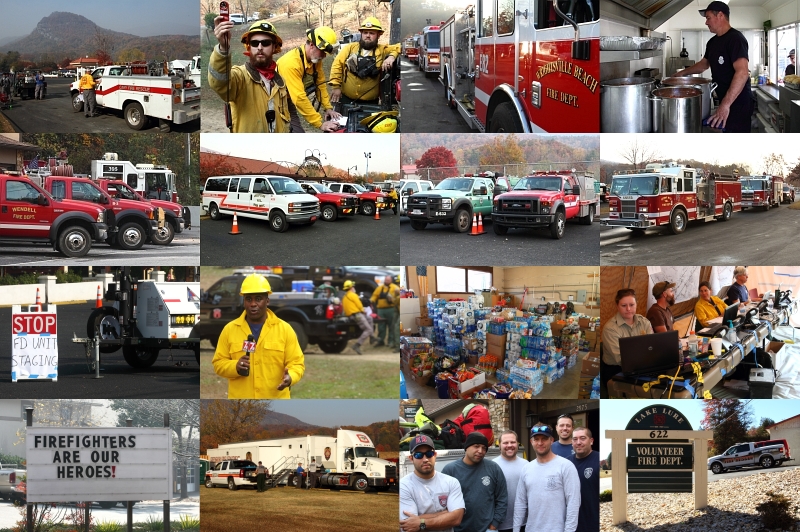 Earlier Updates to Original Blog Posting
Demobilization
November 23 update. Earlier this week, many of the mutual aid fire departments were demobilized from the Party Rock Fire. Working on a recap, along with final photos.
Photo Visit
November 20 update. Here are photos from Legeros, from a visit over the weekend of November 18-19.
Live Audio Feed
November 15 update. Here's a live audio feed, with radio traffic from the western North Carolina wildfires. Thanks Jimmy!
List of Fire Departments
Updated November 25
What's the full list of all fire departments working at the Party Rock fire?
Aberdeen, Advance, Albemarle, Allen, Altamahaw-Ossippe, Apex, A-RC-H (Arcadia-Reedy Creek-Hampton), Asheboro, Asheville, Aurora, Bahama, Barnardsville, Bat Cave, Battleboro, Bay Leaf, Bear Creek/Swansboro, Big Marsh, Bills Creek, Black Mountain, Bladenboro, Bladen County FD, Blounts Creek, Blue Ridge, Broad River, Bunyan, Carolina, Carrboro, Carthage, Cary, Cedar Grove, Central School, Chapel Hill, Charlotte, Chimney Rock, Chocowinity, Clark's Neck, Clarkton, Climax, Concord, Courtney, Cumberland Road, Currituck County FD, Cypress Point…
See this web page for the complete listing, and more.
Original Posting 
November 13
As you've likely been reading, some twenty wildfires are burning in western North Carolina. As this WNCN story reported on Saturday night, the fires have burned more than 23,000 acres. Evacuations have also also been ordered in five counties, for populated areas close to the fires.
The resources include, per the story:
1,049 firefighters
72 engines
14 bulldozers
6 helicopters
3 water tenders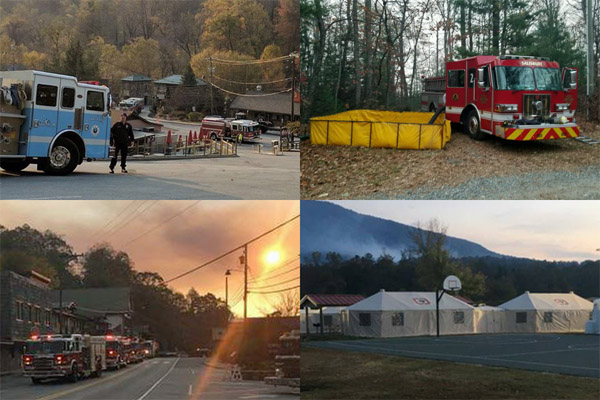 Photo credits Orange Rural FD and Salisbury FD (top right)
Since Friday, there have been statewide requests for fire support. FireNews.net on Twitter has been providing good updates.
Five Type I engine strike teams (25 engines with four people each) were requested on Friday, to report to Chimney Rock at 7:00 a.m. on Saturday. The town has been impacted by the Party Rock Fire. Yesterday morning, another five strike teams were requested.
Saturday, another 100 engines and brush trucks were sought. Wake County fire departments were among those requested for assistance, and told to plan for a seven-day deployment. Last night, some units left, include Eastern Wake Pumper 1.
This morning, these units were deployed:
Apex E22
Bay Leaf Brush 259
Cary Brush 9
Cary Engine
Holly Springs Car 4
Morrisville Brush 3
Stony Hill P395
Wendell Brush 114
Western Wake Brush 299
Zebulon Brush 99.
They departed from the Emergency Management warehouse, where they were equipped with cots, blankets, and water.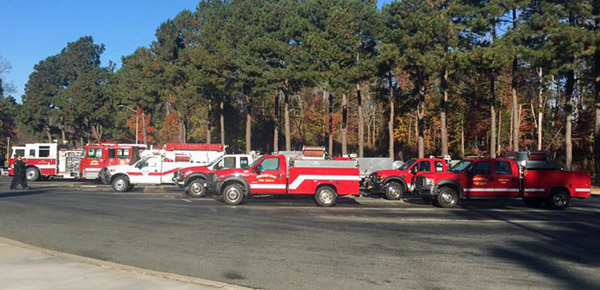 Photo credit Western Wake Fire-Rescue
Recommended Links
Here are some good links, for photos and other updates: