This was recently posted to the SPAAMFAA group on Facebook, 1956 (?) Chevrolet 6400 home-built pumper that served the Cleveland Community Fire Department in Rowan County, from 1975 to 1980. Dave Schlosser provided and/or took the picture. Bruce Anderson in the group notes the truck's fascinating history, which we've bullet-ized here:
Originally served Colmar, PA.
Body originally 1939 Chevrolet, which they added a small school bus body bought in 1942 from a local junkyard.
Members built the fire truck body as a composite of angle iron, wood, and fiberboard. 
Installed 300 GPM Hale pump, with Chrysler six-cylinder, flat-head, industrial engine, and had pump 'n' roll capabilities. 
Sold 1951 to truck dealer, who re-sold to Towamenc, PA.
New chassis 1956.
Sold 1974 to Cleveland Community, NC.
Sold 1980 to private owner in Kulpsville, PA.
Talk about a history! Look for more vintage North Carolina rigs on the group, by searching for "NC" or "Carolina." Click to enlarge: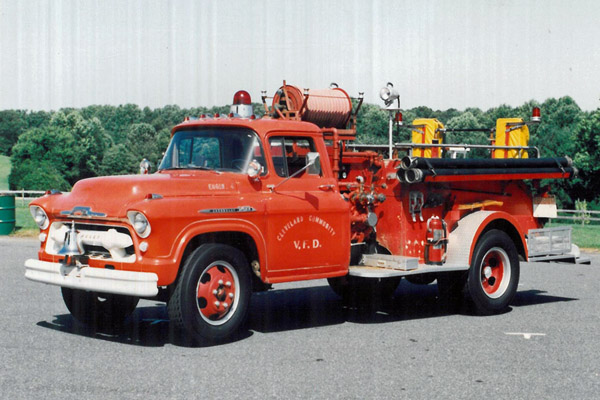 Courtesy Dave Schlosser