Two alarms were struck on Parkville Drive in north Raleigh on Thursday morning. Engine 19 was first-due at 4830 Parkville Drive. They reported a heavy column of smoke visible, while en route. Headquarters upgraded to a working fire, prior to their arrival.
Engine 19 arrived at a two-story, wood-frame, multi-family residential building (townhouses) with about 7,500 square feet and six units. Heavy fire in the end unit on the first floor, extending to second floor.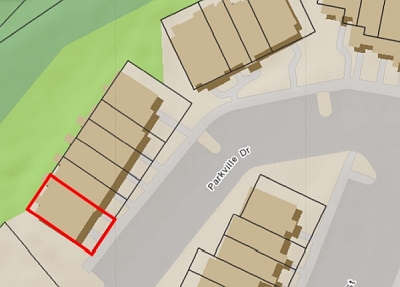 Google Maps
The Engine 19 officer received reports of people possible trapped inside, and jumping from open windows. He requested a second alarm, and the engine and arriving Ladder 2 took a line inside, and began searching. Engine 21 brought the supply line to Engine 19. Battalion 5 arrived, and assumed command.
Firefighters were called out of the fire building, as conditions intensified. Defensive operations started using a portable monitor on the exterior of the building. Crews also took lines into the adjoining townhouse, to protect the attic and its firewall. 
The fire was soon contained, and controlled within 35 minutes of the first unit's arrival. Extended salvage and overhaul brought two additional companies to the scene, special called for relief, due to the high outdoor temperatures. (High of 91 degrees that day, with 70 degree dew point.)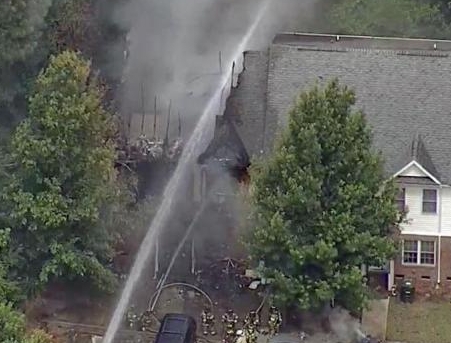 WRAL image
Dispatched 11:13 a.m. Working fire dispatched ~11:15 a.m. Second alarm dispatched ~11:19 a.m. Controlled 11:53 a.m. First alarm: E19, E27, E21, E4, L2, L5, R1, B5, B2. Working fire: A2, C20, C401. Second alarm: E9, Sq7, E28, L1, L3, B3. Special called: E17, L7. Plus EMS units.
The townhouse was destroyed, and the firewall prevented the spread into the adjoining home. The second townhouse sustained water damaged. Six adults and two children were displaced. No injuries were reported. 
Read this WTVD story about the fire, which includes aerial and viewer video from Andy Glass. See also stories from WRAL and News and Observer[1].
[1] Link now broken, http://www.newsobserver.com/news/local/counties/wake-county/article156311219.html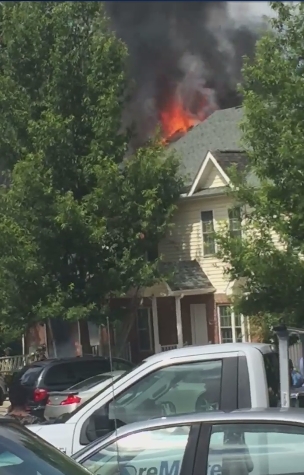 Tony Glass screen grab