Thirty-three years ago, the Raleigh Fire Department produced its first "yearbook." The slim hardcover, with just under 100 pages, included a text history of the department, portraits of all members, action photos, historical photos, pictures of each fire station, and even a few candid shots. The project was self-funded, through advance orders and sponsorships. And it's been long unavailable. 
This week, the Raleigh Fire Museum created a "digitized" version of the book. The pages were scanned and posted in this photo album:  http://raleighfiremuseum.org/photos/books/1984.
Note that the 1984 history text has been available in annotated format for some time. And here's a page about all four of the department's "yearbooks," produced in 1984, 2002, 2007, and 2012.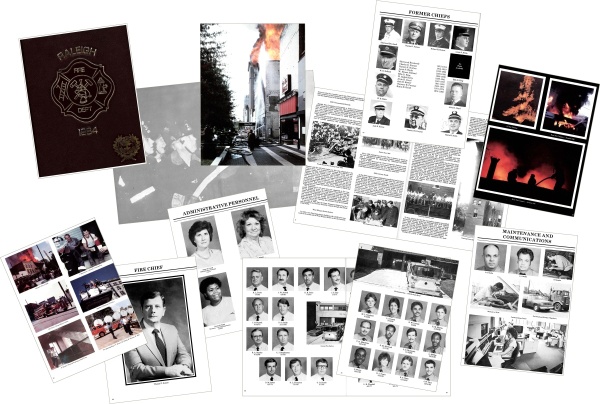 Was a Very Good Year
The year 1984 provides an excellent snapshot of "early growth" Raleigh Fire Department, and at a time when the organization was undergoing a transformation. The First Responder program was a few years old, and a haz-mat team had been created that year. These were the first steps into "all hazards" territory.
Fire Chief Thomas Kuster, the first Chief of Department hired from outside the city, had a mandate to tighten and "righten" the organization, operationally and otherwise. He was succeeded two years later by Sherman Pickard, another "outside chief." And he continued that work. Some of those improvements included the Incident System Command and more formalized fireground procedures.
The city was still growing, with four more stations added from 1984 to 1989. Fleet improvements saw aerial apparatus added in 1986, 1988, and 1990, and the end of the service ladder companies. The departments two tankers, dating from 1960, were also taken out service, in 1986. Mini-pumpers were added in 1986 and 1987, as well as the first mobile air unit in 1988.
Other things that happened during the decade: the completion of the Keeter Training Center building in 1982, the creation of an Honor Guard in 1984, the formation of an Explorer Post in 1985, and the re-formation of the local IAFF chapter in 1986. To name a few.
It was a good decade.
By The Numbers – 1983/84/85
Calls
1983 – 6,304
1984 – 7,519
1985 – 8707
City population
1983 – 167,703
1984 – 183,908
1985 – 180,343
City Size
1983 – 61.84
1984 – 62.29
1985 – 78.815
Stations
1983 – 15
1984 – 15
1986 – 16
With three aerial companies, three service companies, two rescue units, and three district chiefs
Budget / Positions
FY83 – $6,224,977 – 316
FY84 – $7,133,372 – 328
FY85 – $7,589,706 – 346