News from our friends to the north.
Commemorating six decades of service to the Town of Warrenton, the Central Warren Fire District, and surrounding communities, the Warrenton Rural Volunteer Fire Department is hosting a formal Firefighters Ball on Saturday, October 22, 2016, from 7:00 p.m. to 11:00 p.m. at Warren County Armory Civic Center, 501 US 158 Business Highway, Warrenton, NC.
The Firefighters Ball is open to the public and all firefighters, both local and from a far. Or a fire! Dress blues, kilts, and evening gowns are appropriate for this event. Departments are encouraged to bring their antique fire apparatus.
Music will be provided by The Central Park Band. An open bar and complementary heavy hors d oeuvres will be provided. Advance tickets are $50 per person. Tickets are available from any WRFD member. Here's a Facebook page about the event.
For more information, contact Captain John W. Franks, jwmfranks@aol.com, (252) 820-0513.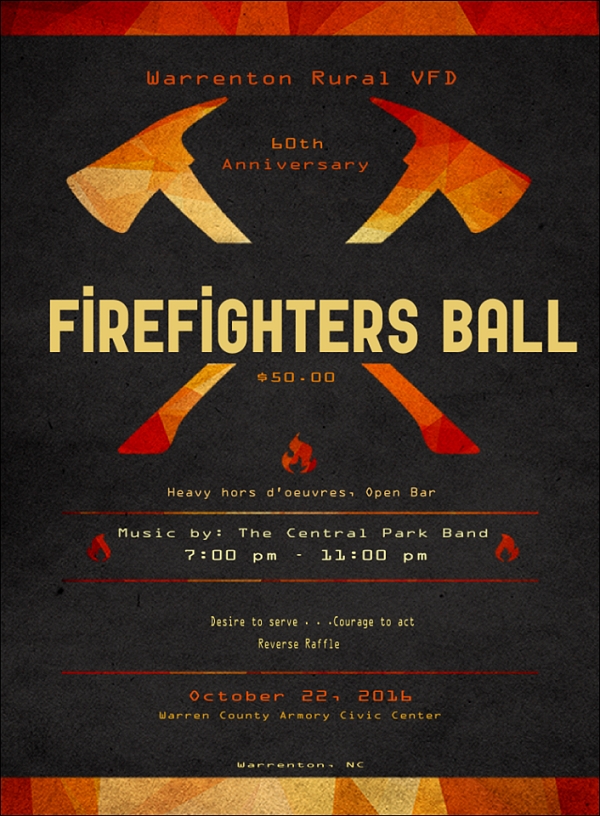 History of Warrenton Rural VFD
Warrenton Rural Volunteer Fire Department began service with a home-made tanker converted from an old 1946(?) Chevrolet surplus school bus. The tanker had a 1,000 gallon unbaffled tank and a converted pump that ran off pulleys & belts connected to a PTO. Fire hoses connected to the pump ran out the side door. The truck was designated as  No. 1  and affectionately dubbed  The Ugly Duckling.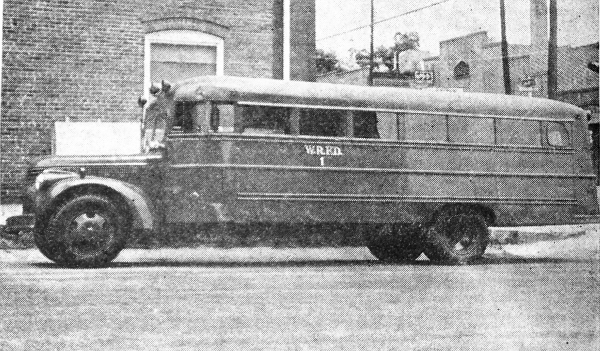 Warren Record photo
The department s first call was a house fire on Wednesday, April 20, 1956, around 11:30 pm, at a farm about three miles south of Warrenton. Upon their arrival they found a burning house on the ground, two outbuildings on fire, and a grass and woods fire threatening a tobacco barn. No. 1 and five firefighters responded and extinguished the flames.
In its early years Warrenton Rural continued to acquire surplus vehicles and through many hours of labor its firemen continued to convert them into fire apparatus.

Warren Record photo
Because there were only two other fire departments in Warren County in 1956 (i.e., Town of Warrenton FD and Town of Norlina FD), Warrenton Rural made a long-range plan to set up auxiliary fire companies in outlying areas of Warren County to decrease response times.
As local communities came together to build stations for the auxiliary fire companies and to supply men to staff the stations, Warrenton Rural provided them with fire trucks.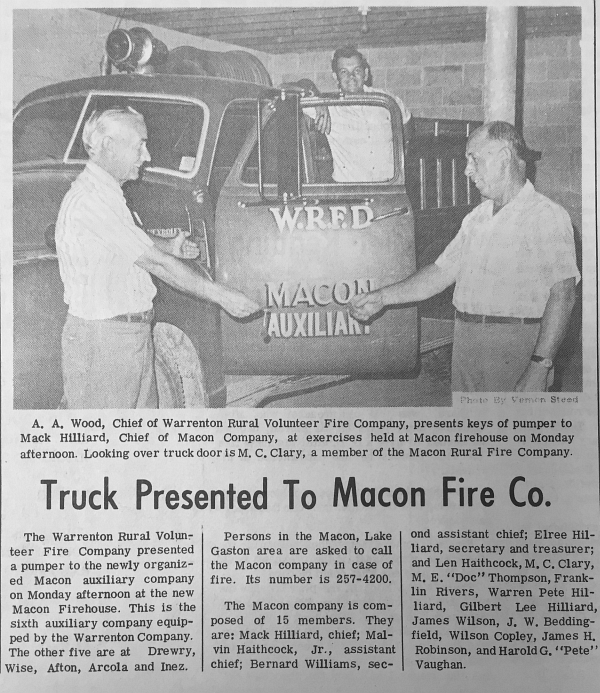 Warren Record
Over the next decade, Warrenton Rural VFD organized auxiliary fire companies in the communities of Inez (1957), Arcola (1958), Afton-Elberon (1962), Drewry (1963), Wise (1965), and Macon (1969). All of these auxiliary companies later became their own fire departments. And all but Drewry VFD provide automatic mutual aid to Warrenton VFD.
In 2004, the Town of Warrenton Fire Department merged with the Warrenton Rural Volunteer Fire Department. The town fire department was staffed by black firefighters. It was organized in 1868 as the Plummer Hook & Ladder Company and was North Carolina s oldest all-black volunteer fire company.
[Here's some history on the town's black fire department, from the research compiled by the late Chuck Milligan.]
Today, Warrenton Rural VFD remains an all-volunteer fire department that runs three engines, one aerial platform, one rescue truck, one brush truck, and one utility/first responder truck. They have an ISO rating of 4 for the town fire district and a 6/9E rating for the Central Warren rural district, which they received in 2014.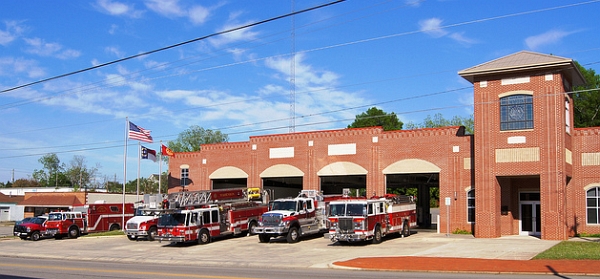 John W. Franks photo