Last week, the town of Apex announced that their EMS service is ending on June 30. Wake County EMS will begin providing service to the town, and Apex EMS will be dissolved as a town department. See the announcement below.
Apex Volunteer Rescue Squad was organized in 1971. Their first vehicle was a 1956 Pontiac Superior ambulance and their volunteer members served a town population of 2,000. They soon added two more ambulances, a 1972 Chevy van and a 1973 Chevrolet/Superior.
By the end of the decade, rescue services had started. The first "crash truck" was a Chevrolet C-30 "Squad 51" style truck equipped with a Hurst tool and other gear.
Apex Rescue operated out of the town hall until 1974, when their own quarters were completed at 315 W. Williams Street. The building–since expanded–has served as  their headquarters since that time.
The organization evolved over the decades. Their first full-time employee was hired in 1977, to answer calls during daytime hours.  They started paramedic services in 1993. They had also ended free transport services by that time. They and the other county squads began charging for patient transport in 1991.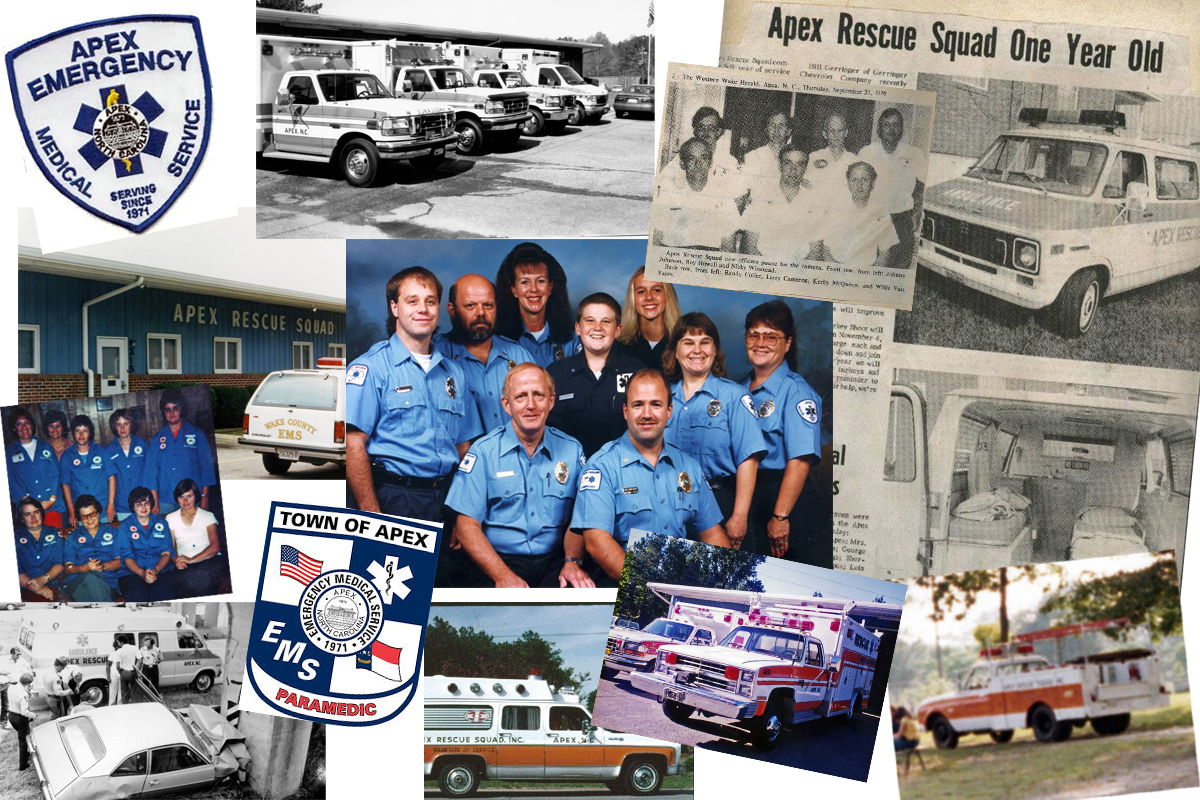 Later History
In 1997, the organization was renamed Apex Emergency Medical Services, Inc. Two years earlier, or abouts, the squad had discontinued rescue services. In 2010, Apex EMS merged with the town, and became part of the fire department.
In 2011, a proposal was made to turn EMS over to Wake County. The proposal was rejected. Apex EMS instead separated from Apex Fire and began operating as a separate town department. Corporate disillusion of the private non-profit was also filed that year. 
In 2017, the Apex Community Auxiliary disbanded, after 45 years of service to the squad. They were formed in 1972, organized by spouses of squad volunteers. They conducted fundraisers, held special events, and performed numerous support functions. 
Read this blog posting about the group and how they disbursed their remaining funds to several community groups.
Read a history of Apex EMS on Mr. Blogger's EMS history page.
See historical photos of Apex EMS on the History of EMS in Wake County Facebook page.
Town Announcement
Here's the announcement from the town, posted as a press release link expired:https://www.apexnc.org/CivicAlerts.aspx?AID=306].  
Change Ahead for EMS Service
Effective June 30, 2018, Apex residents will be served by Wake County Emergency Medical Services (EMS), and Apex EMS will be dissolved as a department within the Town of Apex. This decision was made at the direction of Apex town administration, with the full support of Wake County management, taking into consideration the rich history of Apex EMS, the employment of our EMS staff, and our fiscal responsibility to Apex residents.
How EMS has Evolved
Formed in 1971, Apex EMS was first organized as a group of volunteers, similar to most departments in the county. Most of these volunteer departments then gradually converted into professional paid organizations. Over time, all but 4 of the original 10 paid organizations have either combined to form a larger organization or have become a part of the Wake County Department of Emergency Medical Services. There are no other municipal-based EMS services in the county. The other partner organizations are Cary Area EMS and Eastern Wake EMS, both of which are not-for-profit organizations.
What's Next for Our Employees
Apex EMS paramedics will be given the opportunity to work for Wake County EMS, with no reduction in salary. They will not be required to compete against other applicants for these jobs. Employees will, however, be required to go through the onboarding process with Wake County.
Level of Care
Wake County EMS develops standards of practice and treatment guidelines for all EMS providers within the Wake County EMS System. Therefore, Apex residents will continue to experience the same high level of care they receive today.
Fiscal Responsibility
One of the primary factors in transitioning to Wake EMS is that of fiscal responsibility to Apex citizens. There will be a cost savings due to the elimination of redundant administrative positions, as well as associated facility and supply costs. We're also aware of plans by NCDOT to widen NC55, which will result in the loss of the Town of Apex EMS station. The cost to build that facility in a different location would be much greater if the town retained EMS services separate from Wake County's department.
EMS Donated Funds
The town currently maintains about $76,000 in donated funds to Apex EMS. A volunteer board will be created to manage those funds in a way that honors the history of the department.
Questions regarding this information can be directed to Drew Havens, Apex Town Manager, at (919) 249-3301 or by email.