June 7
Last night, the Apex Community Auxiliary made a presentation to the town board, with retired, longtime Chief Nicky Winstead recounting the story of the squad and the supportive auxiliary. They then introduced each of eight charity and non-profit organizations, and invited them to make remarks, before presenting them with checks and certificates. See more pictures.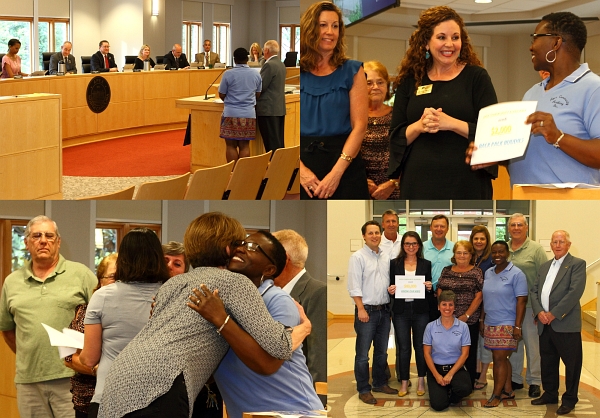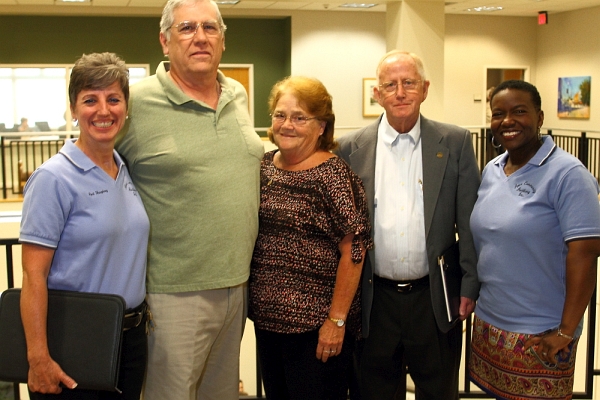 Left to right, President April Haughney, Tom Taylor, Vice President Judy Taylor, Treasurer and retired, long-time chief Nicky Winstead, and Bonita Young.
June 3
The Apex Community Auxiliary is disbanding at the end of June, after 45 years of service to the rescue squad and their community. And on Tuesday night, June 6, at the Apex Town Council meeting, they'll present donations to five local charities and service organizations, as they close the auxiliary's accounts.
The volunteer group was created in 1972 as the Apex Rescue Squad Auxiliary. They formed following the rescue squad's founding in 1971. Organized by the spouses of the rescue squad volunteers, the auxiliary's primary mission was a support role for the squad. 
They helped raise money, through such fundraisers as bake sales, rummage sales, and turkey shoots. Because, in those early decades, the squad did not charge for its services, and relied upon community donations and a nominal supplement from the county.
Money raised by the auxiliary were used to help purchase equipment and improve facilities, among other things.
Members conducted and participated in special events for the squad: ice cream socials, family picnics, award ceremonies, and the annual Christmas party. They also were also active with community, bringing Christmas gifts to family care homes, and helping the Red Cross when they came to town.
The auxiliary also functioned as the squad's historians, and created annual scrapbooks with photographs, news clippings, and other materials. Yours Truly has been scanning some of those scrapbooks this spring. More on that in a moment.
In/around 2001, the Apex Rescue Squad Auxiliary re-purposed themselves. They changed their name to the Apex Community Auxiliary, and they incorporated with the state in 2001. By that time, the squad had also changed, providing only EMS services and with a new name, Apex Emergency Medical Service.
(Apex EMS was created in 1997, after the squad ceased providing technical rescue services. That role was transferred to the Apex Fire Department.)
The auxiliary also expanded their scope to provide additional services to the Apex community in the form of scholarship programs, family assistance, and planned activities for local nursing and group homes. They've also provided support for the town's public safety agencies, for special events and projects.
Why the changes? The squad was receiving more county funding, notably for the necessary equipment that was previously self-funded. With their new name, and official incorporation, the auxiliary continued to meet and work and serve their community. 
Alas, their time has come to an end. The costs of fundraising have skyrocketed in the last ten years. And their membership has greatly decreased. Today they have nine members. Back in the day, it was about twenty. 
Thus, after 45 years of service, the Apex Community Auxiliary is ending operations. And disbanding their corporation, which means the legal requirement of disposing their assets to other non-profit charitable organizations. Thank you all, for your service.
On Tuesday night, June 6, 2017, at 7:00 p.m., the auxiliary will appear before the Apex Town Council, to present donations to these local charities and service organizations:
Apex American Legion Post 124 – $20,000
Apex Chamber of Commerce – $2,000, for Back Pack Buddies
Apex High School PTSA – $20,000
Apex Historical Society – $10,000
Apex United Methodist Church – $5,000, for Simple Gifts Garden
Blue Light College of Apex – $30,000
Grow Our Kids – $40,000
Town of Apex, EMS Department – $35,000, for Power Load system on next ambulance.
The auxiliary officers and members:
President April Haughney

Vice President Judy Taylor

Treasurer Nicky Winstead

Secretary Michele Drake

Jackie Grinstead

Travis Drake

Bonita Young

Tom Taylor

Faye Winstead.
Memories of the auxiliary, and the early decades of the Apex Rescue Squad, are posted on the Facebook page History of EMS in Wake County, in the photo album Apex EMS.