On Friday, the Raleigh Fire Department announced that the "fire of a century" at the Metropolitan Apartments has been ruled as "undetermined" for cause. 
Here's the full statement:
On March 16, 2017, at approximately 10:03 p.m., the Raleigh Fire Department responded to a reported structure fire at The Metropolitan apartment complex (Metropolitan), 314 West Jones Street, Raleigh, North Carolina. Firefighters discovered a heavily involved structure upon their arrival and immediately assumed a defensive posture. The magnitude of this fire caused the Raleigh Fire Department to issue five alarms to affect suppression and mitigate fire extension. Over 100 firefighters brought the fire under control in three hours. Damage estimates for the event are estimated in excess of $50 million.
From March 18, 2017, through March 24, 2017, the Raleigh Fire Department, along with the Bureau of Alcohol, Tobacco, Firearms and Explosives, the Raleigh Police Department, and the North Carolina State Bureau of Investigation, conducted an exhaustive fire scene examination of The Metropolitan apartment complex located at 314 West Jones Street, Raleigh, North Carolina. Over 100 investigators participated in the investigation. Over 300 interviews were conducted. Multiple state search warrants were issued, and approximately 25 tons of debris were removed from the fire scene.
A number of potential ignition sources were identified within the structure and evaluated. However, after thorough hypothesis, development, testing and evaluation, investigators were unable to definitively eliminate several accidental and incendiary scenarios. These possibilities include: electrical sources, an intentional act, and the possibility of a heating fire ignited by trespassing squatters. The viability of numerous potential incendiary and accidental ignition sources dictates this fire to be classified as UNDETERMINED.
Later that day, Raleigh Fire Chief John McGrath conducted a press conference at Station 1. He spoke to reporters and answered their questions. And noted that the investigation will be reopened, if additional information is found.
Watch a recording of the press conference in this WRAL story.
Or read about the historic fire, via the Raleigh Fire Museum.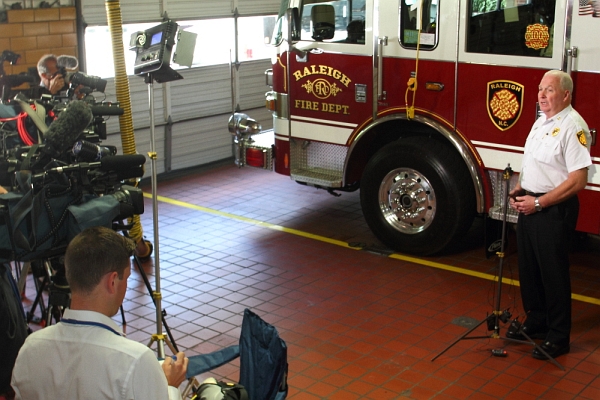 Mike Legeros photo