Here's a run card and narrative about yesterday's reported shooting at Crabtree Valley Mall. Gunshots were reported on the second floor, near the food court, just after 2:30 p.m. The mall was placed on lockdown, and then evacuated as law officers secured each location. The mall occupants (employees, shoppers) were evacuated to the lawn and parking lot of the Marriott hotel, across the street.
No victims with gunshot wounds were located [nor subsequent evidence of any gunfire], but other medical emergencies were reported both during and after the evacuations. None were reported as life-threatening.
Wake County EMS managed the resulting multi-patient incident over a number of hours, with resources including over twenty paramedic ambulances, four district chiefs, a special operations unit, and a medical ambulance bus. They also performed responder rehab, and assisted with helping the evacuees stay hydrated. The heat index was over 100 degrees.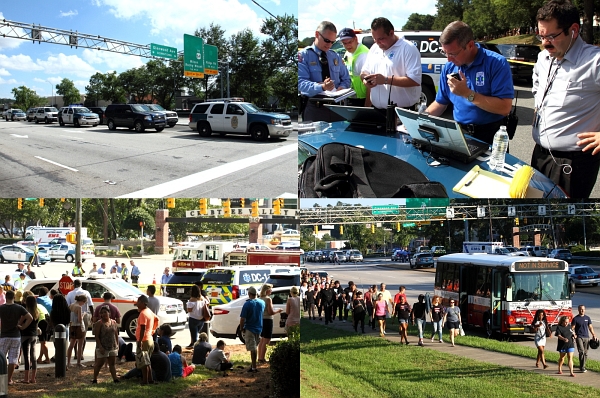 Mike Legeros photos – See more
The shooting was reported just after 2:30 p.m. The first EMS call was dispatched at 2:40 p.m., for a fall. Additional units were soon added. At 2:52 p.m., an obstetrics call was dispatched. More additional units were dispatched to the mall. At 3:14 p.m., an EMS box alarm added Truck 1. At 3:28 p.m., an EMS Alarm 4 was dispatched.
By the ninety-minute mark (when Yours Truly arrived), EMS and other command branches were located on Marriott Drive, in front of the hotel. They later moved inside into a conference room. EMS staging was located in the parking lots near the Best Buy and Barnes & Noble. The three engine companies had also relocated to Marriott Drive or nearby Glenwood Avenue. The roadway was closed between Lead Mine and Creedmoor roads.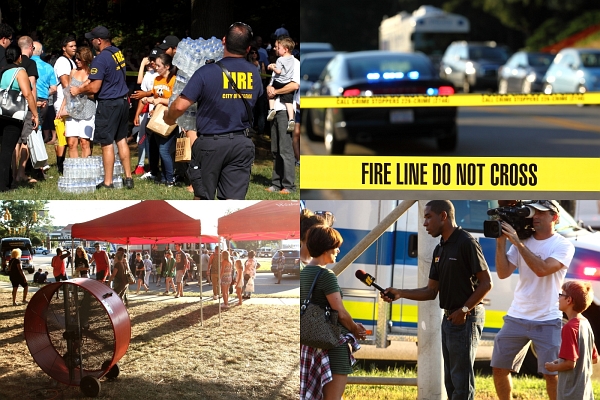 Mike Legeros photos – See more
Nine people were transported to hospitals, with an additional eleven patient contacts by EMS personnel. The medical evacuation bus Evac 1 was also utilized for rehab. Bottled water was also brought to the scene by the Wake County Fire Marshal, with supplies coordinated by Wake County Emergency Management.
Additional rehab supplies were furnished by a State Medical Assistance Team unit out of WakeMed. They brought canopies, fans, and misters to the scene.
Mall employees, hotel employees, and many others helped the incident remain manageable. As were the positive attitudes of the hundreds of evacuees over the course of an uncomfortable afternoon outdoors.
The first press conference was held just before 6:00 p.m., with Raleigh police and Wake EMS providing updates. With the hour, evacuees were being escorted by to their vehicles, in small groups either on foot or by bus. Fire and EMS units began clearing after 7:00 p.m. The mall remained closed through the evening.
Google for numerous news stories for more information about the incident.
See more photos by Mike Legeros.
Run Card
Law Enforcement
Raleigh Police
Wake County Sheriff
State Highway Patrol
Crabtree Special Police
CCBI
SBI
ATF
FBI
Others?
EMS
Twenty-one paramedic ambulances from Wake County
EMS1, EMS3, EMS4, EMS5, EMS6, EMS7, EMS8, EMS10, EMS13, EMS14, EMS15, EMS18, EMS31, EMS 34, EMS35, EMS 36, EMS39, EMS51, EMS55, EMS62, EMS63
Two convalescent ambulances and ambulance mini-bus from Samaritan. Two paramedic ambulances were also requested from Durham County, but were unavailable.
Other EMS
Two Medics – M93, M95
Four District Chiefs – D1, D3, D4, D5
Truck 1 (Special Operations)
EVAC1 (Medical Ambulance Bus)
Chief 203 (PIO)
Chief 500 (Cary EMS Chief)
MD-1 (Director)
WakeMed/SMAT with two rehab units
Fire
Four engines (E16, E9, E5, E24), Battalion Chief (B4), Division Chief
Wake County FM with cargo trailer with bottled water
Wake County Emergency Management
North Carolina Emergency Management
Buses
CAT, Go Raleigh, Wolfline