Raleigh Fire Department Recruit Academy 41 graduates on Thursday, August 18, at 7:00 p.m., in a ceremony to be held at the Duke Center for the Performing Arts.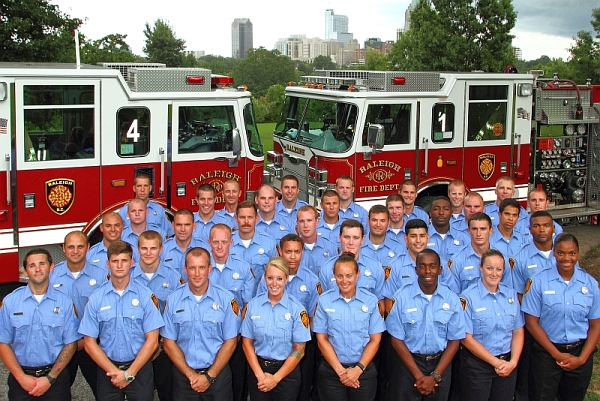 The thirty-seven recruits started their twenty-nine week academy on January 25, 2016. The program included classroom and practical instruction, as well as daily physical fitness training. They'll graduate with state certifications as Firefighter II, Emergency Medical Technician, and Hazardous Materials Responder.
Corey H. Ault
Tyler J. Barefoot
Kevin C. Brandt
Adam S. Caban
Christopher B. Dillard
Jeremy M. Dillard
Jordan K. Friese
Scott W. Garner
Marcus L. Guess
Timothy W. Guffey Jr.
Grace L. Hannigan
Rachel V. Harless
Alex R. Hellard
Michel A. Hernandez
Christopher J. Hinton
Brantly R. Hobbs
Sean W. Jamieson
Jason S. Joyner
Kenneth N. Larry II

Danielle N. Low
Rodney D. McGee
Davin C. Olsen
Joshua R. Overton
Jesse B. Ray
Lucas D. Rice
Kevin L. Ricks
Brittany L. Rountree
Jonathan K. Rynearson
Mark T. Shimmel
Jacob A. Slominski
Alexander M. Soucy
Colton G. Spain
Greyson W. Talbott
Ethan B. Tart
Marques L. Townsend
Matthew S. White
Shane M. Whittington
The graduating class include a number of second-generation (Dillard, Overton, Ricks, Tart, White), and third-generation Raleigh firefighters (Spain, Whittington), as well as other family relations. We'll update our family tree (PDF) accordingly. (There's also a Guffey in there, son of the Knightdale Fire Chief!)
The program was led by Academy Coordinator Capt. Jamie Hill and Academy Capt. Jake Jackowski. Their instructors were Lt. Frankie Beasley, Lt. Bryan Kirk, Lt. Jesse Richardson, Lt. Tony Todd, and Senior Firefighter Carl Hardee, along with EMT instructors Capt. Doug Campbell and First Class Firefighter Patrick Collins. The majority of their training was conducted at the Keeter Training Center.
Recruitment started in July 2015, with 1,059 completed applications. Of those, 977 were invited to the written aptitude test. The test was taken by 495 individuals and 388 passed. Those who passed were invited to the physical agility test, which was passed by 299 individuals. Upon completion of background investigations, ninety-one candidates were interviewed.
For more information about working as a firefighter for the Raleigh Fire Department, visit their recruitment web site.
See more photos of the recruits. Or look back at earlier academy class photos.