Would you believe an Oshkosh M-23 (rare civilian version of the legendary P-15) as a tanker for a Tennessee resort community?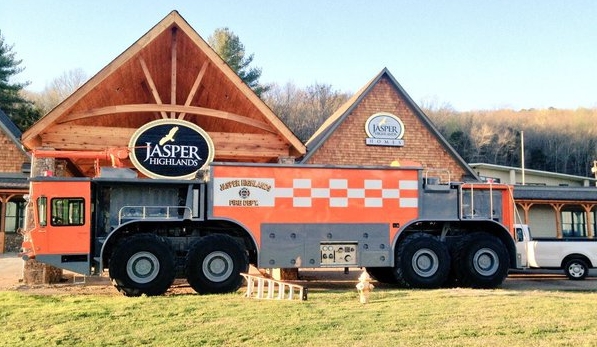 This story from the Times Free Press has been making the rounds. There's a development called Jasper Highlights in Marion County, TN. The area was previously covered by the Foster Falls FD, but last summer, they voted to remove the property from the district. Reason? Too far from the fire station. Would take twenty-minutes for a fire truck to reach location. (The community comprises over 8,893 acres, or 13.9 square miles, with twenty-six homes completed or under construction.)
No problem, said owner/developer John "Thunder" Thomas. He's acquired and equipped three fire engines for their community and organized fifteen volunteer firefighters (including himself). They've even ask the elementary schools in three counties to help name the trucks. Cash awards will be donated to the schools that received the most votes. (Cost of the trucks and equipment was $300,000.)

Above is the full fleet: a new/newish Freightliner pumper/tanker, an older Mack CF pumper, and an orange-over-gray Oshkosh P-15 crash truck. Wow! The latter is their tanker. (And marketing attraction.) Specs on that monster? Weighs 65 tons. Carries 6,100 gallons of water, plus 515 gallons of foam. Twin diesel engines, twin 1250 GPM pumps. Length 45 feet, width 10 feet, height 14 feet. (For a while, its military counterpart the P-15 was listed in the Guinness Book of World's Records as the most powerful fire engine.)
The rig was most recently stationed in Fort Hood, TX. And how the heck did they transport the thing to a mountain community? Check your maps. Sits right alongside Interstate 24.
Here's a WRCB TV story with some footage. And here's the JHFD Facebook page.