It's airport week at Blog Central! Time for some time travel…
Raleigh-Durham International Airport has operated four Walter crash trucks in its day, the first being a 1959 Class 1500 that was acquired some time around 1970. Below is the closest we have to a posed photo of the thing. Click to enlarge:
About This Truck
Based on new research, this truck was acquired around 1970 or abouts. It wasn't on the roster in 1970, and had disappeared from the roster by 1980. Yours Truly (cough, cough) had cited in his decade-ago timeline (lately updated) that the truck was delivered new. Wrong. Though there was a civilian version created around 1960, the turret configuration is different. This one's an ex-military rig. Thanks Mark Redman, for that info.
Then what's the story?
In 1969, the airport received a new International/Ansul dry-chemical rig. This raised the airport's fire rating briefly, and then an Eastern DC-8 landed. Guess that was the largest jet to date, and they needed even more firefighting capabilities. The article said that ideas were being "kicked around" on how to raise the rating again.
By 1970, the airport master plan said that construction was underway of a 5,000 gallon, tractor-drawn foam generator. Was it ever built and/or delivered? Thinking not. Then a couple years later, a new 1973 Walter CB3000 crash was delivered. Where does the 1959 Walter fit into this?
Thinking that the 1959 truck was bought a bit before the 1973 truck. That would've immediately expanded their ARFF capacity until funds were available and construction was finished on the 1973 truck. (Hey, sounds good to me!)
The 1959 truck operated until 1977, when a second new Walter rig was delivered. (Thanks Dale Johnson, for digging through your memory banks on this one.) It was retired and (immediately? later?) moved to the Durham Museum of Life and Science, where it sat outdoors as an attraction. It's pictured here in 1985, with our friend (and military/ARFF historian) Pete Brock in the front seat: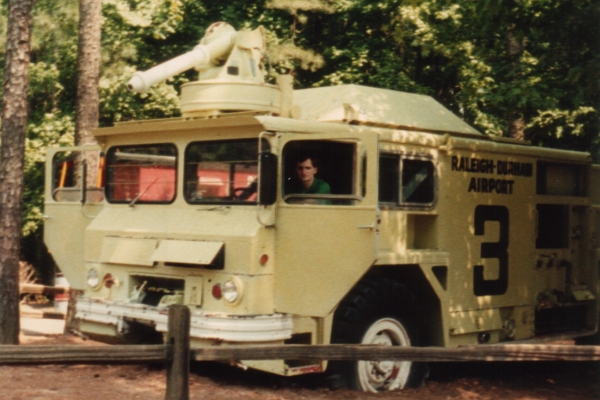 Pete Brock photo
Wider Shot
The above image appears in this News & Observer photo from 1976, cropped from a larger image also showing the airport's 1973 Walter CB3000, and Fire Chief Terry Edmundson. See more historical photos.
About The Class 1500
Military fire historian Ted Heinbuch (who runs Fire Trucks at War and its accompanying Facebook group) has written an excellent capsule history of the Class 1500. Read that excellent document (PDF). The truck was developed by the Army Corps of Engineers beginning in 1954, to "meet the challenges associated with new types of weapons, missile installations, and the increased use of aircraft at Army airfields." Production started in 1959.
The 4×4 truck was powered by an eight-cylinder, 300 HP gas engine. The 1500 GPM two-stage pump powered a roof turret, two one-inch booster lines, and discharges for the 1000 feet of 2 1/2-inch hose and 100 feet of 1 3/4-inch hose it carried. Aboard were 950 gallons of water and 250 gallons of foam. Other features included a 20,000 pound winch. There were a total of 136 trucks produced for the Army.
Here are some walk-around photos of a Class 1500 that served Minneapolis, MN, taken by Yours Truly some years ago at an air museum in Anoka, MN.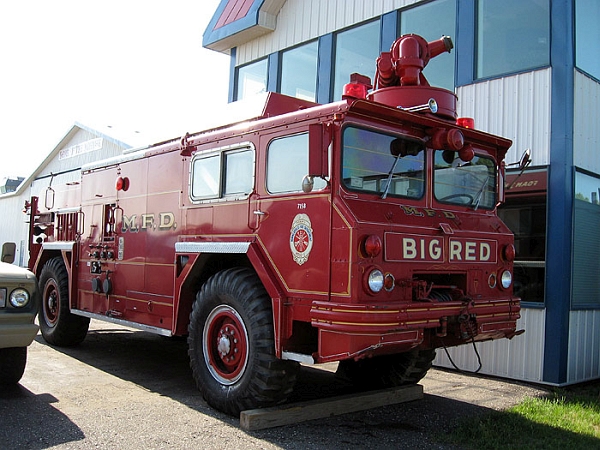 Mike Legeros photo
And a Trailer!
Heinbuch also includes information about the Sabre Fire Fighting Trailer, designed to be towed behind the Class 1500. It carried 2,000 gallons of water in a baffled tank, and was equipped with a 1500 GPM electric water pump. There was also a gas-fired heating unit for cold climates, that circulated warm water and air. The trailer road on flotation-type military tires, as did the crash truck. Eight of these were produced.
How cool is this thing?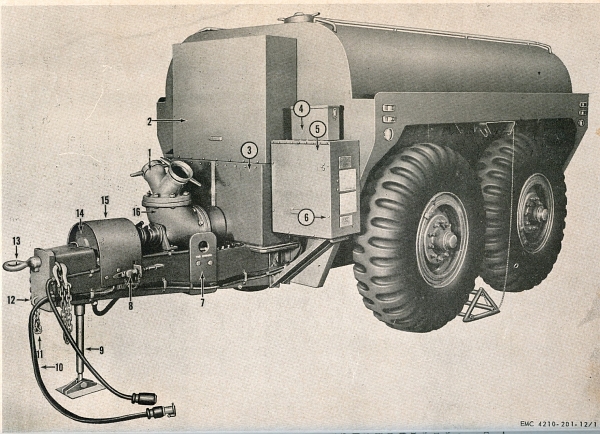 Ted Heinbuch photo, via Fire Trucks at War on Facebook