Found this the other week: Western Wake Fire Station #2 – Evaluation and Application of Fire Commission's Closure Criteria.
From 2008 or abouts. (It's undated.) View the document (22MB, PDF).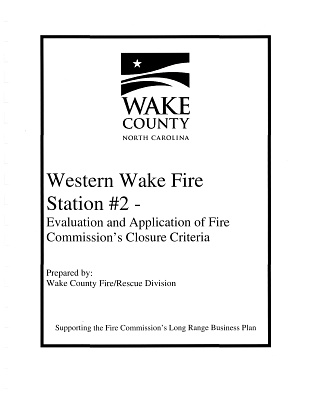 The document detailed the recommendation to close Western Wake Fire Station #2, to reduce cost and improve service through contracted fire protection with the town of Cary. And it was approved by both the county fire commission and Board of Commissioners.
Funding was discontinued and the station ceased operation on June 30, 2008. Though the fire department retained ownership of the property, the station's units were no longer dispatched for responses to the station's now-former district.
The building at 325 E. Durham Road was subsequently vacated and sold to a private owner on June 25, 2010.
Back Story
In January 2004, the Wake County Fire Commission received results of a fire and EMS facilities and equipment study. Among its recommendations were closures of some fire stations, with fire protection contracted from neighboring departments.
"The study's consultants observed that the stations identified for closure evaluation serve unincorporated areas that have been largely annexed by municipalities, and the fire department's units from those stations often must travel past municipal fire stations to serve relatively small unincorporated areas."
Though the entirety of the study was rejected by the commission—they voted not to share with county commissioners—the recommendations for fire station closures remained an action item.
The fire commission and county staff began working on long-range facility and equipment planning, which was later combined with developing a Long Range Business Plan for the "fire tax service district."
In July 2004, the fire commission approved a list of criteria to evaluate fire stations for closure. In February 2005, county commissioners received the Long Range Business Plan, the criteria for evaluating station closure, and a list of stations recommended for evaluation: Eastern Wake #2, Wake New Hope Station #1, and Western Wake Stations #1 and #2.
Western Wake Station #2 was the first station evaluated using the criteria. On June 16, 2008, county commissions approved the recommendation for closure. They voted to discontinue funding of the fire station, and to begin contract service with the Cary Fire Department. As noted above, the station ceased operation on June 30, 2008.
The county continued the process of evaluating other fire stations for closure. This caused concerns among members of the fire commission. In January 2010, they voted to suspend the process. No subsequent actions have been taken in that direction.
Earlier Closures
Only a handful of county fire stations have closed over the years. That is, excluding those that closed and relocated within 2.5 of their old location:
1960 – Western Boulevard FD
1982 – Wake Forest FD #2
1992, circa – Durham Highway FD – Station 1 on Davis Drive.
See above "read more" for more information.
Short History of Station 2
Western Wake Station 2 was originally occupied by the Yrac Fire Department. They were chartered in 1961 as the Cary Rural Fire Department, Inc. Their first fire station was a rented garage behind Cricket's Service Station at the corner of Cedar and Ward streets.
In 1962, the department changed its name to Yrac Rural Fire Department, Inc. That's Cary spelled backwards. In 1966, a permanent fire station was erected on Durham Road, on land donated by M. E. Sutton.
Yrac FD operated until June 1998, when they consolidated with Fairgrounds FD and created Western Wake FD. The new department started operation on July 1.
Read more Yrac history. Read more Western Wake history.