In 2012, the Raleigh Fire Department published a centennial history book. The project committee included Mr. Blogger, AKA Mr. Historian. For the histories of the Chief of Department, we needed portraits of each person. But their quality varied greatly.
One better picture needed was Fire Chief William Ralph Butts, who served 1941 to 1947. We had a scratchy copy of a copy, and we found an somewhat better version with a scanned copy (from microfilm) of his obituary. (Via local history library, via first finding his death certificate on microfilm.)
Found The Original
Fast-forward to 2018, and the original has surfaced, from a collection of materials from retired Captain B. T. Fowler (1951-1986). He was the department's historian for many years. He's also the father of retired Fire Chief Earl F. Fowler (1999-2005).
Left is the obituary image. Right is the original. Or should we say, apparent original? Looks like a clear match, except that it doesn't. Butts seems older in the obituary image. But that's probably or certainly an illusion from the reduced resolution of the newspaper printing process.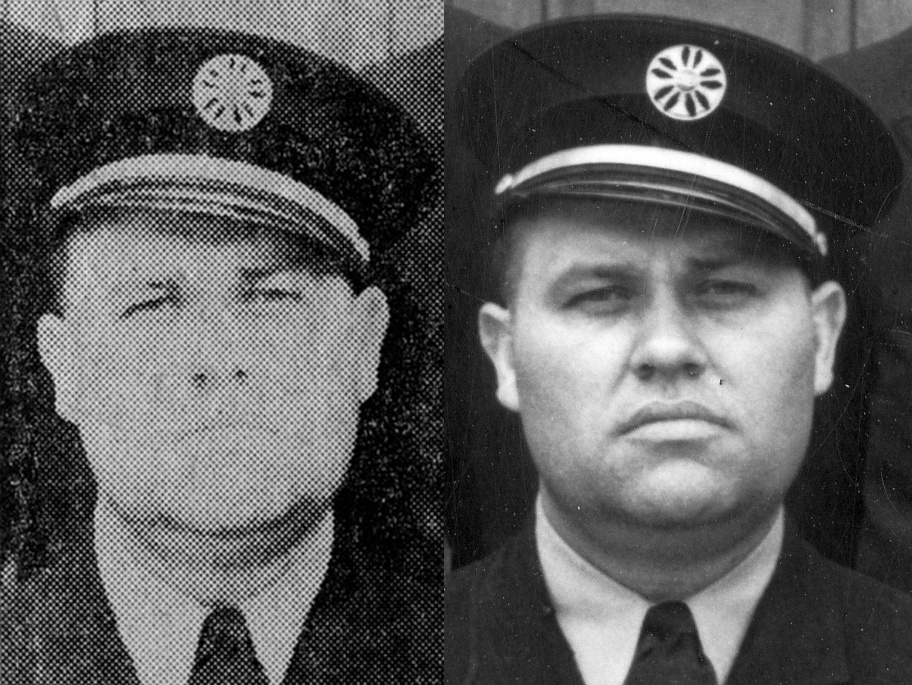 Victory Ball Committee, 1944
The picture is cropped from this larger group photo taken in 1944. It shows the "Committee for Victory Ball" in front of Memorial Auditorium. 
Who else is pictured? To the right of Chief Butts is Assistant Chief Robert Lee Matthews (1926-1963). Unsure of the others. Click to enlarge: