Random history. Locust Fire Department in Stanly County. Reprinted from the booklet Locust, N.C. – Centennial Celebration – 1869-1969, via Digital, NC. Download original.
Original Text
The idea for a fire department originated with the Locust Lions Club, under the direction of President Pete Burleson. The club raised the first $500 of the goal of $2,500. Con1ributions were sought and within a few days $2,800 had been raised.
Hugh J. Little, Pete Burleson, Harold Furr. Glenn Almond, and A. J. Furr were on the committee which handled the campaign and went to Camden, S. C. to arrange the purchase of a truck.
It was a former Air Force crash truck which had been utilized as a fire truck by the Camden department. [The 1943 Ford] was a 650 gallon capacity. Click to enlarge: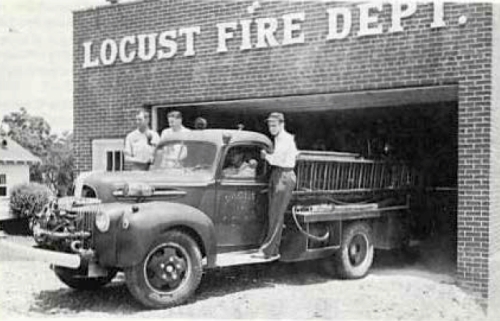 The Lions Club appointed the first fire chief, Ritchie Tucker, to serve. Then Volunteer firemen were asked to join the department. The Locust Fire Department was the first rural fire department to be organized in Stanly County.
Under the leadership of Chief Ritchie Tucker, the fire department and assets grew by leaps and bounds for the next 6 years. The support from the whole community was tremendous.
The first volunteer firemen were as follows: Ritchie Tucker, Pete Burleson, Hugh J. Little, Carol Barbee, Brock Osborne, Reece Almond, Harold Furr, A. J. Furr, Wilbert Almond, Burton Barbee, Coy Barbee, Grady Tucker, Roy Huneycurt, Gene VonCannon, J, C. Tucker, Floyd Huneycutt, Pete Hinkel, Glenn Almond, Boots Almond. Ray Burris, Red Huneycutt, John II. Harley, Val Barbee, David Osborne, and Charlie Jenkins. These men answered fire calls and worked hard to promote the fire department in the conununity.
Members of the building committee for the firehouse were: A. J. Furr, L. M. Crayton, Roy A. Huneycutt, Wilbert Almond, and Carol Barbee.
Work was started to build a building to house the truck and future equipment they to buy. Feeds of all sorts were put on by the firemen and their wives to raise money. The building was furnished in 1955 at a cost of $3.000. It was valued at $6,000. Must of the labor and much of the material were donated. Only the brick was put on contract.
Three telephones were installed to insure the public immediate response to any fire reports. They were located at the following places: In the home of Chief Ritchie Tucker, at the fire house, and in Huneycutt's Esso Station.
In 1956, the fire department was official chartered and the 3 mile fire district was measured out in all directions. A lot of time was spent by Ritchie Tucker getting this step approved by the Fire Insurance Commission in Raleigh to entitle residents living within the district to a reduction on fire rates.
That same year a lot of time and meetings took place with the county commissioners to get support for the department from the county. At that time much had been publicized about the department in local newspapers. The county commissioners were heading up the idea of buying one truck and locating in Albemarle instead of giving financial aid to smaller departments in the county. The officers from the Locust Fire Department promised the commissioners that at least 5 other departments would spring up if financial aid were given. Chairmen Frank Mabry, and the commissioners worked through Raleigh Representative, Shearon Harris, to get the original fire protection bill amended to include the aid to municipalities.
Locust Fire Department was the first to receive the $50 monthly financial aid, and in later years it was increased to $90.
The firemen asked residents to pay $5.00 for a rented home and $10.00 for an owned home each year on a membership basis, but they serve everyone whether he contributes or not.
Main fund raising events have been the annual canvass by the firemen of the community for membership donations and serving meals to the public such as barbecues and fried chicken dinners.
By the year 1958 the department owned an estimated value of equipment at around $25,000. An additional building was erected with a full basement for meeting room and kitchen facilities during the year. This was a long way from the $2,500 started with in 1954.
Along about 1957 and 1958 the other rural fire departments were being organized through the help of Locust Department paving the way.
After several other rural fire departments were organized, a Stanly County Fire Association was formed in which Chief Ritchie Tucker served one term as president. Since his retirement in 1959 as chief, the following have been his successors: Carol Barbee, Coy Barbee, Glenn Almond, Red Huneycutt and Tom Little. The present officers for the 1969 term are: Tom Little (Chief). Ritchie Tucker (Honorary Chief), Grady Tucker (Treas.), Larry Almond (Sec.). The estimated value of the building and equipment for 1969 is $125,000. There are 20 firemen on roll at all times. All are volunteers and receive no pay for their efforts. Many leave their jobs to serve when an alarm comes in.
Other Notes
The Locust Fire Department filed their articles of incorporation on January 27, 1956. The name of their corporation was Locust Vol. Fire Department, Incorporated.
The first fire engine was followed by a military surplus 3/4-ton truck-turned-brush truck, a new Ford 500 GPM pumper in 1957, a used Chevy truck with 350 GPM pump and 500 gallon tank added in/after 1961, a new 1975 International 750 GPM pumper in 1976, a used Dodge military truck-turned-brush truck in 1976, and a used heavy-duty van-turned-rescue truck in 1979.
In 1987, a new fire station was completed on Highway 200 south and located 400 feet south of the first fire station. The new building had eight apparatus bays, a meeting room, a kitchen, and offices. 
Later apparatus included an FMC custom cab 1000 GPM pumper in 1991, two Ford utility trucks for heavy rescue and first responders in 1992, a used tanker from Harrisburg FD in 1993, a new 1995 KME Firefox quint 1750/500/75-foot, a new 2002 Freightliner/American LaFrance pumper, a new 2001 Freightliner/E-One tanker 1000/2200, a new 2004 International/EVI heavy rescue in 2004, and a new Sutphen pumper 1500/750 in 2007.
On July 1, 2008, West Stanley Fire Department started operation as a consolidation of the the Locust and Rocky River fire departments.
WSFD filed their articles of incorporation on May 14, 2008. LFD filed their articles of merger on June 13, 2008. RRFD filed their articles of merger on June 24, 2008.
See this LFD history (PDF) for more information.