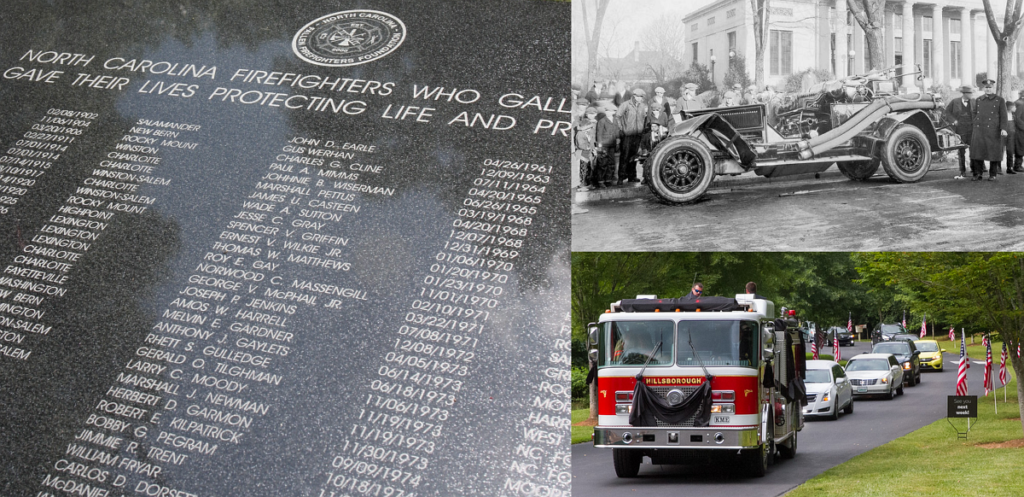 Saturday, May 2, 2020, was the planned date for the 15th Annual North Carolina Fallen Firefighters Memorial Service. Due to the coronavirus, the event was postponed to August, to be co-located with the South Atlantic Fire Rescue Expo. On Friday, the postponed NCFFF events were announced as cancelled.
This year's addition to the memorial will be honored in May 2021. There are eleven firefighters, including four legacy additions from 1880 to 1964. The other members died in the line of duty between July 2018 and September 2019. They are:
04/10/1880 – William A. Ellerbrock, Howard Relief/Wilmington
06/17/1893 – Joseph B. Willard, Wilmington Hook & Ladder/Wilmington
11/26/1946 – Frank W. Bennett, Durham
08/18/1964 – George W. House Sr., Asheville
07/04/2018 – Michael G. Goodnight, West Liberty
12/18/2018 – David Wayne Page, Durham
01/31/2019 – Karen A. Shuart, Asheville
03/07/2019 – Wayne R. Mason, Tri-Beach
05/30/2019 – Dennis M. Ebersole, Kure Beach
08/29/2019 – W. Keith Tessinear, Raleigh
09/20/2019 – Claud G. Messer, Jonathan Creek
About the Memorial
The North Carolina Fallen Firefighters Memorial is located at Nash Square in downtown Raleigh. It was dedicated on May 6, 2006, and with 164 names engraved on black stone tablets. Those fire service members—both career and volunteer, and from departments ranging from municipal to forest service to industrial brigade—died in the line of duty between 1902 to 2005.
With the addition of the 2020 honorees, the memorial now contains the names of:
306 fire service members, from
192 fire protection agencies, from
82 counties
And from 1880 to 2019.
By the Numbers
Forty-three departments have experienced two or more line-of-duty deaths (LODDs), including the NC Forest Service (21), Charlotte FD (12), Winston-Salem FD (10)**, Wilmington FD (9), Asheville FD (7), NC Air National Guard (5), Durham FD (4), National Spinning Company (4), Raleigh FD (4), Rocky Mount FD (4), Salisbury FD (4), and Shelby FD (4).
**Includes nine members of WSFD and one member of Winston FD.
Multi-fatality incidents have occurred twelve times**, involving two or more LODDs, between 1914 and 2012. The deadliest events occurred in 1979 (Shelby FD, four killed in explosion), 1982 (National Spinning Company, four killed by smoke blast), 2012 (NC Air National Guard, four killed in plane crash), and 1926 (Lexington, three killed in apparatus collision).
**Not included is the 1891 rail accident that killed three Asheville FD members returning from the state convention. Their names are not (yet) on the memorial.
By gender, 296 men, 10 women. By age range, where known for 299,
17 to 19 – 10
20 to 29 – 48
30 to 39 – 60
40 to 49 – 71
50 to 59 – 79
60 to 69 – 28
70 to 79 – 2 [ages 74, 76]
80 to 89 – 0
90 to 99 – 1 [age 92]
By status**, where known for 291:
Career – 118
Paid – 1
Paid On Call – 2
Part-Time Paid – 1
Volunteer – 169
** Though career status is quite "cut and dry" in both historical and contemporary records, there's a degree of "squishiness" to the other labels of paid, paid on call, part-time paid, and volunteer. Some or many of those labeled "volunteer" were likely nominally compensated on a per-call basis. Classification errors by Legeros are also possible here. Thus let's label this data point as "lower confidence" for accuracy.
Causes of Death
Tabulating their causes of death is a bit harder. That takes us into the territory of subjective interpretation and requires evaluating records that can vary widely in their type and accuracy and availability. Based on Legeros research notes, the counts of causes looks something like this:
Asphyxia (8) | Asphyxia? (4)
Burns (4) | Burns? (4)
Cancer (6)
Cardiac (102) | Cardiac/MVA (2)
Drowning (5)
Electrocution (7)
Explosion (4)
Fall/Other (4) | 4 – Fall/Vehicle (4)
Gunshot (3)
MVA – Aircraft (13)
MVA – Road (59) | MVA – Road/Rail (1)
Medical (14) | Medical/Collapsed (8) | Medical/Heart-Related (7)
Stroke (5)
Struck By/Other (9) | Struck By/Vehicle (8)
Structural Collapse (15)
Unknown (3)
Day Jobs
At least 169 were volunteer firefighters. Legeros has recorded the "day jobs" of 122 of them. They include: assembler, assistant manager of hotel, auto mechanic, auto repair shop, owner and operator, building supply salesman, businessman, cabinet maker, cafeteria worker, Campbells Soup Company, captain of steam tug, career firefighter, Carolina Residential Services owner/operator, CEO of furniture and hardware store, civil service, clerk in hardware business/industry, college student, contractor, corrections officer, Dill Air Controls, director at community college, drayman, dyer, electrician, excavating company, owner/operator, farmer, financial analyst, floorman, foreman, gas company employee, heavy equipment operator for NC Forest Service, high school student, hosiery business/industry, hospital orderly, HVAC technician, insurance and bookkeeping, knitter at hosiery mill, lineman, lumberyard supervisor, maintenance worker, mechanic, minister, music teacher, NCDOT employee, NC Museum of Science, nursing student, Occupation Safety and Health Director for state, oil distributor, operator, seaboard railroad, owner automotive business, owner ice and fuel company, pack out man [?], painter and contractor, paramedic, Pfizer Corporation, Pilot Freight Carriers, pipe fitter, retired military, retired NCDOT, retired private industry, salesman, service station employee, service station manager, shoe store owner and city councilman, staff manager, insurance industry, superintendent, telecommunicator, textile worker, tobacco picker, town alderman, truck driver, upholsterer, vice president plant manager, warehouse manager, weaver, wholesale grocery salesman.
Again, there's a high degree of subjectivity to these day job labels by Legeros. And the sources for these are all over the board, from obituaries to news accounts to death certificates.
Their Stories
Here are some resources to learn more about North Carolina's fallen firefighters:
North Carolina Fallen Firefighter Foundation – The Honored
http://www.ncfff.org/honored/
National Fallen Firefighters Foundation memory book excerpts
https://legeros.com/history/fallen/nfff/
North Carolina Fallen Firefighters Histories
Stories and More by Legeros, 2006
https://legeros.com/history/fallen/histories.shtml
North Carolina Fallen Firefighter Database
Research by Legeros
https://legeros.com/history/fallen/database.shtml
Edit History
Goes here as needed.