New book alert!
History of Firefighting in New Bern, North Carolina – Colonial Days to the 21st Century has been published. The author is Daniel Bartholf, a 45-year veteran of the volunteer fire service (NY, NC, WV) and a member of the staff at the New Bern Firemen's Museum. His bio is below.
The softcover book measures 8.5 by 11 inches and has 234  pages. There are some 200+ images (by my count), and numerous, glorious pictures of NBFD in the days before motor apparatus. The book is self-published.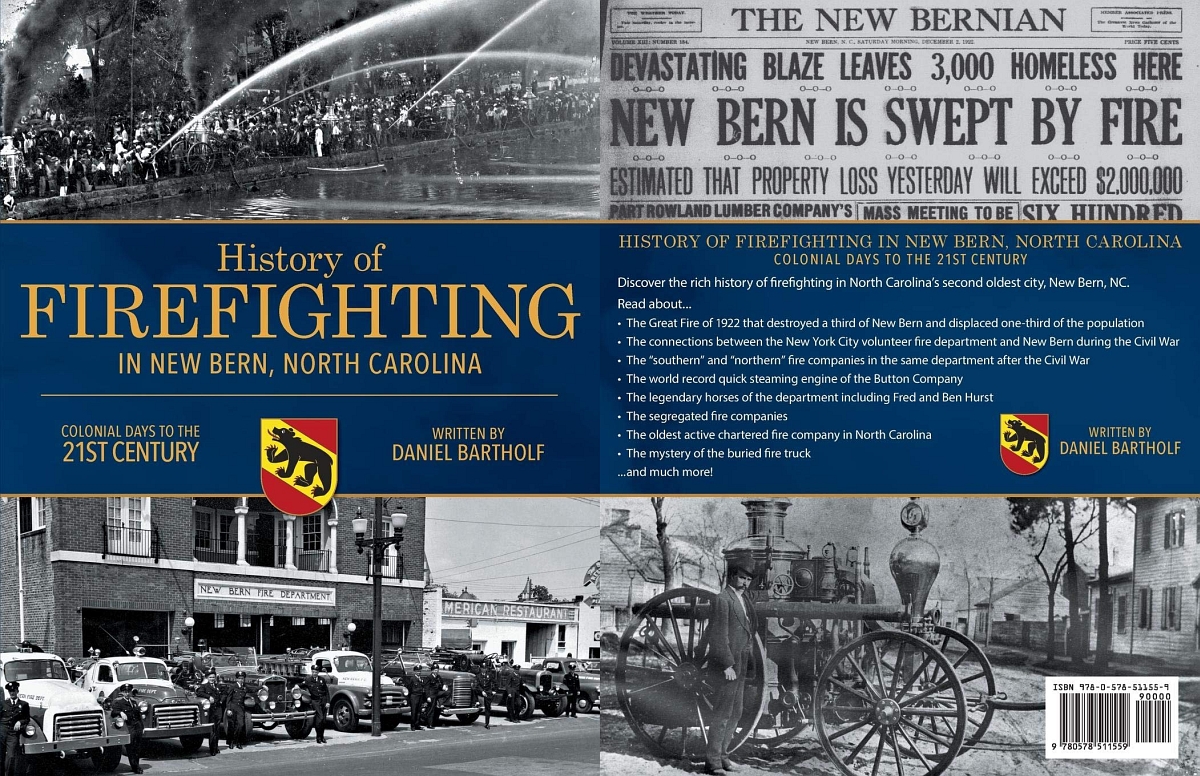 Paging Through
Here's a video preview of the book, paging backwards through the chapters:
Table of Contents
Here's the table of contents:
Preface
Chapter 1 – Colonial Times Thru 1861
Chapter 2 – Civil War Years
Chapter 3 – Post Civil War to 1900
Chapter 4 – Black Fire Companies
Chapter 5 – Other Independent Fire Companies
Chapter 6 – Notable Chief Engineers of the 19 th Century
Chapter 7 – Early 1900s
Chapter 8 – The Great Fire December 1, 1922
Chapter 9 – 1923-1959
Chapter 10 – 1960-1999
Chapter 11 – 2000-Present
Chapter 12 – Competition 1880s-early 20 th Century
Chapter 13 – The Horses
Chapter 14 – The Mystery of the Missing Fire Truck
Chapter 15 – New Bern Firemen's Museum
Appendix A – History of New Bern fire companies
Appendix B – Chief Engineers of New Bern Fire Dept. 1800s
Appendix C – Chiefs of New Bern Fire Dept 1900-Present
Appendic D – A Snapshot in Time of the Department
Appendix E – 1875 New Bern Steam Engine
Appendix F – Roster of 1828 Fire Companies
Appendix G – Fire Stations
Appendix H – Fire Apparatus
Appendix I – Notification of Fire
Ordering Information
The book is sold on Amazon and Barnes and Noble, for starters. The retail price is $29.99. Copies can be obtained from the author himself. Contact wxman232@yahoo.com. 
Bartholf will also be attending the fire truck festival at the North Carolina Transportation Museum in Spencer, NC, on Saturday, June 22. He'll have a table in the Back Shop.
About The Author
Daniel Bartholf is a 45-year veteran of the volunteer fire service, serving mainly in several departments in New York state, but also in North Carolina and West Virginia. He has held positions of Fire Chief, Assistant Chief, Captain and Lieutenant, and was certified as a Level II Firefighter.
In addition, he was certified as a Hazmat Technician, was a member of the Onondaga County (Syracuse) Underwater Recovery Team (SCUBA), and wrote articles for Fire Chief, Firehouse, and Engine Engine! (official publication of SPAAMFAA) magazines.
He was employed as a meteorologist with the National Weather Service for 35 years and served in offices in Buffalo, Albany, Syracuse, Newport (NC), and Charleston (WV).
Dan holds a Bachelor of Science Degree in Meteorology from the State University of New York at Oneonta, and a Masters Degree in Public Administration and Emergency Management from Jacksonville (FL) State University.